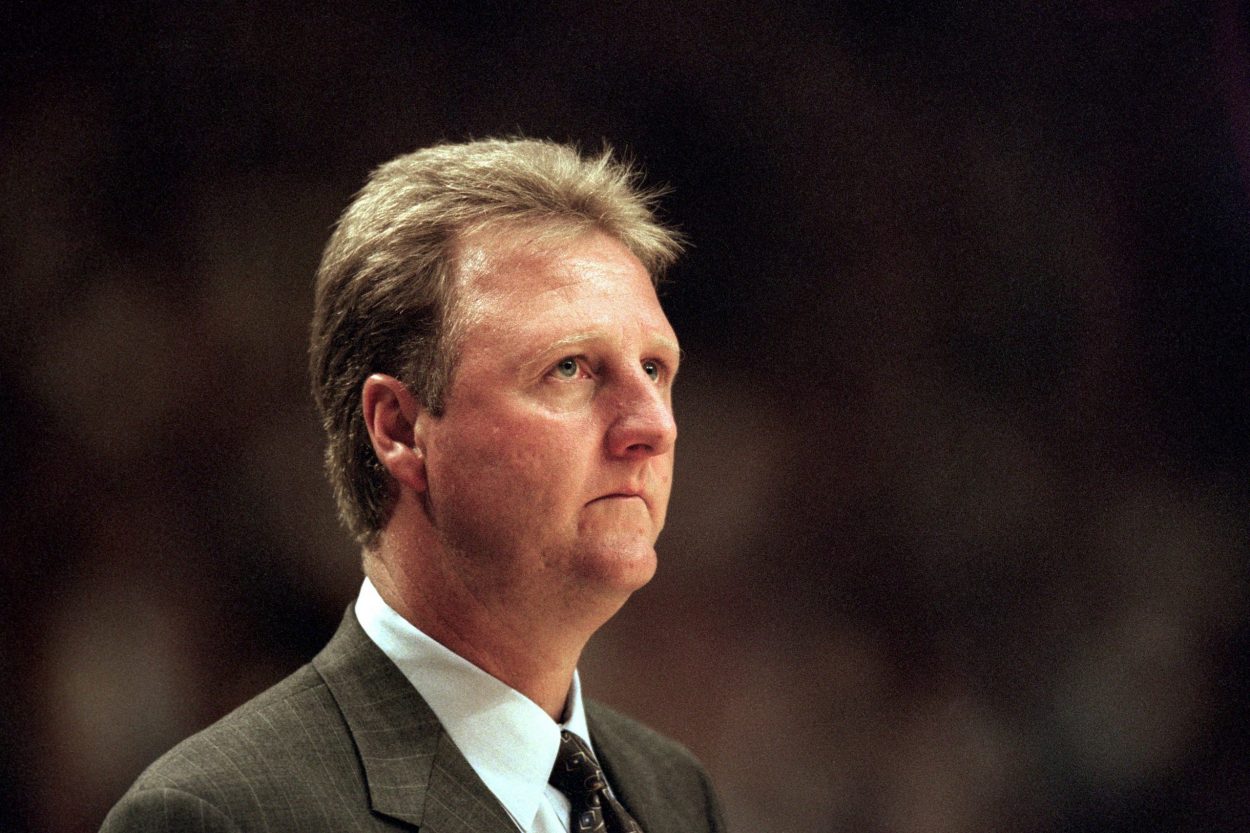 Larry Bird's Incredible Resume and Transcendent Aura Prompted His Own Players to Call Him a 'God' When He Coached the Pacers
Larry Bird has always had a certain gravitas about him. The former Boston Celtics star was one of the most definitive players in the 1980s and indeed the entire decade. Bird had an aura even as he made the transitioning to coaching in 1997, prompting some of his players to label him a God-like figure.
Larry Bird established a nearly impeccable legacy and defined an entire era of basketball during his playing career with the Boston Celtics. His transcendent aura was so prominent that, upon making the switch to coaching, his players hailed him as a God-like figure.
Bird only coached three seasons in Indiana. But they were three incredibly memorable seasons. Just ask former Indiana Pacers swingman Jalen Rose.
Jalen Rose said Larry Bird was a "God" when the Celtics great took over as head coach in 1997
Jalen Rose struggled to get his NBA career off the ground after playing a starring role at the University of Michigan. Despite making the All-Rookie team in his debut and increasing his production in his sophomore season, Rose never saw eye to eye with Denver Nuggets management.
Larry Brown hardly made things any easier for the former Fab Five member when Rose was traded to the Indiana Pacers in June 1996. The Detroit native played in just 66 games and saw a sizable minutes increase.
It looked as though Rose was stuck in a holding pattern. But the Pacers, coming off a 39-43 season, elected to make a coaching change that would have him practically frothing at the mouth.
Indiana hired Larry Bird to replace Brown heading into the 1997-98 season. The move juiced Rose, though he was almost overwhelmed by Larry Legend's presence.
Rose's assessment of Bird as a "God" probably wasn't far off.
The Hick from French Lick quite literally didn't have a lick of coaching experience as he prepared to take over a Pacers team that had missed the playoffs in 1997. Yet, in his first season on the bench, Indiana made it to the Eastern Conference Finals, pushing Michael Jordan and a dominant Bulls team to seven games. The early success was but a sign of things to come.
Bird transformed the Pacers franchise in his short stint as head coach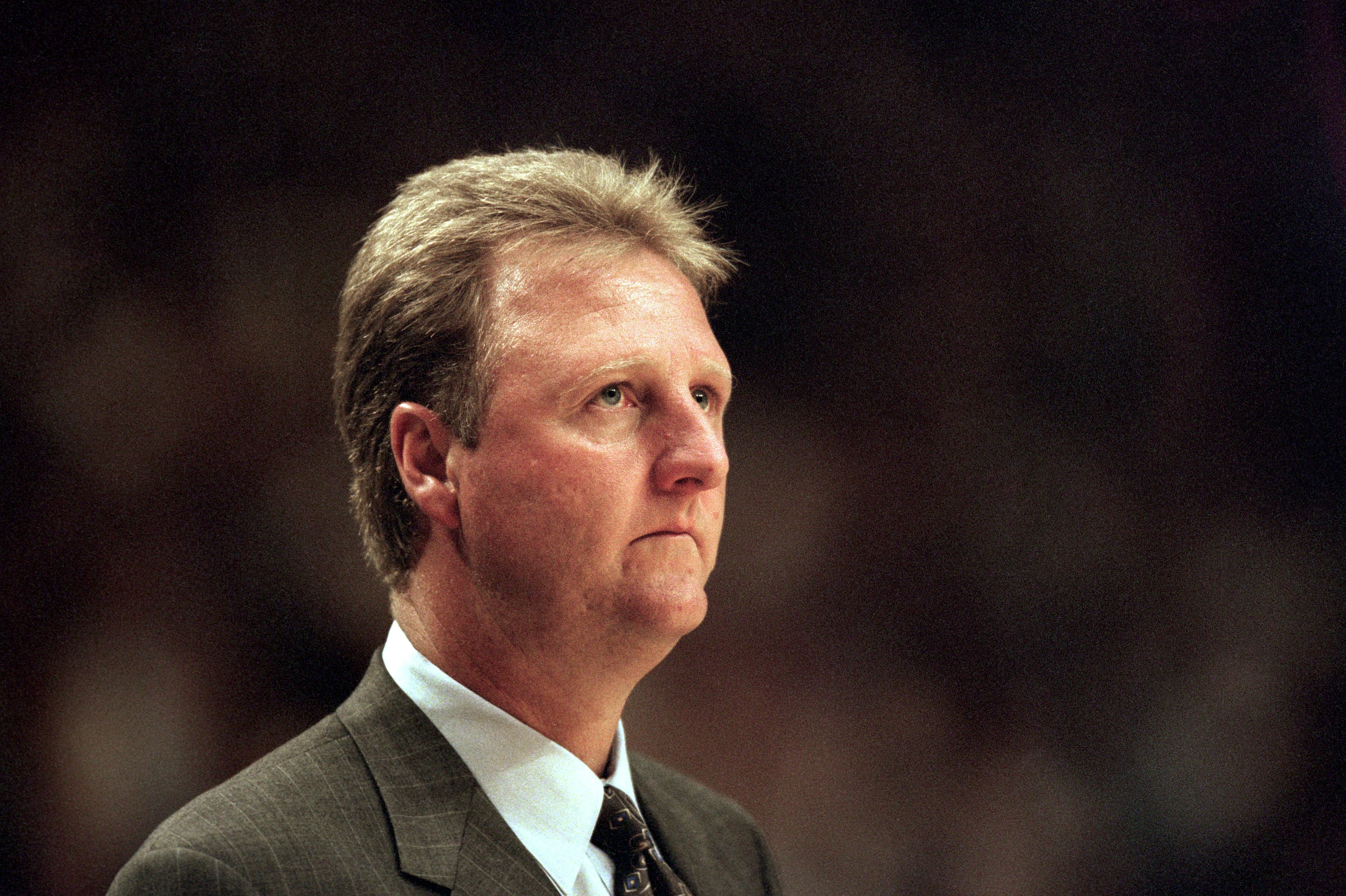 The Pacers had a fairly long tradition of winning before Larry Brown's hiccup season in 1996-97. But Larry Bird ratcheted things up a bit.
Bird won 58 games in his first season as head coach of the Pacers. Most around the NBA presumed that Jordan and the Bulls would walk right through Indiana, but Bird's crew pushed Chicago to the limit. Larry Legend elevated the standard.
Rose explained that Bird took it as a challenge to maximize his players' potential. That notion rang especially true for Jalen, who started in all 80 of his appearances and averaged a career-high 18.2 points, 4.8 rebounds, and 4.0 assists during the 1999-2000 season.
The ability to get the most out of his players helped Bird lead the Pacers to the NBA Finals in 2000. Indiana lost in six games, but it was clear this was a bona fide contender.
However, Bird's coaching career ended almost as soon as it began. He resigned before the 2000-01 season, following through on his promise to coach just three seasons. Still, Bird had one more basketball venture left in him.
Larry Legend's imprints are all over the NBA
Larry Bird did just about everything imaginable in the game of basketball.
The former Celtics great had a Hall of Fame career as a player and influenced numerous forwards who came after him with his all-around style of play. He was incredibly successful as a head coach, albeit in a short span of time. Bird also had success as an executive.
Bird joined the Pacers front office in 2003, later winning the 2011-12 Executive of the Year Award. So, to recap, Larry legend is a three-time NBA MVP. He won a Coach of the Year Award, then an Executive of the Year Award to top it off.
In essence, Bird checked pretty much every box possible on the hardwood, the bench, and in the luxury boxes. A basketball "God," indeed.
Stats and accolades courtesy of Basketball Reference.