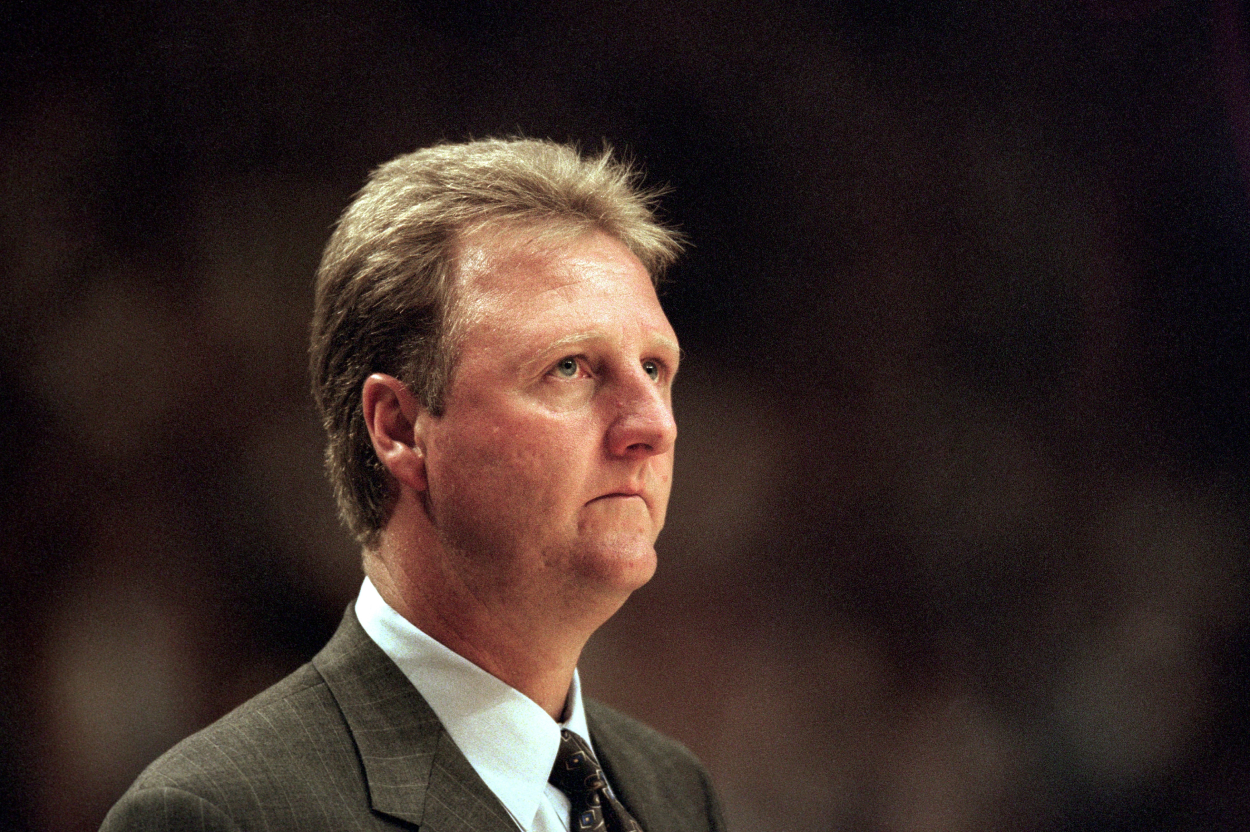 Larry Bird 'Helped Revitalize' a Former Basketball Star's Career, Which Eventually Led to Them Becoming Pretty Wealthy: 'I'm Eating All of the Steak and Lobster That I Ever Want'
Larry Bird became a legend during his playing days on the Boston Celtics, but following his retirement, he eventually helped a hoops star revitalize their own NBA career. The player then later became a pretty wealthy star in the league, and it happened in large part because of Bird's help.
Larry Bird is widely known as one of the greatest basketball players to ever live, but he didn't just have a legendary playing career; Bird went on to have success as a head coach and an executive with the Indiana Pacers.
Bird's basketball IQ as the Pacers' head coach eventually led Indiana to the NBA Finals in 1999-2000. It also, though, revitalized a player's career, as Jalen Rose was initially a former college star who had not yet reached the expectations that many people had for him in the NBA, but then became a solid pro player who eventually saw his basketball career make him a pretty wealthy man.
Jalen Rose had a disappointing start to his NBA career
Rose was one of the biggest stars in the country during his college career. He and the Fab Five at Michigan took the country by storm as they went to two straight national championship games in 1991-92 and 1992-93. They also became the first team in history to play in a national title game with an entire starting lineup of freshmen.
Rose averaged 17.6 points, 4.3 rebounds, and 4.0 assists in his first season, and 15.4 points, 4.2 rebounds, and 3.9 assists as a sophomore. However, in 1993-94, despite Michigan no longer having Chris Webber and losing in the Elite Eight, Rose became a consensus All-American and averaged 19.9 points, 5.7 rebounds, and 3.9 assists.
The 6-foot-8-inch guard/forward then went to the Denver Nuggets with the No. 13 overall pick in the 1994 NBA Draft. He averaged 8.2 and 10.0 points in his first two seasons in Denver but got traded to the Pacers in 1996. Under head coach Larry Brown on the Pacers in 1996-97, Rose only averaged 7.3 points in 18.0 minutes per game.
In 1997-98, though, Larry Bird became Indiana's head coach and everything changed.
Larry Bird helped Jalen Rose revitalize his NBA career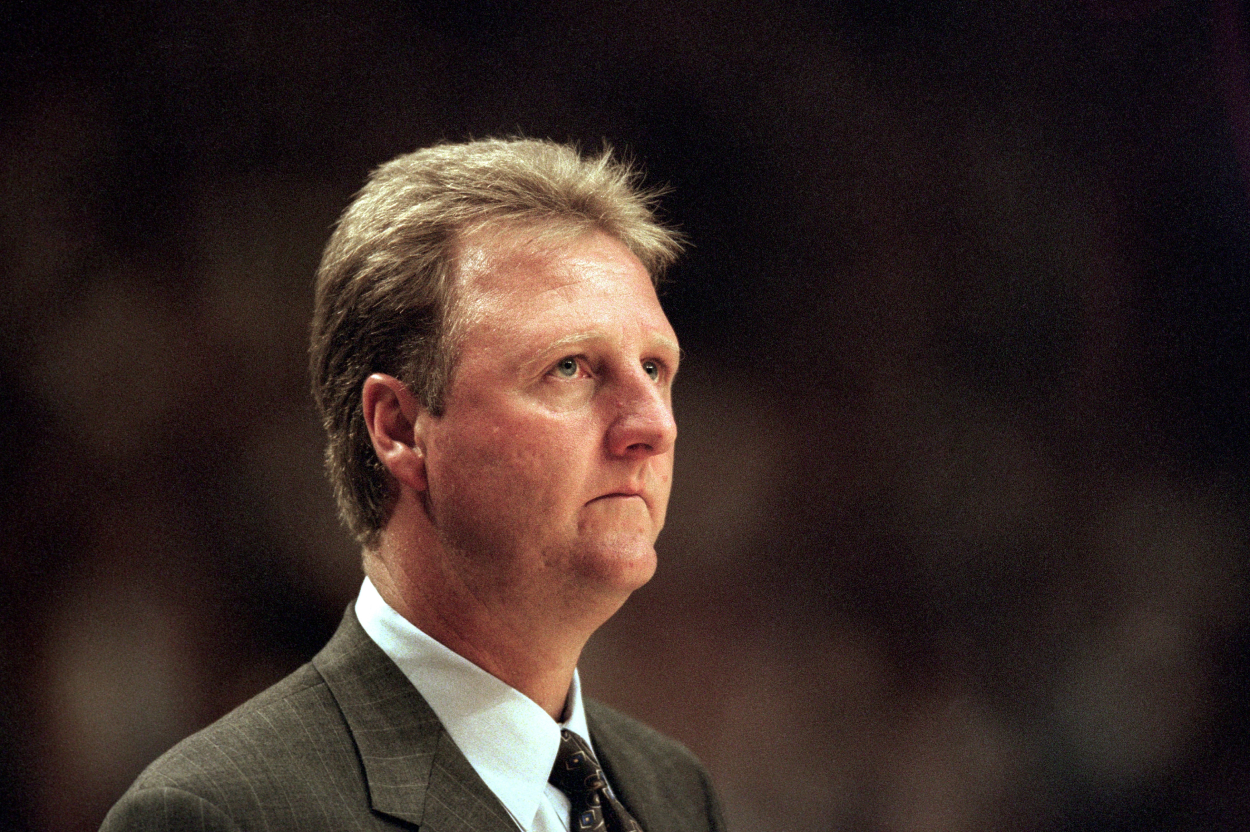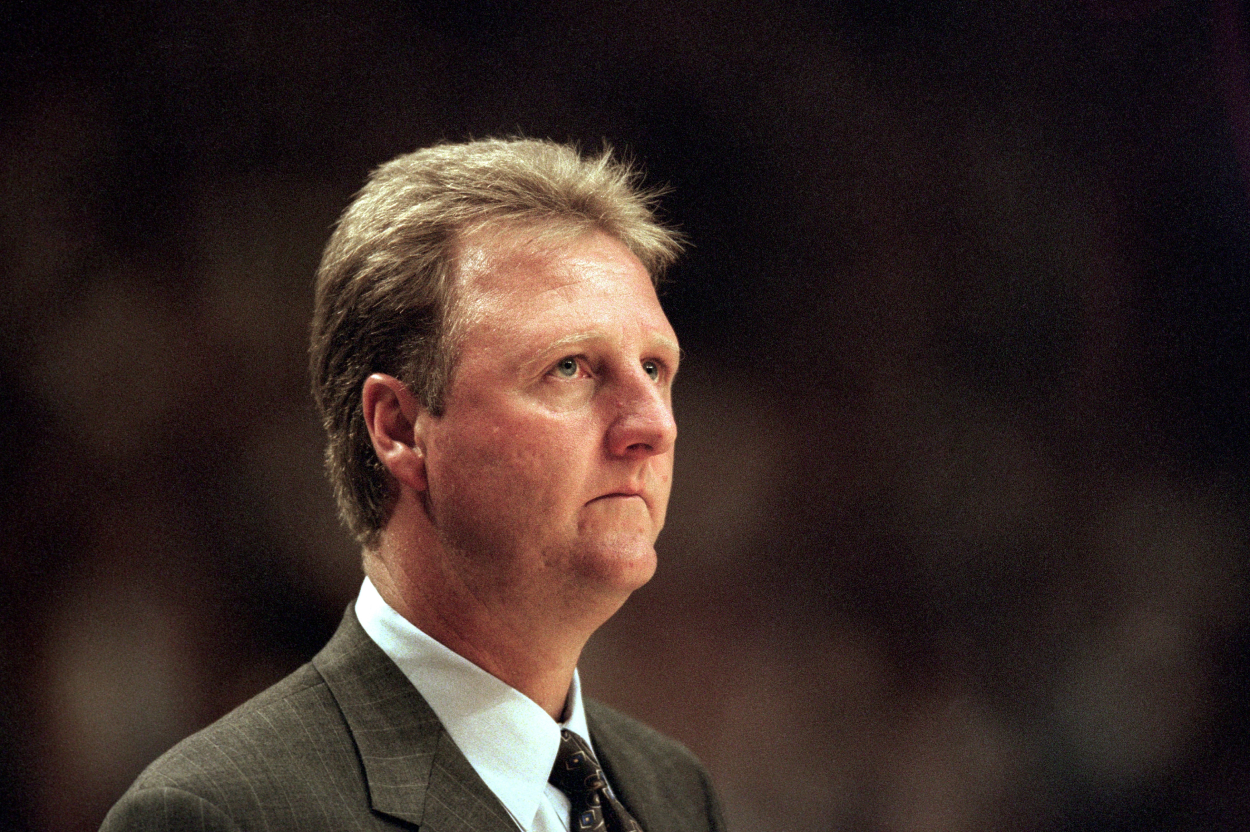 Bird helped transform the Pacers from a non-playoff team to an Eastern Conference Finals squad during his first season in Indiana. Rose also started becoming a solid player, scoring 9.4 points in 20.8 minutes per game.
The Pacers then returned to the conference finals in 1998-99, and Rose averaged 11.1 points. But in 1999-2000, the former Michigan star had a breakout year. He recorded 18.2 points per game, 4.8 rebounds, and 4.0 assists, which helped him win the Most Improved Player award. Rose also played a vital role in the Pacers reaching the NBA Finals that season, where they lost to the Los Angeles Lakers.
However, Bird stepped away from his coaching position after that finals run, and he later went into an executive role, but Rose kept playing well. He recorded as many as 22.1 points per game in a season during his career and eventually played in the league for 13 years, averaging 14.3 points overall.
Despite only playing under Bird for three of those 13 seasons, Rose gives Larry Legend a ton of credit for his success.
"Larry was the guy that helped validate me; my career needed to be refreshed, it needed to be remixed," Rose said on the Aug. 22, 2019 episode of Jalen and Jacoby. "… [My] third year, Indiana, Larry Brown gave me 15 [did not plays], and he's a Hall of Fame coach that left. So, now it's do or die for me as a young player. When Larry Bird talks to the media and was like, 'I'm gonna turn Jalen into the player that's gonna live up to his potential,' I cut that out and put that on the refrigerator, bro. I'm like, 'I'm about to own it.'"
Rose then also praised his other coaches and teammates but continued to share what Bird meant for his life outside of basketball.
"Larry Bird helped revitalize me to the point where now, I'm eating all of the steak and lobster that I ever want; I'm traveling across the world," Rose added.
The former Fab Five member made it clear that his success in the league helped him make some decent cash. So, Bird ultimately played a role in him becoming the wealthy man he is now.
Jalen Rose has become a wealthy man
Rose's play in Indiana helped him eventually make an estimated $102 million in the NBA, according to Spotrac. 
He has since become a star in the sports media world, too, which has rewarded him with even more cash. Celebrity Net Worth estimates that Rose is worth $50 million.
Jalen Rose has had nice basketball and sports media careers. Who knows how things would have turned out, though, had Larry Bird never come along in Indiana.
Stats courtesy of Sports Reference and Basketball Reference