LeBron James' Advice to Former Lakers Teammate Has Gone a Long Way
Lonzo Ball still lives by the advice LeBron James gave him when they were teammates with the Lakers.
When you get advice from one of the game's best, you take it. LeBron James offered some tips to a young Lonzo Ball, who entered the NBA as a highly-touted prospect with the Los Angeles Lakers in 2017. Nobody, however, came into the league with more hype than James. James took the young guard under his wing and, although they are no longer teammates, Ball still says it's the best advice he's ever gotten.
LeBron James was like a 'big brother' to Lonzo Ball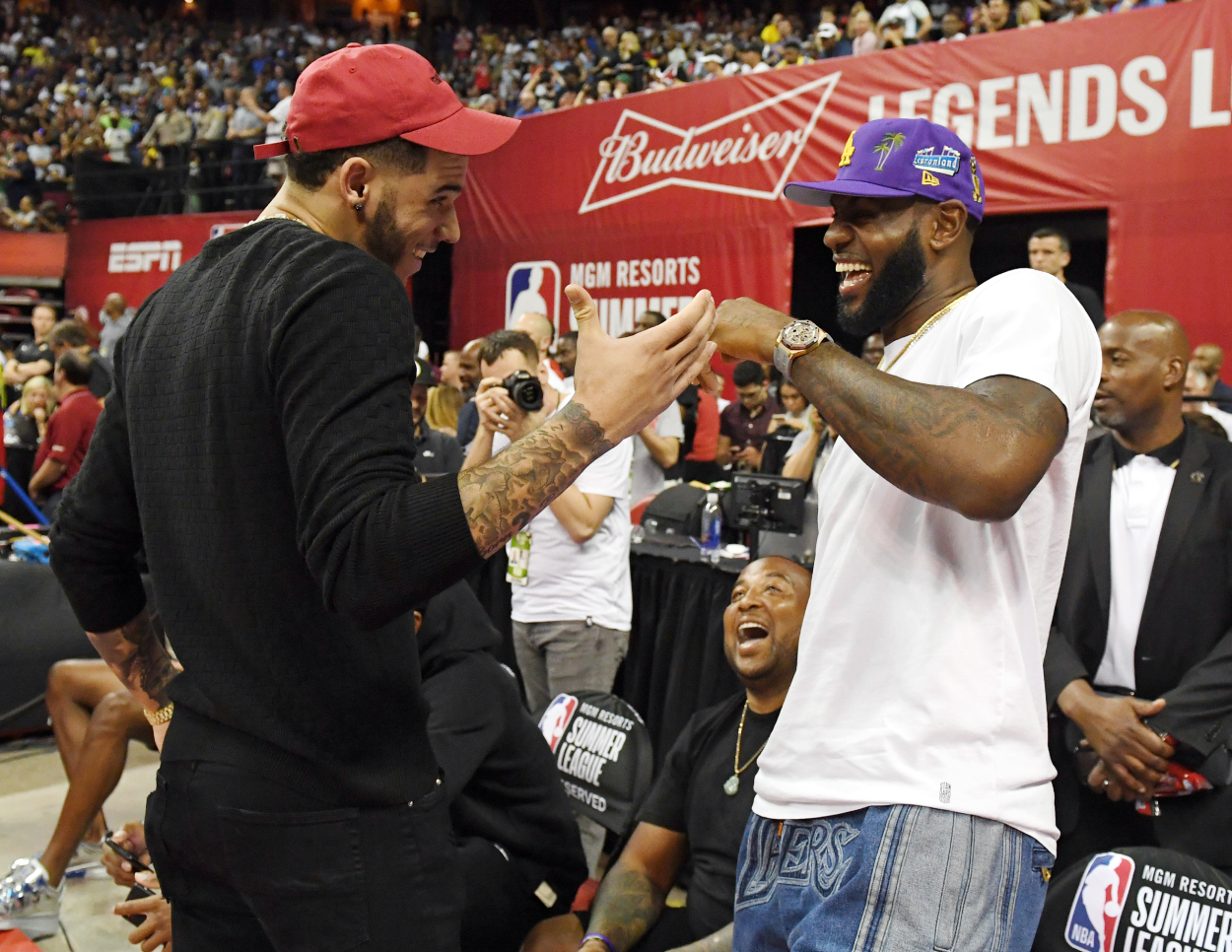 Ball was drafted by the Lakers with the second pick in the 2017 NBA draft. James spent that season with the Cleveland Cavaliers. The two became teammates the following year when James joined the Lakers via free agency.
James related to Ball. They were both young kids entering the NBA and playing for their local teams. James acted as a mentor to Ball, who averaged 10.2 points and 7.2 assists per game in his rookie season. Lakers beat writer Mike Trudell reported that Ball referred to James as his "big brother."
Ball grew up idolizing James and was in awe of being his teammate in only his second year in the NBA. "Everybody knows, everybody asks me that question, that he's my favorite player growing up," Ball said in 2018, according to 247 Sports. "It's kind of crazy that we're on the same team now, but we're teammates. He's gonna help me, I'm gonna help him. We're gonna do what we can to get the wins."
Lonzo Ball recently said LeBron James gave him 'the best advice' he's gotten
Ball was the second pick in 2017, and his father let everyone know how good he was. LaVar Ball only added to his son's pressures. Lonzo was playing for his local team in one of the biggest markets in the country. The pressure to succeed weighed on his shoulders. He played 52 games his first season, shooting a woeful 36 percent from the floor.
The following season, James came to the Lakers via free agency, lifting some of that pressure off Ball. He no longer had to be THE guy. James also spoke with Ball and gave him some words of encouragement that still stick with him.
In a Who's Interviewing Who video with Robert Horry and teammate Jaxson Hayes, Ball revealed that advice. "I think the best advice I got is from LeBron, so far," Ball said. "He sat me down one time in the locker room. Obviously, he's been through everything – and he kind of knew all the crazy stuff that I was going through when I first got to the league and told me just 'Keep the main thing the main thing.' That's probably stuck with me the most out of anything anybody's ever told me just because he's right. Once you take care of what you've got to take care of on the court, everything else falls into place.
Ball said he still uses that advice as a member of the New Orleans Pelicans
Ball and James spent one season together with the Lakers before Ball was traded in a deal for Anthony Davis. He spent the last two years with the New Orleans Pelicans and had his best year this season, averaging a career-high 14.6 points. When things get out of control, he remembers what James told him, and it keeps him grounded.
"Especially in today's world, I think with all the kids coming in with all the social media and everybody's saying this and that and everything's that's going on, sometimes it gets away from basketball," he said. "As long you keep, I think, hoop first and keep your family first, that's really all that matters. I think that's the most important thing that I would like to pass down to younger kids coming up because it's only going to get crazier with all the social media and stuff."
Ball as grown up a lot in his two years away from the Lakers. He's coming into his own as a player and a person, and the groundwork for that maturity was laid with one talk from James.