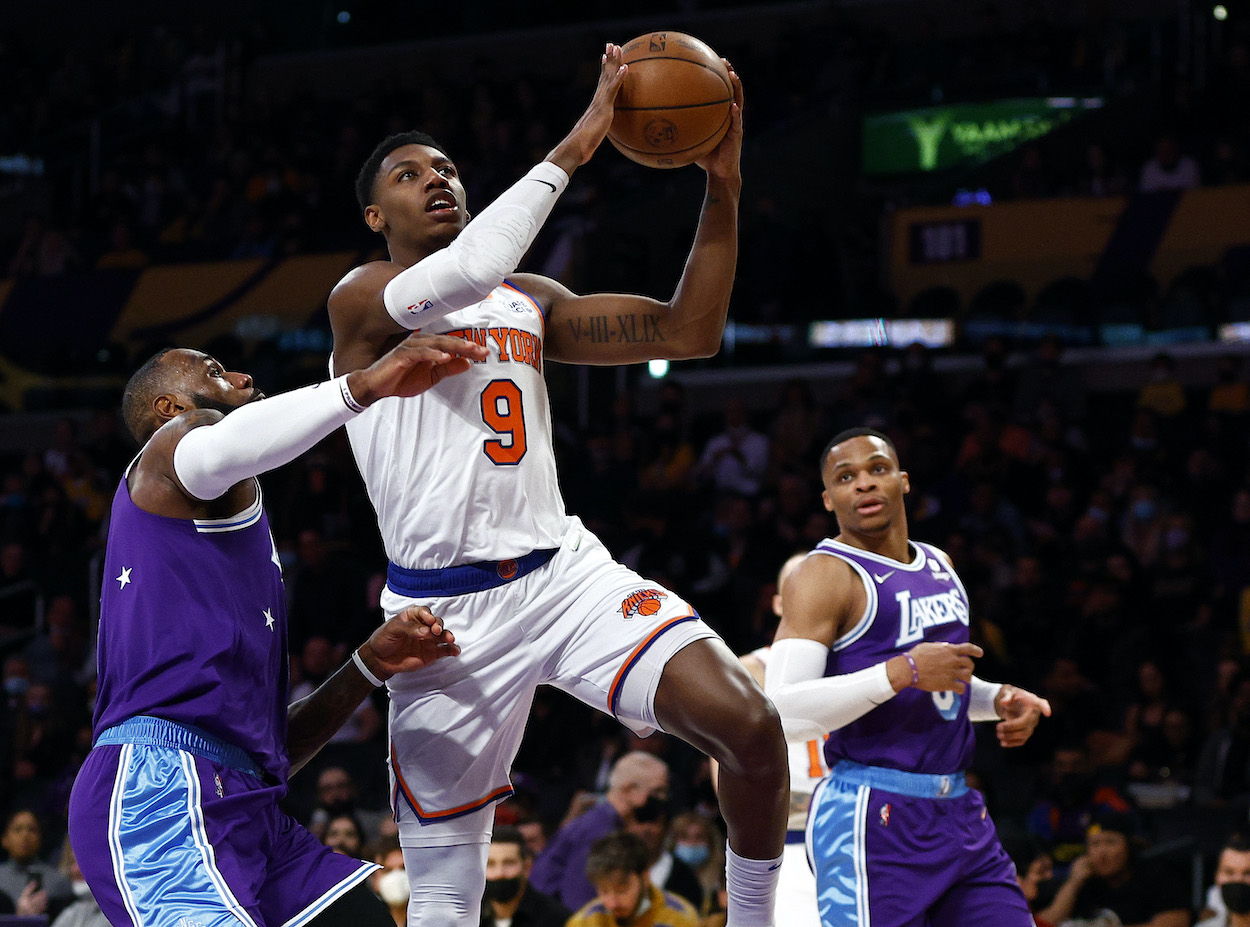 LeBron James Gushes About RJ Barrett After His Career Night Against the Lakers
The Lakers got the best of the Knicks on Saturday night, but LeBron James saw something special in RJ Barrett.
The New York Knicks dropped a tough one to the Los Angeles Lakers in overtime Saturday night to fall to 24-29 on the season, but the loss didn't come without its highlights. Second-year guard RJ Barrett erupted for a career-high 36 points, eight rebounds, and five assists in the game, all while guarding LeBron James whenever he could.
LeBron was so impressed by the 21-year-old's performance that he gave Barrett a glowing review after the game.
RJ Barrett impressed LeBron James with career-high 36 points against the Lakers
Barrett might be young, but he's not afraid of a challenge. So when the Knicks traveled to LA for a Saturday night tilt against LeBron and the Lakers, Barrett decided it was his time to shine.
The Duke product jumped out of the gates on fire with 17 points in the first quarter alone, and he helped the Knicks build a 21-point lead in the first half. At the end of regulation, Barrett hit a clutch three to tie the score with just a few seconds remaining and sent the game to overtime.
The Lakers prevailed, 122-155, in the end, but Barrett made an impression on James with his career performance.
"He hit some big-time shots down the stretch," James said of Barrett after the game. "Obviously, the three to tie it at 111; the full-court dunk in transition. He just hit key shot after key shot tonight."
LeBron praises Barrett after the game
LeBron got a taste of the star power Barrett possesses on Saturday night, but he's known how talented the youngster is ever since his high school days.
"I've been knowing RJ for quite a while now," James said. "I was in Toronto during the summertime, I think he was a high school junior, and there was a call to my agent, Rich [Paul] that there was a kid in Toronto that was possibly next. 
"I was going to the gym to get some work in and they called Rich and asked, 'Can he join?' And I was like, 'Absolutely.' So, I've been knowing him quite a while. I followed him throughout those last few years of high school and obviously off to Duke and now as a Knick."
James has always been a historian of the game and a fan of opposing players around the league, and Barrett seems to be creeping up his list.
RJ has handled the New York pressure "extremely well"
It's not easy for a top draft pick to enter the league and immediately meet the sky-high expectations set for them, but Barrett has done just that for the Knicks through two seasons. New York has a star in Barrett for years to come, and if you don't believe me, just ask LeBron.
"He's young, so you're gonna have your bumps and bruises throughout the course of your career," James said. "When you're young, you're figuring out the game. You're figuring out the speed. You're figuring out the tempo and things of that nature. But I think he's handled it extremely well, especially being — it's a different light and a different heat when you play for the Knicks — and I think he's handled it extremely well."
Like Sportscasting on Facebook. Follow us on Twitter @sportscasting19.