LeBron James Is on Pace for an Unimaginable NBA Scoring Feat
LeBron James continues to defy time. The Los Angeles Lakers star is scoring at his highest rate since 2009–10, putting up 28.5 points per game. He's singlehandedly keeping the star-studded Lakers afloat in the Western Conference race. James keeps adding bullet points to his resume in the endless debate about the NBA GOAT, even at age 37.
It's almost unfathomable the load James is asked to carry in LA. He's playing more minutes a night than he had in five years when he was a relative kid at 32. At the very least, James remains exceptionally productive in the late stages of his career than any player in the last 20 years.
LeBron James is a physical marvel
Since he entered the NBA in 2003, LeBron James has dazzled with his versatility. With Anthony Davis sidelined with a sprained MCL, James is starting at center for the Lakers. His page at Basketball Reference shows him as a regular at point guard, shooting guard, small forward, and power forward in various seasons. This season, he's going for the last spot on the bingo card.
One of only two high-school players drafted No. 1 overall, James did the impossible in his career. He's exceeded even the sky-high expectations assigned to him when he entered the NBA. James continues to climb the career scoring list, passing the 36,000-point plateau on Dec. 28.
The roll call for that list doesn't take very long: Kareem Abdul-Jabbar, Karl Malone, James. End of list.
He's creeping up on Abdul-Jabbar, needing 2,281 points to become the all-time scoring leader. James is 822 points away from passing Malone. Malone should be in the rearview mirror by the season's end, depending on James' health and load management. With 44 games left, James needs to average only 18.7 points a night to get there.
That's not a stretch based on how he's scored this season.
James is on pace to become the youngest and oldest elite scorer in NBA history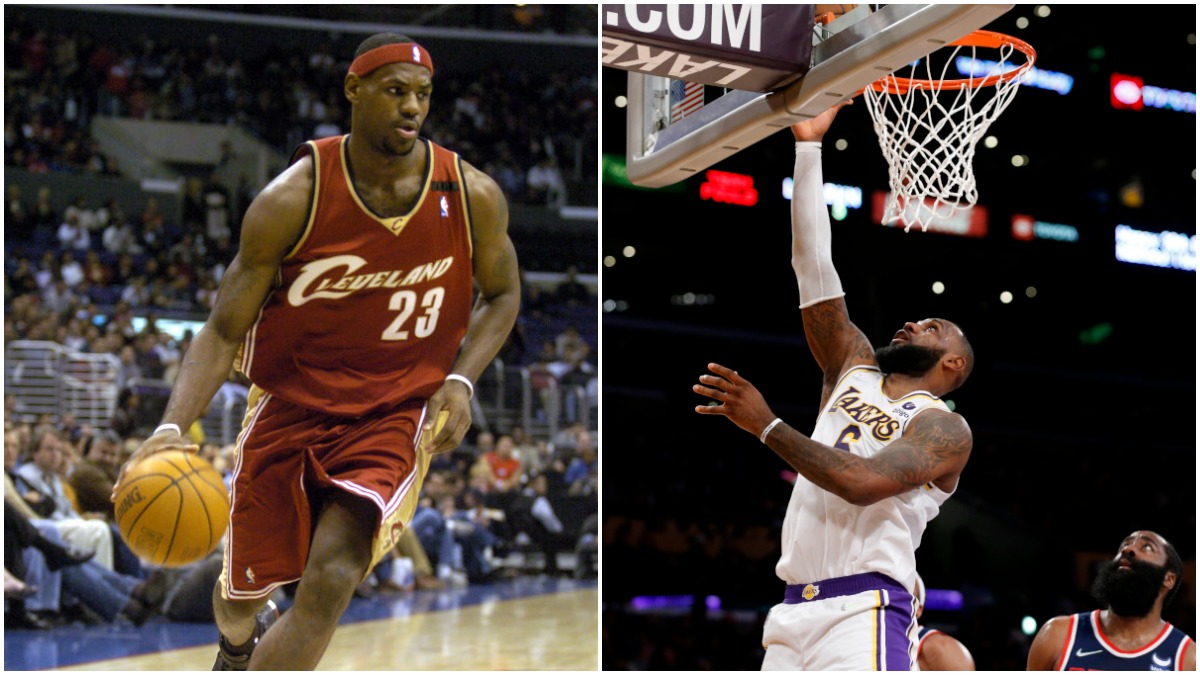 In his second season, LeBron James averaged 27.2 points per game. That made him the youngest player in NBA history to average at least 25 points a night, turning the trick in his age-20 season. Others have joined the group since then. Kevin Durant in 2008–09, Luka Dončić in 2019–20, and Zion Williamson last season averaged 25-plus as 20-year-olds.
The other end of the scale is within reach for James. The evolution as the oldest player to average 25 points or more is a who's who of Hall of Famers.
The first player older than 30 to average 25 points per game was Paul Arizin. He put up 26.4 a night for the Philadelphia Warriors in 1959–59. St. Louis Hawks legend Bob Pettit scored 27.4 points per game in 1963–64 at age 31.
Lakers great Elgin Baylor pushed the bar to 32 years old with his 26.6 scoring mark in 1966–67. He doubled down at age 33 by scoring 26.0 points per game. In 1990–91, Bernard King poured in 28.4 a contest for the Washington Bullets at age 34.
Alex English became the first 35-year-old to average at least 25 points a game when he dropped 26.5 nightly for the Denver Nuggets in 1988–89.
James is in his age-37 season and scoring 28.5 points per game. That would pass Malone's 25.5 mark at age 36 for the 1999–00 Utah Jazz. That's 17 years between the youngest and oldest campaigns scoring at that level.
Ponder that fact while considering this: In the history of the NBA, only 70 players have logged at least 17 seasons.
The workload of LeBron James is legendary
When looking at careers, the tendency is to look at regular-season totals. LeBron James has compiled an impressive list of counting stats in the regular season.
He's fourth all-time in minutes played, third in points, fourth in free throws made, fifth in attempts, third in field goals, and fourth in shot attempts. Stick around 19 years and play 38 minutes a game on average; you'll stack up numbers.
But consider where James ranks on the postseason leaderboards.
He's first all-time in playoff games (266), minutes (11,035), steals (454), and points (7,631). That's more than three seasons' worth of games. James is the only player in NBA history with more than 10,000 playoff minutes.
Part of that, of course, is the era in which he plays. His entire career is in the time of four, best-of-seven playoff rounds.
But he's made the playoffs 15 times in 18 seasons. Last year was the first time his team was eliminated in the first round.  
LeBron James combines longevity and production like no player in NBA history. Nothing says that more clearly than being the youngest and oldest 25-point-per-game scorer.
Statistics courtesy of Basketball Reference and Stathead.
Like Sportscasting on Facebook. Follow us on Twitter @sportscasting19.