LeBron James vs. Kareem Abdul-Jabbar: The Tale of the Tape
It's all over, folks.
With his 36th point on Tuesday night in the Los Angeles Lakers' loss to the Oklahoma City Thunder, a beautiful fadeaway jumper from just inside the foul line with 10.9 seconds remaining in the third quarter, LeBron James passed Kareem Abdul-Jabbar to become the NBA's all-time regular-season scoring leader.
Of course, LeBron technically became the league's all-time leading scorer nearly a year ago on February 13, 2022, if you include both the regular season and the postseason.
But this moment was certainly different. And it was undoubtedly even more special with Kareem himself sitting right there in the front row.
Now, I could sit here and wax poetic about LeBron James all day. But let's face it. If you don't appreciate him by now, you likely never will. And that's unfortunate for those who feel that way. You don't have to like the guy. But you have no choice but to respect him, his talent, and what he's done for the NBA.
See, there I go. And that's not why we're here today.
No, tonight I'm just here to provide a quick "tale of the tape" between LeBron and Kareem in honor of the incredible bond these two legends now share. And make no mistake about it. These two will forever be linked.
So let's take a quick look at the stats of LeBron James and Kareem Abdul-Jabbar now that this chase has finally come to an end.
LeBron James vs. Kareem Abdul-Jabbar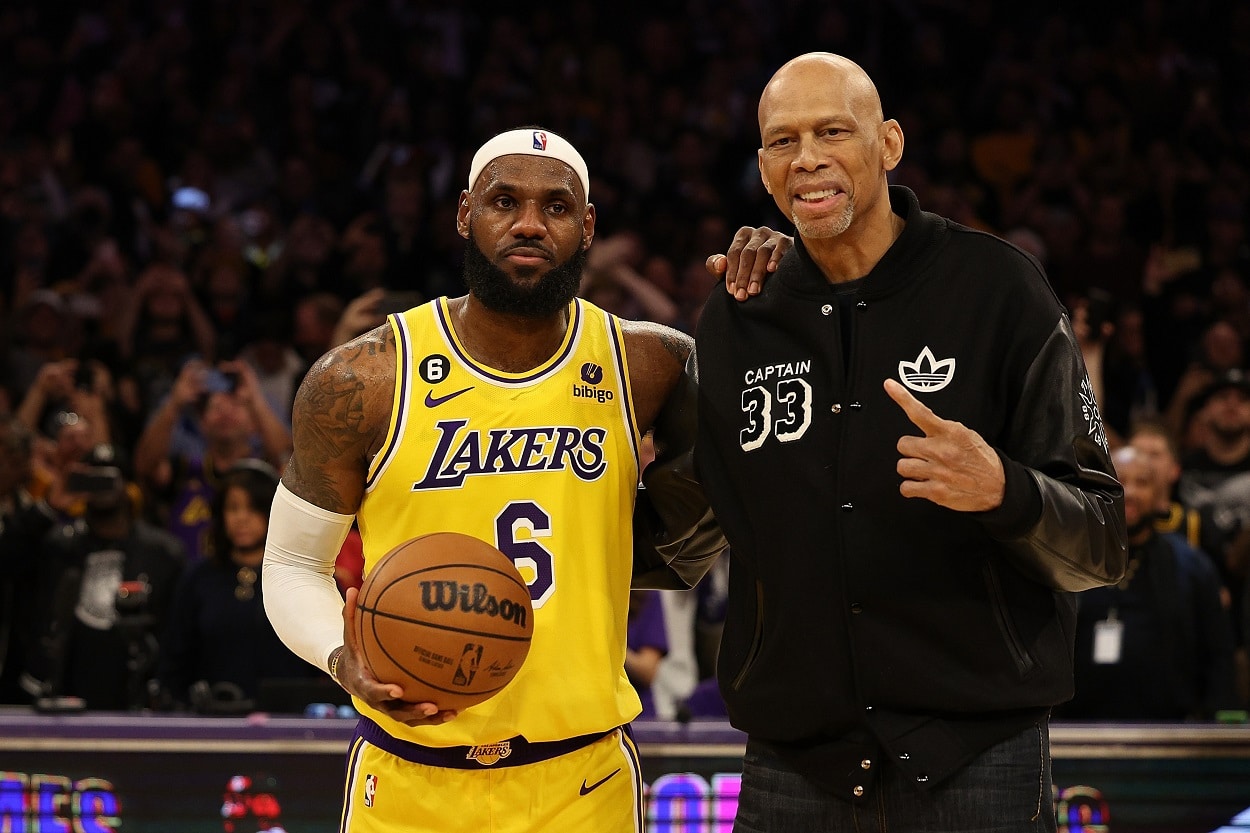 | | | |
| --- | --- | --- |
| | LeBron James | Kareem Abdul-Jabbar |
| Points | 38,390 | 38,387 |
| Games | 1,410 | 1,560 |
| Minutes | 53,742 | 57,446 |
| Field Goals Made | 14,053 | 15,837 |
| Field Goals Attempted | 27,829 | 28,307 |
| 2-Pointers Made | 11,816 | 15,836 |
| 2-Pointers Attempted | 21,325 | 28,289 |
| 3-Pointers Made | 2,237 | 1 |
| 3-Pointers Attempted | 6,494 | 18 |
| Free Throws Made | 8,047 | 6,712 |
| Free Throws Attempted | 10,949 | 9,304 |