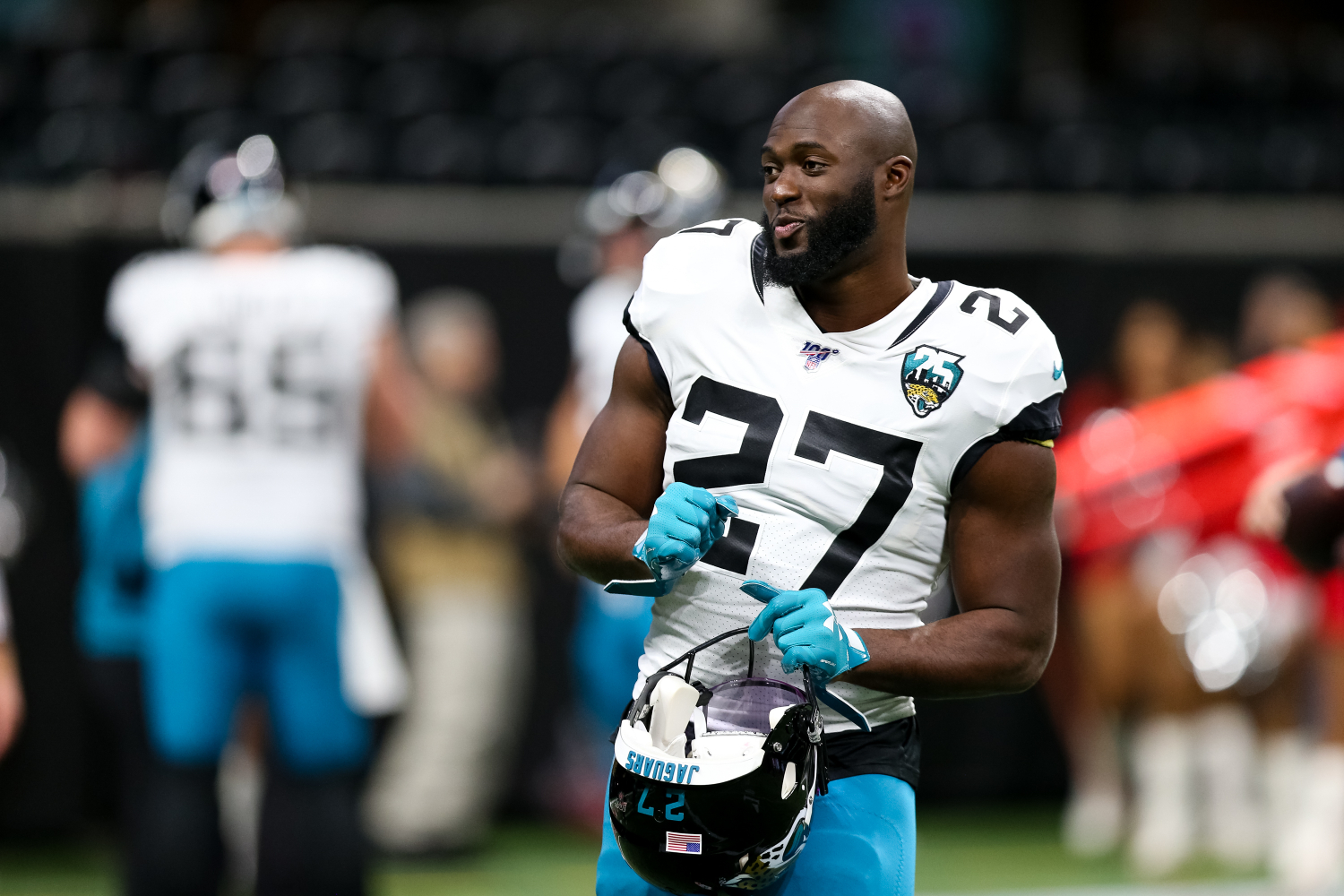 Leonard Fournette May Have Been Victim of Revolt By Jacksonville Jaguars Players
Former Jacksonville Jaguars running back Leonard Fournette may have been a victim of a revolt by his teammates.
For now, Leonard Fournette is a man without a football team. Fournette, the Jacksonville Jaguars top pick in the 2017 NFL draft, was a surprise release this week. The Jaguars tried to swing a deal for their leading rusher but couldn't find any takers. Fournette was an effective running back on the field but may have been a problem off it. There is a report that Fournette's teammates may have had something to do with his release.
Leonard Fournette's football career
Leonard Fournette played three years of college football at LSU. The 6-foot-1, 230-pound running back had a 1,000-yard season his freshman year, collecting 1,034 yards on the ground to go along with 10 touchdowns. Fournette followed that up with a sensational sophomore year when he ran for 1,953 yards and had 22 touchdowns. He finished sixth in the Heisman Trophy voting.
An ankle injury hobbled Fournette in the early part of his junior year. He played in seven games and ran for 843 yards and eight touchdowns. Fournette declared for the 2017 NFL draft after his junior year and was the fourth overall pick by the Jacksonville Jaguars.
With the Jaguars, Fournette had a strong rookie season. He rushed for 1,040 yards in just 13 games and helped guide the Jaguars to the AFC title game. A hamstring injury sidelined Fournette for a good part of the 2018 season. He played in eight games and had just 439 yards and five touchdowns. He bounced back with a solid 2019 season. Fournette had a career-high 1,152 rushing yards but managed just three touchdowns.
Fournette's surprising release
The Jacksonville Jaguars tried to get something for Leonard Fournette in the way of a trade but nothing materialized. Fournette is set to enter his fourth year in the NFL and has been productive with the team. Fournette had been suspended by the team once and his behavior was questionable. Head coach Doug Marrone said the move was based on performance and not behavior.
"At the end of the day, we feel … the skill sets of the guys that we have (can replace Fournette), and really that's what led to the decision," Marrone said, according to ESPN. "And it's been something that we've done it with every single position we've been looking at. We've done cutups, we've done tapes, we've gone back, we've looked at everything, what we've tried to get done. So it's not just the running back position; it's all positions.
"My question was, can we get any value? And we couldn't get any," Marrone said. "So, fifth-(rounder), sixth-(rounder) – we couldn't get anything." Fournette has cleared waivers and is now free to sign with any team.
Players may have turned their backs on Leonard Fournette
Although Jacksonville Jaguars' head coach Doug Marrone has come out and said Leonard Fournette's release was performance-based, it's hard not to question Marrone. The relationship between Fournette and the team was rocky at best. Mark Long, a writer for the Associated Press who covers the Jaguars, said he believes players wanted Fournette gone.
In an interview with 1010XL Radio, Long dropped his bombshell. "My belief is that players got tired of Leonard Fournette," Long said. "Some players in that locker room went to the powers that be and said we want him gone. And when the coaching staff already wanted him gone, and the front office already tried to get rid of him, and now the players come and go, 'we want him out. He's not on board with what we're trying to do.' I think that's when you pull the trigger.
"Something happened and that is my strong belief and theory of what's going on right now. This was almost a player revolt."