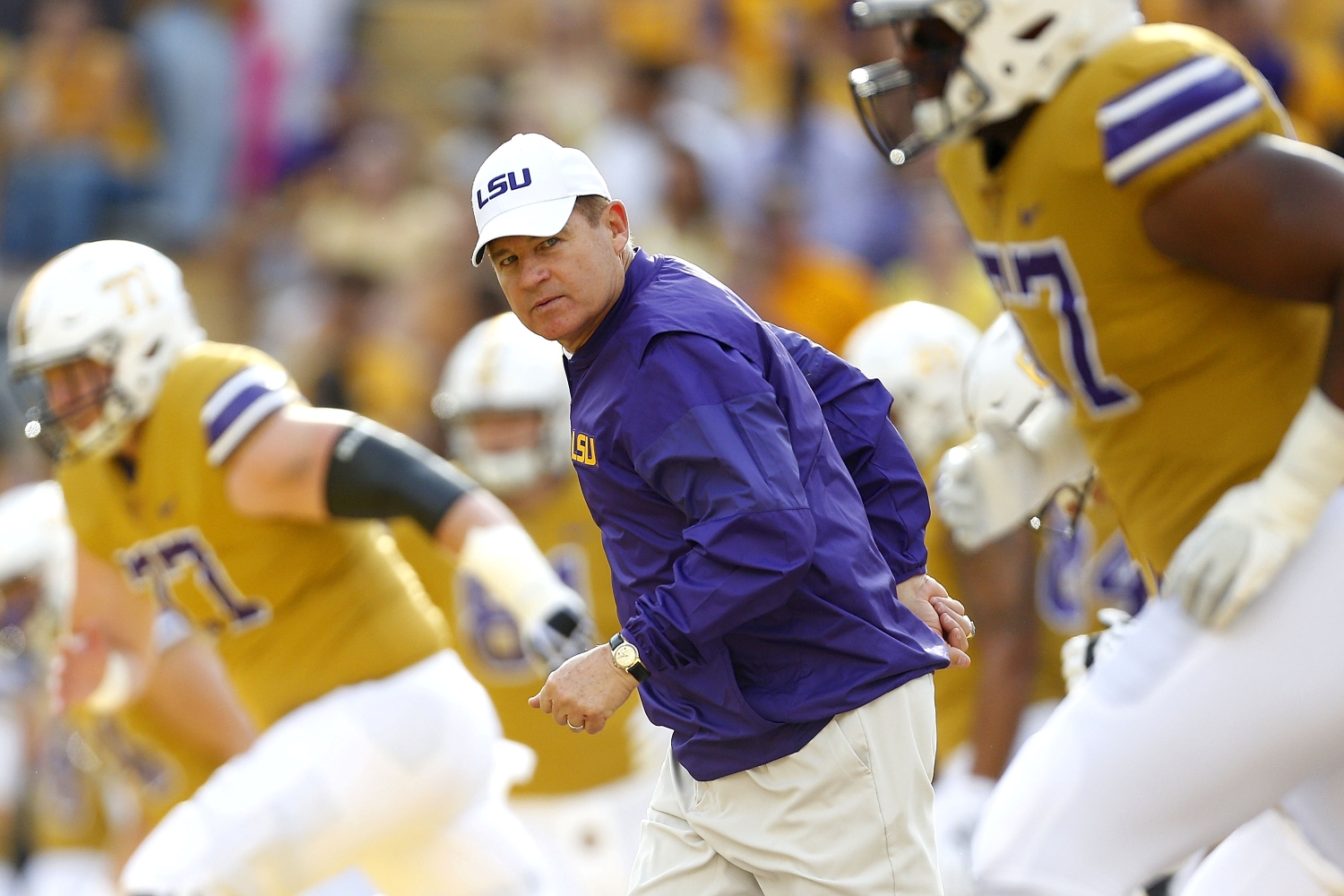 Les Miles' Disturbing Pattern of Alleged Sexual Misconduct Forced LSU to Take Drastic Legal Measures to Protect Female Students
It turns out that LSU took strong legal measures to protect female students from former head coach Les Miles due to his alleged sexual misconduct.
By establishing a reputation as one of the top coaches in college football, Les Miles made millions during his time with the LSU Tigers. Yet, the same school that made paid him handsomely also had to take drastic legal measures to protect its female students from the face of the football program.
As it turns out, a disturbing pattern of alleged sexual misconduct forced LSU to take a stand against Miles. And the current University of Kansas head coach reportedly has been hiding a secret concerning a former student who accused him of harassment years ago.
Les Miles spent more than a decade at LSU before resurfacing at Kansas
For more than a decade, Les Miles patrolled the sidelines at LSU. Known as "The Mad Hatter" because of his eccentric tendencies and aggressive play-calling style, the Ohio native experienced plenty of success during his lengthy run as head coach of the Tigers.
Miles won a staggering 77% of his games at LSU. The Tigers routinely ranked in the top-25, and they earned championship hardware in the process.
From 2005-16, the SEC powerhouse won double-digit games seven times. LSU won a national title in 2007 by defeating Ohio State in convincing fashion. Miles had another opportunity to secure a championship ring in 2011, but the Alabama Crimson Tide pitched a shutout to send the Tigers home as runner-ups.
LSU regressed over the ensuing years. Miles entered the 2016 season on shaky ground, and he got fired after a disappointing 2-2 start.
It took him more than two years to land on his feet.
In November 2018, Kansas hired Miles to lead its football program.
Although his time at LSU ended long ago, the former Tigers head coach has found himself in the headlines again because of an investigation into how the school handled his disturbing pattern of alleged sexual misconduct.
A disturbing pattern of alleged sexual misconduct forced the SEC school to take drastic legal protective measures
On Thursday, LSU released an internal investigative report from 2013 concerning alleged sexual misconduct Les Miles committed during his tenure as head coach. USA Today provided specific details about the accusations made against the 67-year-old.
According to the internal report, Miles was accused of texting female students, taking them to his condo alone, and making them feel uncomfortable. He allegedly kissed a student and suggested the two go to a hotel after he told her he could help her career.
Taylor Porter, the law firm that conducted the investigation, did not find that Miles had sexual relationships with any of the women. He reportedly denied kissing the girl and claimed he did nothing wrong.
In addition, athletic department staff reportedly accused Miles of saying female student workers who helped in recruiting efforts for the football program needed to be "attractive, blonde, and fit."
And because of the list of disturbing allegations made against him, LSU reportedly issued Miles a letter of reprimand and required him to sign forms stating he had read and understood school policies.
Furthermore, the university ordered him to stop hiring student employees as babysitters. LSU also told Miles to cease being alone with female students. The school also made it clear that if he repeated his behavior, he would lose his job and violate his contract.
According to USA Today, Miles' attorney, Peter Ginsberg, said the longtime college football coach still denies the allegations.
Miles reportedly reached a settlement with a former LSU student several years ago
Although Les Miles continues to deny the allegations of sexual misconduct and harassment made against him years ago, The Advocate delivered a significant report on Feb. 24 that suggests the former LSU coach isn't telling the whole truth.
According to Andrea Gallo and Brooks Kubena, Miles reached a settlement with a former student who accused him of harassment several years ago.
Their sources said the episode dates back about a decade and involves a former athletic department student intern accusing Miles of "hitting on her."
When reached by phone, he reportedly denied making any advances toward a student intern.
His attorney told The Advocate via email that a description of his client's settlement with the student was "discernibly incomplete and inaccurate" and that "its publication would recklessly cast Mr. Miles in a false light."
However, Ginsberg did not respond to additional questions about whether his initial email served as a complete denial of the existence of the settlement itself.
How to get help: In the U.S., call the RAINN National Sexual Assault Telephone Hotline at 1-800-656-4673 to connect with a trained staff member from a sexual assault service provider in your area.