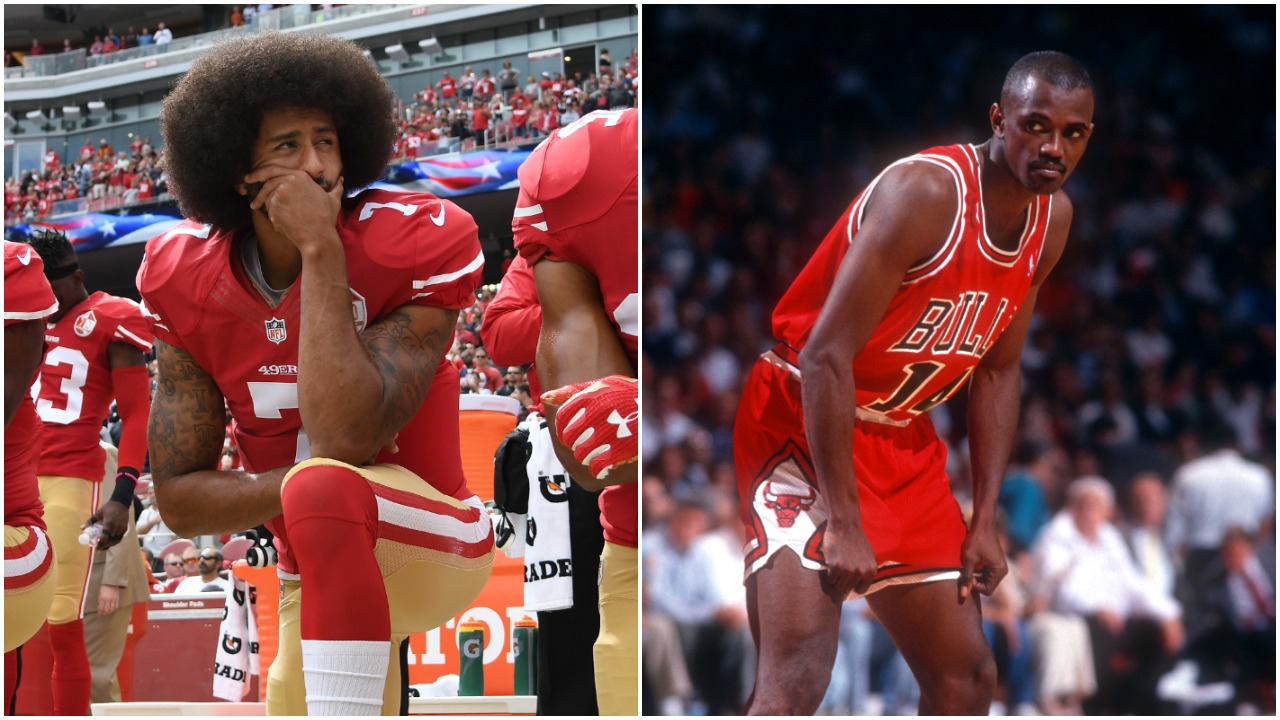 Like Colin Kaepernick in the NFL, Craig Hodges Was Essentially Blackballed From the NBA For His Social Activism
Former Bulls guard Craig Hodges and former 49ers quarterback Colin Kaepernick were both essentially blackballed from their respective leagues.
If one were sitting in a sports bar and listening to a conversation about a professional athlete being blackballed from their sport for standing up for what he believes in and then filing a lawsuit over it, it would be easy to think the discussion would be about former San Francisco 49ers quarterback Colin Kaepernick, correct? While that could obviously be true (stop pretending it's not), that conversation could also be about former NBA sharpshooter Craig Hodges, who essentially had the same thing happen to him more than 25 years ago.
The NBA career of Craig Hodges
Like Colin Kaepernick in the NFL, Craig Hodges was never going to be the best player in the NBA but he was still very solid, at least on the offensive end. Taken with the 48th pick in the 1982 NBA draft, Hodges is best known for his time with the Chicago Bulls, with whom he won two NBA championships, and as a three-time 3-Point Shootout champion.
The Long Beach State alum spent the first two years of his NBA career with the Clippers, who were still in San Diego, before playing parts of four seasons with the Milwaukee Bucks, with whom he averaged 10.5 points and 3.4 assists per game, twice leading the NBA in three-point shooting percentage. He was traded to the Phoenix Suns during the 1987-1988 season and then joined the Chicago Bulls during the 1988-1989 campaign.
Craig Hodges was a consistent competitor at the 3-Point Shootout during NBA All-Star weekend, appearing in the first eight contests from 1986 to 1993, his last appearance coming when he didn't even have a team. He won the contest three consecutive times (1990-1992) and also won two NBA titles with the Bulls. Hodges was just 32 years old when he was waived by Chicago in 1992.
So how does a 32-year-old sharpshooter who was a key reserve on two championship teams all of a sudden find himself without a job? It's the same reason why Colin Kaepernick still hasn't had a job in the NFL in four years.
Like Colin Kaepernick, social activism cost Craig Hodges his career
Craig Hodges was an activist long before he ever stepped foot on an NBA court. His mother was very involved in the fight against social injustice when he was young and he always remembered the lessons she taught him about fighting for what he believed in.
When he came to the NBA in 1982, on the advice of Bill Walton, Hodges became very active in the players' union. He encouraged his fellow players to get involved in their respective communities and encouraged them to do it without cameras involved, which is how he preferred to do his own charity work.
When he joined the Chicago Bulls, he tried his hardest to get Michael Jordan to use his popularity in the fight against social injustice, which obviously didn't work as Jordan chose to never get involved in social matters, at least not publicly. When young men, mostly young Black men, began to get killed just for wearing Air Jordan shoes on their feet, he tried to convince MJ to leave Nike to establish his own shoe company that would provide jobs to people in Chicago, which also didn't work.
Only three months after the Rodney King incident, he asked Jordan and Magic Johnson to lead a boycott of Game 1 of the 1991 NBA Finals, another idea that failed. One year later, a day after Game 1 of the '92 Finals, Hodges blasted Jordan for not having an opinion on the LA riots. When the Bulls visited the White House to celebrate their second championship, Craig Hodges wore a dashiki to get the attention of then-President George Bush, also delivering a handwritten note about the treatment of the poor and minorities. All of a sudden, he found himself without a job.
Phil Jackson never wanted to get rid of Craig Hodges. Hodges said that Jerry Krause told him that the franchise wanted to go with younger players. When none of the other 28 teams in the league at the time called, Hodges knew something was up, a thought shared by his former head coach (h/t New York Times).
"I also found it strange that not a single team called to inquire about him. Usually, I get at least one call about a player we've decided not to sign. And yes, he couldn't play much defense, but a lot of guys in the league can't, but not many can shoot from his range, either."

Phil Jackson on Craig Hodges
Craig Hodges never took a knee like Colin Kaepernick but his message was the same. He was going to speak up and make his voice heard on the issue of social injustice. And just like Colin Kaepernick, it cost him his career. And just like Colin Kaepernick, he filed a lawsuit.
The three-time 3-Point champ filed a lawsuit against the NBA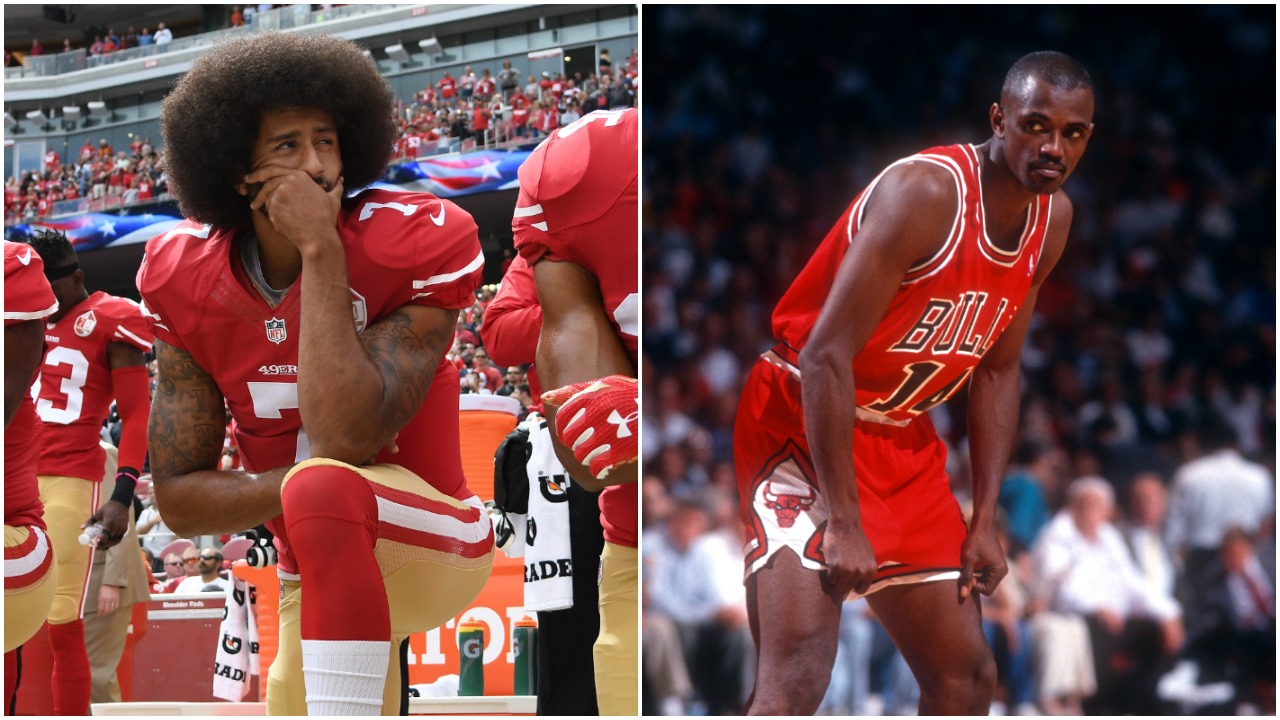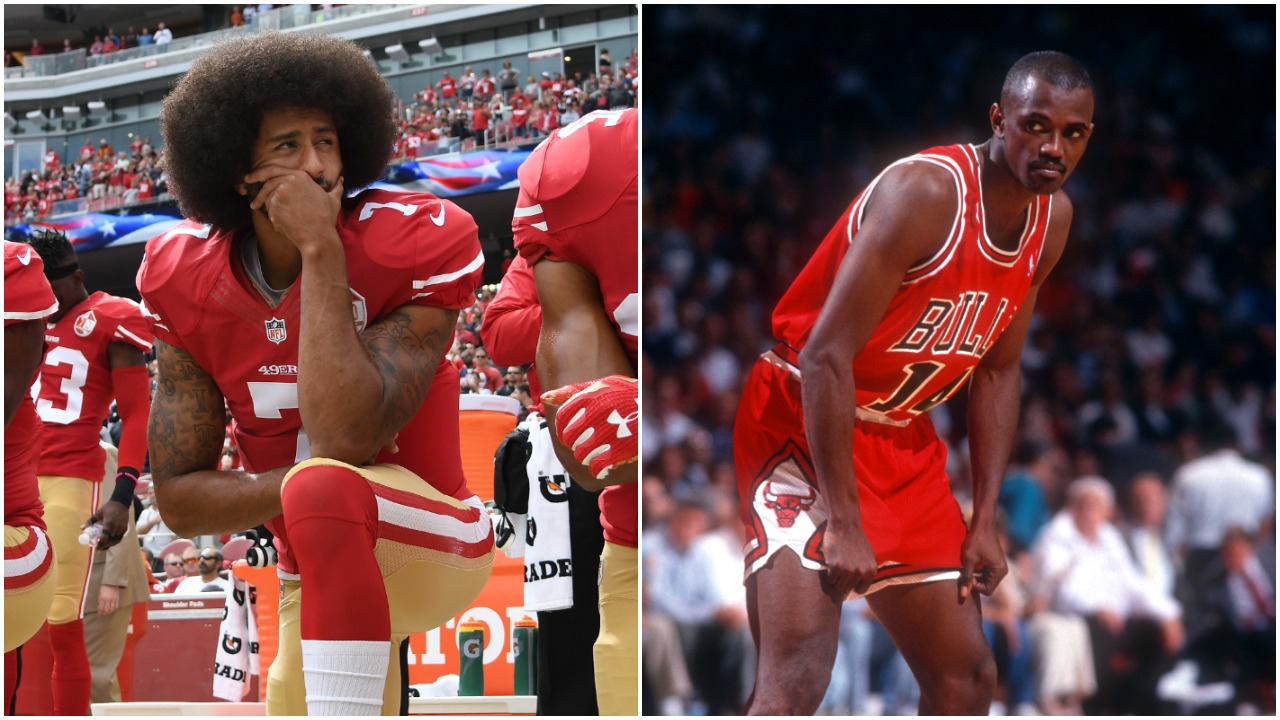 After failing to find work in the NBA, Craig Hodges played overseas and also spent time in the CBA. He eventually filed a $40 million lawsuit against the NBA, claiming he was blackballed from the league due to his politics. He alleged that the league was embarrassed by his behavior at the White House and that his criticism of other Black athletes that he felt weren't doing enough in their communities was being held against him.
But within a year of filing the lawsuit, it was dismissed by a federal judge, who said that he'd waited too long, ruling that the statute of limitations for a case involving racial discrimination was two years. Hodges didn't file until 1996, four years after the Bulls had released him.
Craig Hodges did eventually make his way back to the NBA as a coach. And who hired him? None other than Phil Jackson, the same man who tried to go to bat for him before the Bulls let him go. Hodges joined the Lakers as a special assistant to Jackson in 2005 and held the job until the Zen Master retired in 2011.
Like Colin Kaepernick, Craig Hodges continues to speak up on the issue of social injustice. Hodges was against the NBA restart given the state of affairs in the U.S. and had to be very pleased to see the Milwaukee Bucks refuse to take the court in Game 5 of their first-round playoff series against the Orlando Magic, clearly a protest against the police shooting of Jacob Blake in Kenosha, Wisconsin, this past Sunday. And as it just so happens, the Bucks' protest came exactly four years after Colin Kaepernick first began his protest of refusing to stand for the national anthem.
It took 13 years for Craig Hodges to get back to the NBA. Let's hope it doesn't take that long for the NFL to welcome back Colin Kaepernick.