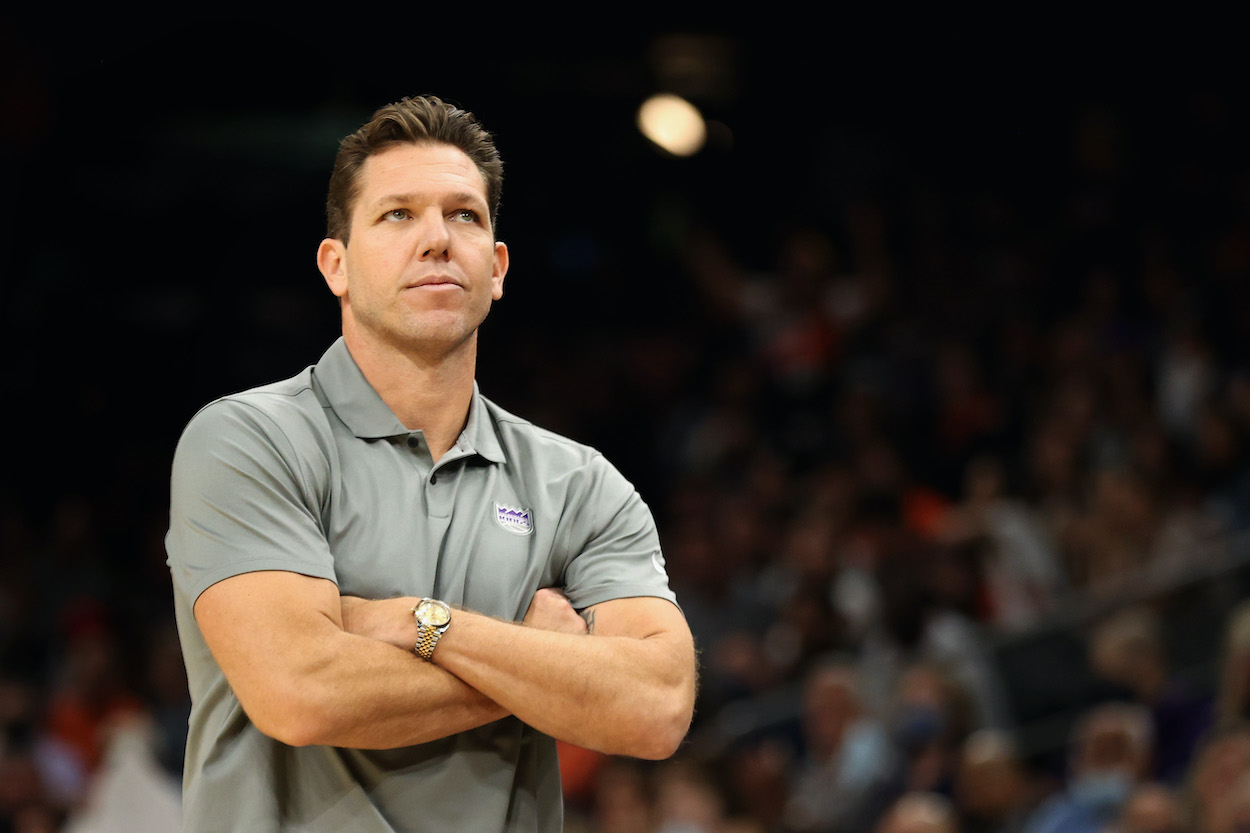 The Lowly Sacramento Kings Are Contemplating a Long-Overdue Power Move That Could Save Them From Yet Another Lost Season
Luke Walton hasn't been able to turn the Sacramento Kings around in two-plus years as the head coach, and he's rightfully been placed on the hot seat.
For the last 15 years, the Sacramento Kings have been the laughing stock of the NBA. They haven't recorded a single winning season or a single playoff appearance since 2006, and they've gone through 10 head coaches over that span.
The Kings thought Luke Walton would finally be the hire to raise them up from the basement of the Western Conference, but it's only been more of the same for Sacramento under the 41-year-old head coach. After a 5-8 start to the season, the Kings are finally contemplating giving up on their most recent hire.
Frankly, it's a decision that's long overdue.
Luke Walton has been a disappointing hire for the Kings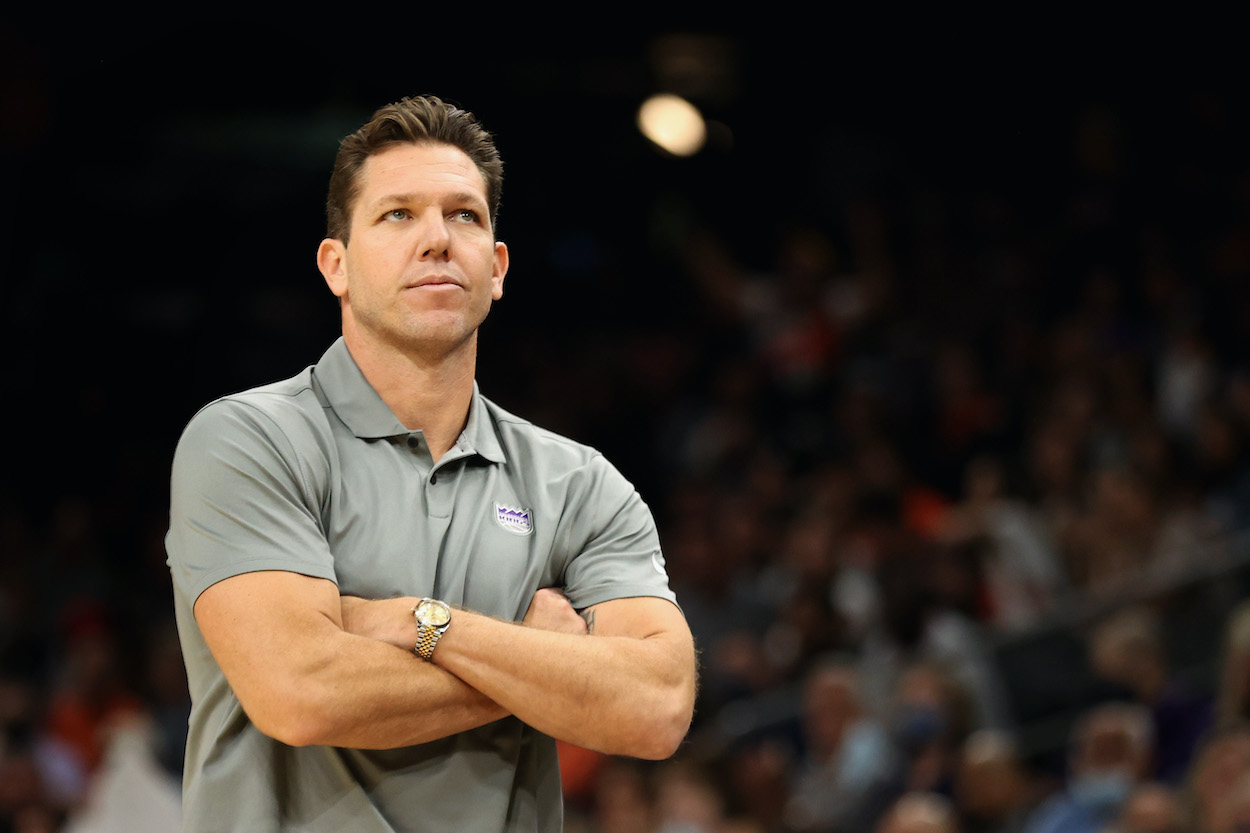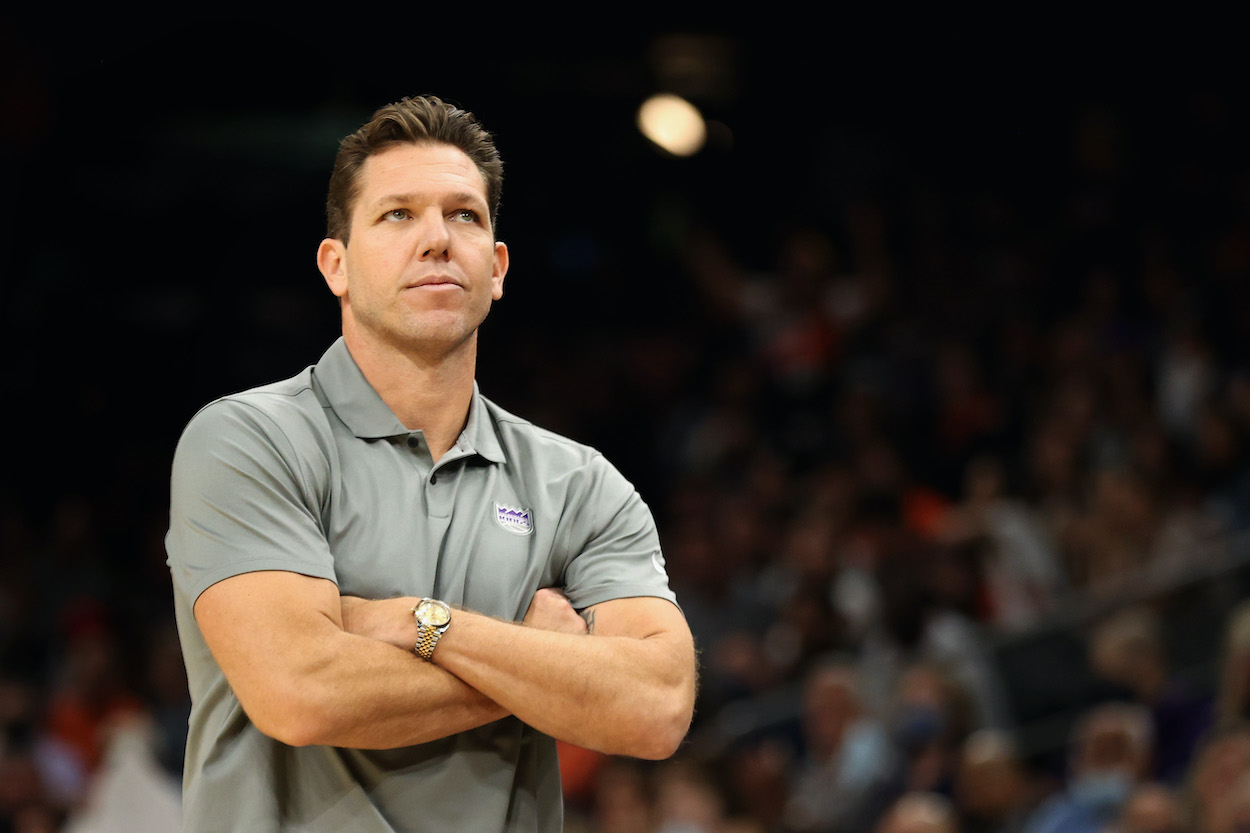 After 13 years of incompetence, the Kings made what they thought was a franchise-altering hire by inking Walton to a four-year deal to become their new head coach in 2019.
Walton was expected to be the next great NBA head coach after spending two seasons as an assistant for the Golden State Warriors at the height of their powers. The up-and-comer even filled in for Steve Kerr to start the 2015-16 season and led the Warriors to a 39-4 record.
But anyone with half a brain could've accomplished the same with the most dominant regular season team in NBA history.
In the 2016 offseason, the Los Angeles Lakers threw $25 million at Walton to become their head coach, but he failed to live up to the hype. Walton led the Lakers to a 98-148 combined record in three seasons in LA. He couldn't sneak into the playoffs even one time during that stretch, but the Kings still saw enough to hire him as their head coach in 2019.
Even with top draft picks De'Aaron Fox, Marvin Bagley, and Buddy Hield on his roster, Walton only led Sacramento to a 31-41 record and a 12th-place finish in the West in each of his first two seasons at the helm. Again, no playoff appearances in sight.
Last year, the Kings finished with the worst defensive rating in the NBA at 117.2. And still, Sacramento gave Walton one more chance.
The Kings are finally contemplating firing Walton
Walton's job looked to be in peril last season after the Kings went through two different nine-game losing streaks and ultimately missed out on the playoffs for the 15th straight year. The team showed no improvement from Year 1 of Walton's tenure to Year 2, but the Kings decided to keep their head coach around for one more season.
But time might finally be running out for Walton in Sactown.
After a 5-8 start to the year, the Kings are starting to contemplate firing Walton, according to a report from Sam Amick and Shams Charania of The Athletic.
Sacramento has lost four straight games, including three to losing teams. The Kings have a fairly easy stretch in front of them with the Detroit Pistons, Minnesota Timberwolves, and Toronto Raptors on deck. If they drop all three to fall to 5-11, it could be a wrap for Walton.
A long-overdue power move
The Kings will be making the right decision when they finally decide to pull the plug on their Walton experiment, but it's already lasted a few months longer than it should've.
This is a promising, young roster that should only be improving with more time under its head coach, but it's only gone the opposite way in two-plus years. The NBA even did Walton a favor by expanding to 10 playoff teams in each conference, and he still couldn't even crack the play-in tournament last season. That, paired with Sacramento finishing with the worst defensive rating in the league should've been enough of a reg flag to send Walton packing this summer.
Unsurprisingly, Sacramento hasn't shown many signs of life this year, either, and the only player who seems to have improved from last season is Harrison Barnes. If the Kings don't replace Walton with a fresh face soon, they might just waste Fox's prime.
Walton has been a head coach in the NBA for five full seasons, and he hasn't finished with a winning record in any of them. The Kings might've been fooled by Walton's fluky interim stint coaching Kevin Durant, Stephen Curry, Draymond Green, and Klay Thompson at their peaks, but he simply isn't the answer for this perpetually rebuilding franchise.
Like Sportscasting on Facebook. Follow us on Twitter @sportscasting19.