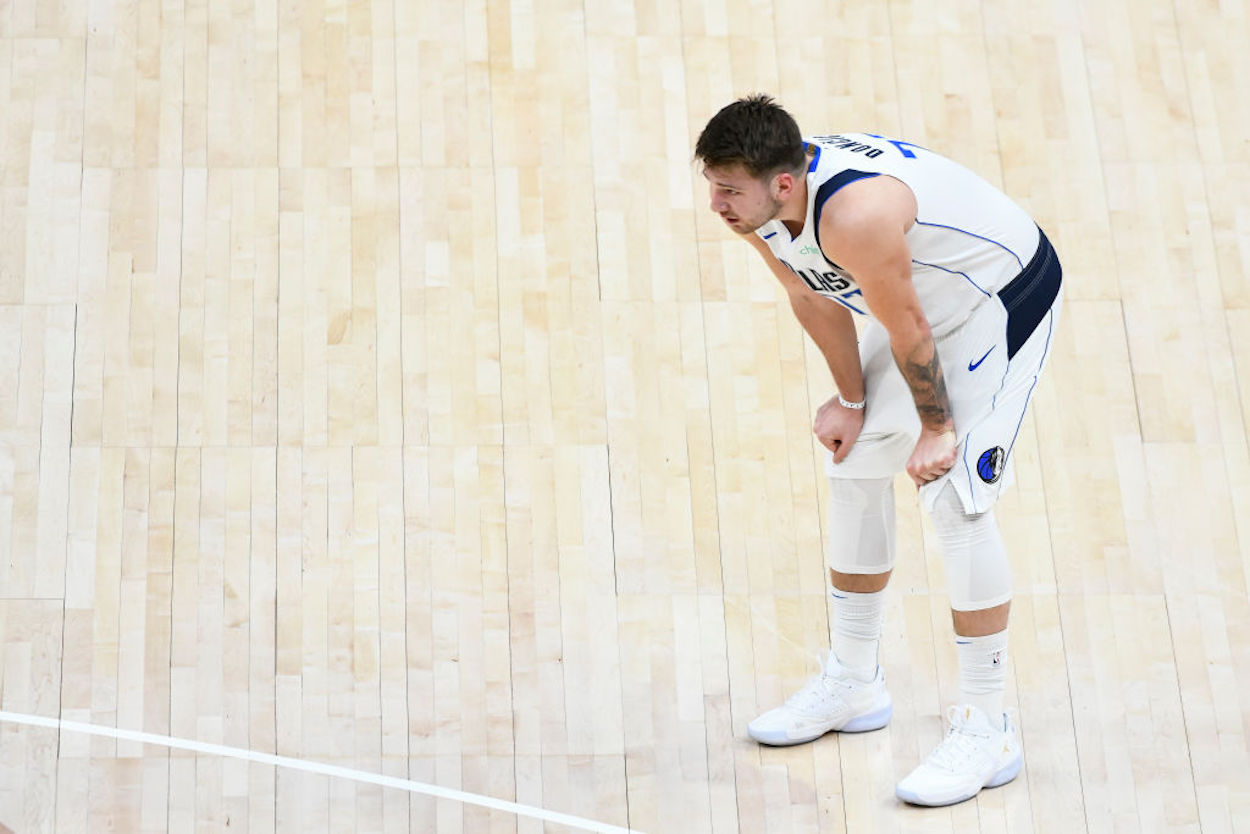 Luka Doncic Fires a Calculated Shot at His Mavericks Teammates Amid Losing Streak
The Dallas Mavericks have lost five games in a row, and the frustration is building up for their MVP candidate, Luka Doncic.
Luka Doncic isn't used to losing.
The MVP candidate and former Real Madrid superstar has won with relative ease no matter where his basketball career has taken him. So when the Dallas Mavericks lost their fifth straight game on Saturday night, Doncic had some choice words for his teammates who he believes aren't showing enough competitive effort. This situation in Dallas might get worse before it gets any better.
The Mavericks are on a five-game losing streak
The Mavericks entered the 2020-21 NBA season as one of the favorites to emerge out of the Western Conference. Luka Doncic was the preseason MVP favorite, Kristaps Porzingis was set to return to full health, and they had the pieces around their two superstars to give the Los Angeles Lakers a run for their money.
But things haven't gone so smoothly for the Mavericks to start the season. Through 20 games played, Dallas currently sits at 8-12 and outside of the playoff picture in the Western Conference. Only the New Orleans Pelicans and the Minnesota Timberwolves have worse records so far.
The Mavericks have hit a low point in the young season recently, as they've dropped their last five games in a row. They're getting outscored by an average of 13.2 points per game over that stretch, which includes a 25-point loss to the Houston Rockets.
Dallas blew a fourth-quarter lead against the Phoenix Suns Saturday night to drop their fifth consecutive contest, and Doncic let his frustration out after the game.
Luka Doncic calls out his Mavericks teammates
After the disappointing loss to the Suns on Saturday night, Doncic fired a shot at his Mavericks teammates regarding their play during Dallas' five-game losing streak. Doncic said the team's struggles aren't about X's and O's, but about effort.
"Terrible," Doncic told reporters with a stern tone after the game. "There's really not much to say. I never felt like this. We gotta do something, because this is not looking good and we gotta step up and just talk to each other and play well better than this. It's mostly effort.
"Right now it's looking like we don't care, honestly," Doncic continued. "More energy. More effort. Dive for every ball. Box out. Everything. There's a lot of things that we can improve, and I know we will. I know we will, and that's all that matters there."
Where do the Mavericks go from here?
With two young All-Stars in their primes and a championship-winning head coach in Rick Carlisle, the Mavericks should be set up to be an NBA Finals contender this season. But through 20 games, Dallas finds itself in 13th place in the West and 3.5 games out of a playoff spot.
Even with the offensive firepower they possess, the Mavericks rank 21st in the NBA in scoring at 108.7 points per game. Doncic needs to put this team on his back if he wants to make the postseason in this shortened NBA season.
After two games against the Suns and Hawks coming up, the Mavs will host the Warriors for back-to-back homes games. Golden State currently holds the No. 8 seed in the West at 11-9, so two wins against Steph Curry and company could bring Dallas right back into playoff contention.
Maybe Doncic's comments will light a fire in the locker room.