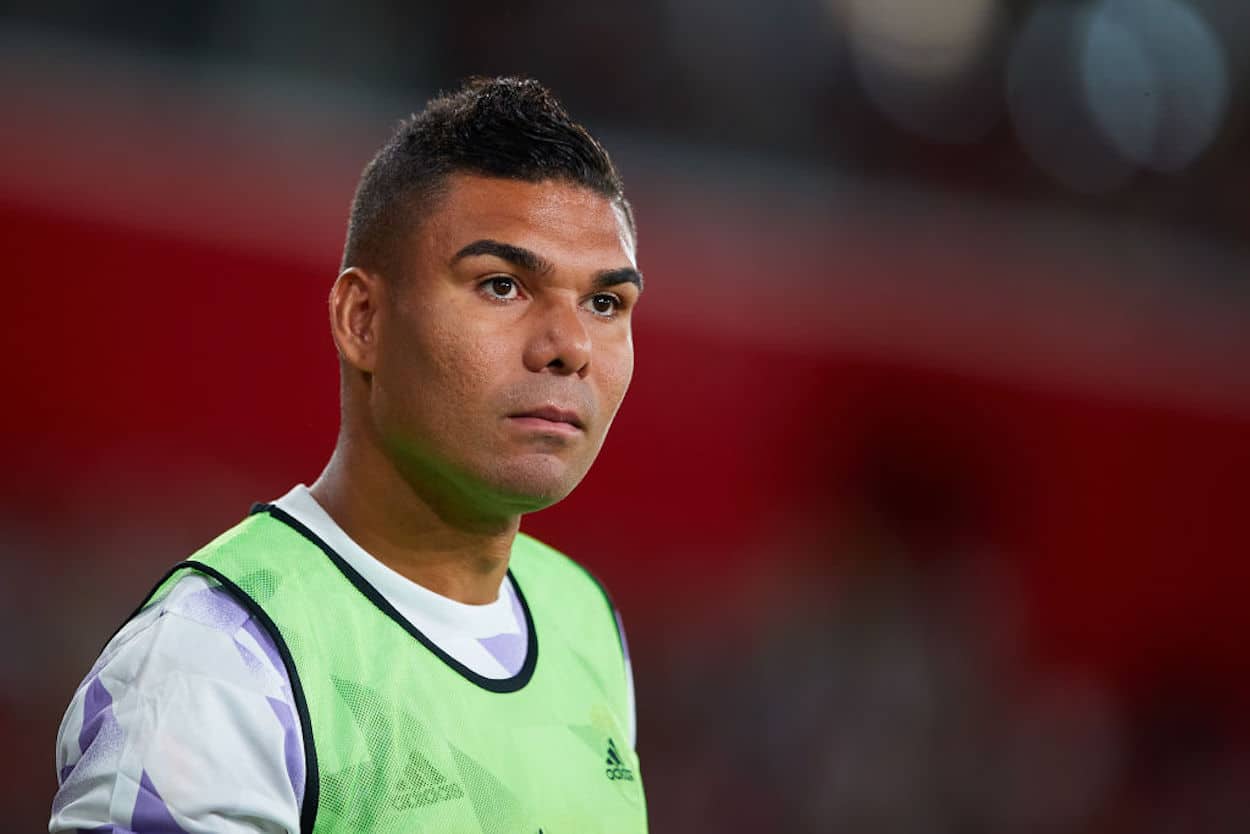 Manchester United Transfers: Casemiro's Short-Sighted Signing Only Moves the Red Devils Further Away From Long-Term Success
Casemiro's arrival in Manchester may seem like an encouraging sign, but he's not the answer to United's sustained struggles.
After a poor start to the 2022-23 Premier League campaign, Manchester United needed to do something to turn the tide. While Frenkie De Jong has been the main target all summer, the Red Devils struck a deal with a different Spanish giant to acquire some midfield reinforcements. Casemiro, who has won just about every honor imaginable at Real Madrid, has come to Old Trafford.
That move makes Erik ten Hag's squad better in the short term, but that's not the entirety of the story. Although Brazilian helps right now, his signing shows that United haven't learned any lessons about long-term planning. If anything, this deal will only prolong their collective suffering.
Casemiro will undeniably make Manchester United better right now
At the risk of breaking out a cliche, the midfield is a successful soccer team's engine room. Manchester United, however, were metaphorically running on empty.
While ten Haag hasn't been in charge for long, he's struggled to fix the Red Devils' issues in the center of the park. Scott McTominay and Fred, the nominal first-choice duo, lack the creativity and composure to run the show. They're susceptible to pressure on the ball, lack passing range, and, when defending, don't exactly provide an impenetrable screen in front of the back four. Pulling someone like Christian Eriksen into a deeper role can help mitigate some of those issues, but the Dane isn't exactly going to snuff out counter-attacks like prime N'Golo Kante.
Casemiro, however, obviously papers over some cracks. He's more than capable on the defensive side of things, and that will certainly help United. He might not be the most natural creator ball-carrier and isn't the greatest outlet for a team trying to beat the press– the Brazilian rarely played as a single pivot, meaning he always had some help — but it's possible that ETH can mitigate that by using Eriksen as the third midfielder in a 4-3-3. That will create other issues, like fitting Bruno Fernandes into the lineup, but would theoretically provide some defensive stability and an outlet to move the ball upfield.
With that being said, though, it's not all sunshine and rainbows at Old Trafford.
Despite Casemiro's obvious positives, the move still shows United's tendency to paper over the cracks rather than addressing the true problem
Given that he'll obviously make the current squad better, it's easy to assume that Casemiro's arrival in Manchester is a positive development. While that may be true for the current campaign, the move suggests that United haven't actually learned from any of their previous mistakes.
Ever since Sir Alex Ferguson retired, the Red Devils have been trapped in limbo. The club will appoint a new manager, bring in some players to address his immediate concerns, then plow ahead. Eventually, the manager will depart, someone new will take over, and the cycle will begin again. That has left United with a sizable squad full of mismatched, big-name players. Even if they're unwanted, their massive wages make it impossible to move on.
Further compounding that reality is the fact that the club has used big-name signings as a way to paper over the cracks. United may be struggling, but the brass has been unable or unwilling to commit to rebuilding with a cohesive vision in mind. Instead, stop-gaps, like Edinson Calvani and Cristiano Ronaldo, and flashy names, like Jadon Sancho, have come to Old Trafford and failed to stop the rot.
It's impossible to see the Casemiro signing as anything other than another step down that path. While the Brazilian will help in the short-term, he's coming to town at age 30 and on massive wages. What happens if he falls off a cliff in two years' time? In all likelihood, his salary will be another unmovable albatross around the club's metaphorical neck.
Beyond that, his arrival doesn't exactly support the existence of a long-term plan. As we've already discussed, Casemiro lacks the creative capabilities to be Erik ten Hag's perfect number 6. That means United will either have to make do with a squad that doesn't fit their manager's vision or have to go out and buy another midfielder in the near future. Neither of those is ideal, especially when you remember Casemiro's age. What happens if you buy his perfect partner next summer, they play together for a year, and then the Brazilian's legs start to go?
While it might be painful for Manchester United fans to wrap their collective minds around, the club is in need of a genuine overhaul, with a proper director of football, a collective vision, and the patience to see it through. Buying someone like Casemiro may make things a bit more tolerable in the short term, but his arrival is another sign that no one at Old Trafford is ready to tear things down just yet.
In the long term, that will prolong the suffering.
Like Sportscasting on Facebook. Follow us on Twitter @sportscasting19 and subscribe to our YouTube channel.