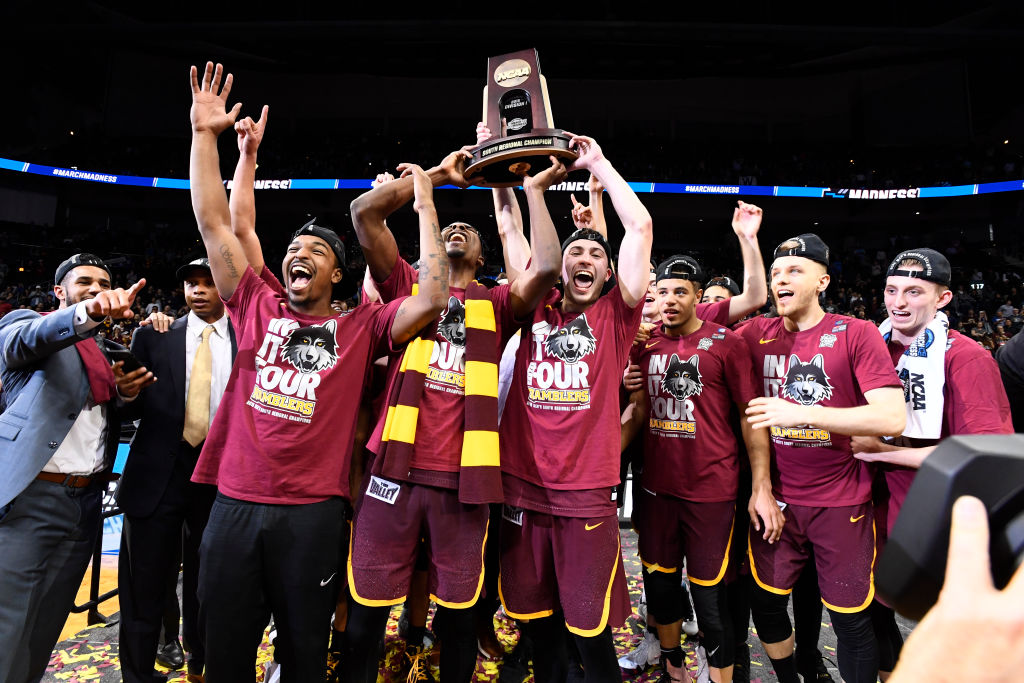 March Madness Begins With These Must-Watch Conference Tournaments
March Madness begins before the NCAA tournament tips off. Get a leg up on your bracket pool by checking out these conference tournaments.
College basketball fans, rejoice! March Madness is here, and everyone knows what that means — brackets are coming.
Sadly, the Big Dance doesn't get underway for another two weeks, but conference tournament brackets are already in full swing.
Many fans don't pay attention to mid-majors in the Missouri Valley Conference or the Southern Conference. They get only one bid to the NCAA Tournament, so why should we care?
We should care because these conference tournaments are where cinderella stories are born. Watching these lesser-known conference finals will give you a leg up in your office pool when you pick the biggest upset correctly in the first round.
Here are some enticing conference tournaments to watch over the next two weeks:
Missouri Valley Conference
Ah, the Missouri Valley. The conference that has recently produced Sister Jean-fueled Loyola Chicago, which made it all the way to a Final Four in 2018.
The MVC's tournament is so fun it even has it's own nickname — Arch Madness. Held in St. Louis, the tournament begins Thursday, March 5 and finishes with the championship on Sunday, March 8.
The Missouri Valley has been a force to be reckoned with in recent years, even outside of that magical Loyola run. Northern Iowa has won the MVC three times since 2010, and each time they've advanced past the first round of the NCAA Tournament.
This year looks like another chance for the Panthers to make some noise.
UNI locked up the No. 1 seed by finishing the regular season at 25-5 and 14-4 in conference play. They rank 18th in the country in adjusted offensive efficiency, according to KenPom. Their unselfish, patient style of offense gives opposing team fits.
Their toughest competitor this season seems to be the aforementioned Ramblers of Loyola Chicago. They still have a few players left from the 2018 tournament team, including big man Cameron Krutwig.
No. 3 seed Indiana State beat both UNI and Loyola this season, so the Sycamores will have every chance to steal a bid. No. 6 seed Missouri State is also an interesting sleeper. The Bears beat Loyola by 12 recently and enter the tournament as one of the hottest teams in the conference.
At the end of the day, this is Northern Iowa's conference to lose, but whoever wins the Missouri Valley bid will be a prime candidate for a first-round upset in the NCAA Tournament.
Southern Conference
The Southern Conference had great success last season with Wofford advancing to the round of 32 and falling to No. 2 seed Kentucky.
This year, Wofford has taken a step back after losing their head coach Mike Young to Virginia Tech. The SoCon seems to be a three-horse race in 2020 between East Tennesse State, Furman, and UNC Greensboro.
East Tennessee State is the prohibitive favorite and No. 1 seed. The Buccaneers are 27-4 and beat LSU earlier this season. It's possible ETSU receives an at-large bid to the NCAA Tournament, but they surely would rather lock up their spot with a SoCon title.
Furman and UNC Greensboro are the two legitimate contenders looking to steal that bid. They will most likely face off in the semifinal for a chance to play ETSU in the championship on Monday, March 9.
Furman handed ETSU one of its two conference losses in January, so they won't be afraid of the mighty Buccaneers in a rematch.
Either way it shakes out, the semifinal on Sunday and the championship on Monday are both must-watch appointments. All three teams could hold their own in a major conference, and whoever runs the table will put a contender on upset alert in the round of 64.
Mid-Atlantic Conference
Who doesn't love some MACtion?
The MAC Tournament doesn't start until Monday, March 9. The seeding isn't in place yet, but that doesn't mean it's too early to get excited.
The MAC is one of the most wide-open conference tournaments in the NCAA this season. Six teams have won at least 17 games in 2020.
Akron should be able to secure the No. 1 seed this week, but it wouldn't be surprising to see any of the six teams with winning conference records hoist the trophy.
Bowling Green might be the most dangerous group, though. The Falcons beat Cincinnati earlier this season and took LSU down to the wire in Baton Rouge. They might have the best chance to pull off an upset in the round of 64.
It will be fascinating to watch how the MAC Tournament unfolds. With so many unknowns and so many teams with little separation, we could see some early March Madness moments in Cleveland next week.