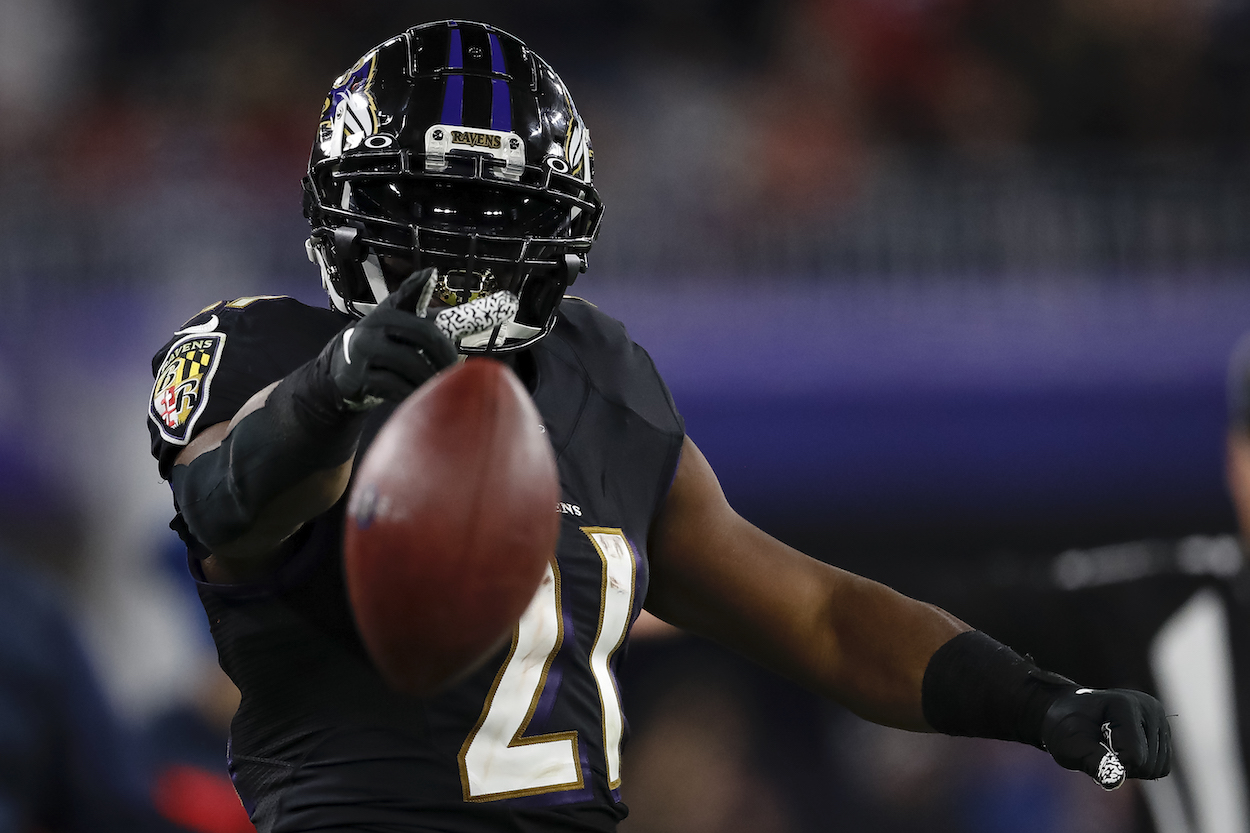 Mark Ingram Used Some of His More Than $30 Million in Career Earnings to Become an Owner at D.C. United
Mark Ingram has made three Pro Bowls and more than $30 million in his career. He's now using some of that money to become an owner of D.C. United in the MLS.
Mark Ingram has posted impressive numbers in his 10 NFL seasons and earned three Pro Bowl nominations. During that same time, he's also hauled in more than $30 million in career earnings. The former Baltimore Ravens running back recently announced he's parting ways with some of his money and becoming an owner of another popular sports franchise in the D.C. area.  
Mark Ingram earned multiple Pro Bowl nominations
The New Orleans Saints selected Mark Ingram with the 28th overall pick in the 2011 NFL Draft. The former Alabama star became a fixture in the Saints backfield, recording solid numbers each of his first few seasons. In 2014, Ingram earned his first Pro Bowl nod after rushing for nine touchdowns and 964 yards.
In 2017, Ingram rushed for a career-best 1,124 yards and 12 touchdowns en route to earning his second Pro Bowl appearance. After another season in the Big Easy, Ingram signed a three-year, $15 million contract with the Baltimore Ravens. 
In his first season with the Ravens, Ingram regained his Pro Bowl form, rushing for 1,018 yards and scoring 10 touchdowns. He remained in Baltimore for the 2020 season but played a limited role and rushed for a pair of touchdowns and 299 yards. 
The Ravens waived him after the 2020 season, and he signed a one-year deal with the Houston Texans for $2.5 million.    
Mark Ingram uses money to become owner at D.C. United
During Ingram's decade-long career, he's received more than $32.5 million in earnings and has a reported net worth of $12 million. Last week, Ingram announced he was sending some of his money back to his old stomping grounds in Washington D.C. as part-owner of the Major League Soccer club D.C. United.
"D.C. United are a club rich with tradition and ripe with promise," Ingram said in a statement released by the team. "I am excited about the recent investments the club has made to build towards a sustainable future and the decisions they have taken at the leadership level both on and off the pitch. Additionally, the club's values have been on full display recently and they align with my beliefs.
"I've spent quite a bit of time in the DMV as a professional athlete as well as had the fortune of attending D.C. United matches and the passion of the sporting community and fanbase here is second to none. I look forward to playing an active role in the ownership group to help our club compete for more major trophies and deepen our impact in the community."
Joins growing list of athletes investing in soccer 
Ingram's new business venture continues a growing trend of athletes investing in other sports teams, and soccer in particular. Last year, NBA superstar Kevin Durant purchased a minority stake in the Philadelphia Union. 
Durant's Brooklyn teammate, James Harden, got in on the action back in 2019 while still playing for the Rockets when he joined the Houston Dynamo ownership group, which already had former boxing champion Oscar De La Hoya on board. 
LeBron James was one of the first big-name athletes to see soccer as a business opportunity but he went overseas with his investment back in 2011, receiving a stake in English Premier League side Liverpool FC. As of last year, his investment had reportedly grown from $6.5 million to $43 million.
Chances are Ingram's investment won't produce those types of returns, at least not in the short term, but based on the growing popularity of the sport in the U.S., it's likely to be a good long-term investment and pay off in the years to come.  
Like Sportscasting on Facebook. Follow us on Twitter @sportscasting19.