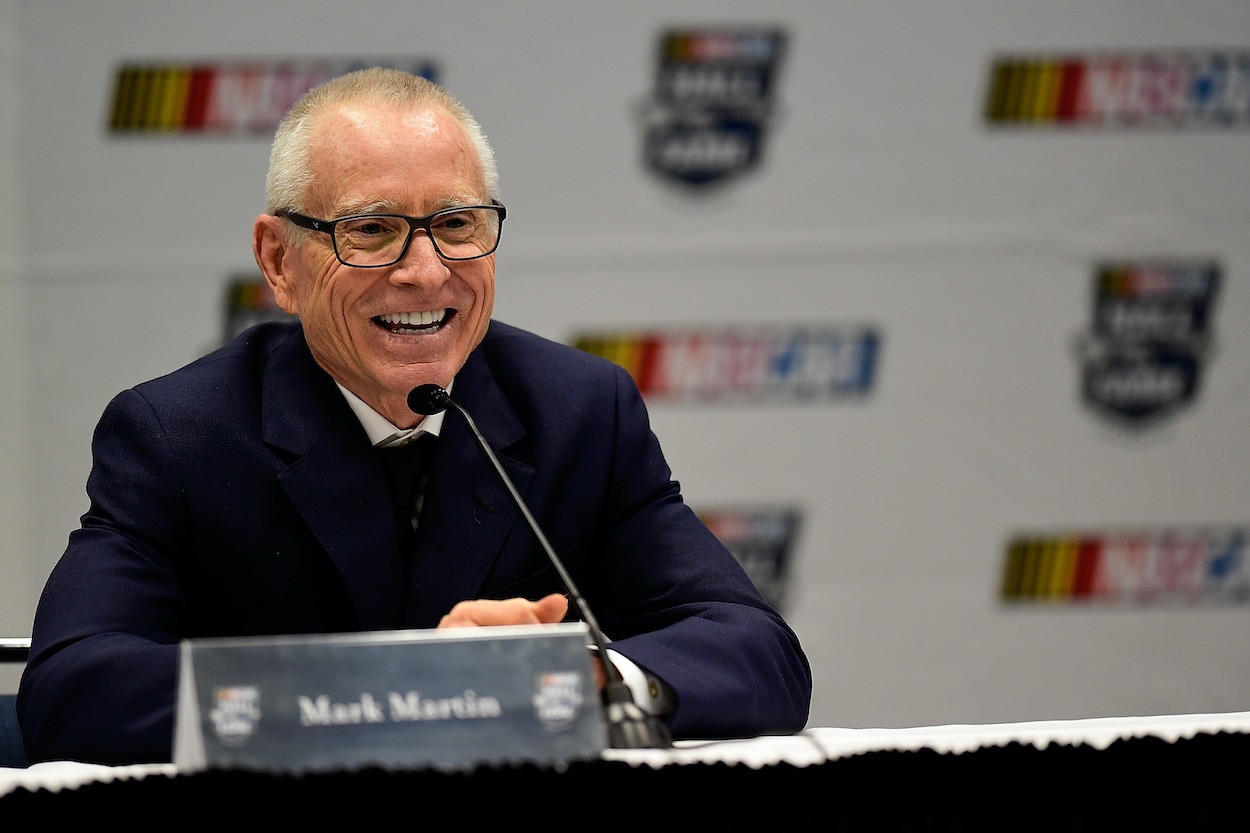 Mark Martin Making Return to Racing in Role You Wouldn't Expect
NASCAR Hall of Famer Mark Martin returns to the race track this weekend in a very different role but one that suits him well based on his successful career.
Mark Martin retired from Cup Series racing in 2013 at age 54. Today, the 63-year-old enjoys working on his motorhome and traveling in it around the country with his wife. He also watches racing as a fan and this year he made a lot of his fans happy when he appeared on the Fox broadcast at Auto Club Speedway. This weekend the NASCAR Hall of Famer will make another return to racing in a much different capacity and one most fans would not expect. 
Mark Martin enjoying retirement 
Mark Martin was inducted into the NASCAR Hall of Fame in 2017 after a stellar career that included seven wins in the Truck Series, 49 in Xfinity Series (second-most ever), and 40 victories in the Cup Series. 
Since stepping away from competition in 2013, Martin has often been questioned about a return to racing. Each time, he's insisted that chapter is closed. 
"I love racing with all my heart. It's just something that I'm not interested in doing (anymore)," he told NASCAR.com last year. "I want to do other things. I want another chapter in my life before it closes. And in something that's different than what I did the past 40 years." 
Martin appears in Fox broadcast booth
This year with Fox employing a rotational lineup of guests analysts working the Cup Series broadcasts with Mike Joy and Clint Bowyer, many fans wondered if Martin might be one of the former drivers up in the booth. 
One fan asked him that question on Twitter before the start of the season.
"I have a few reasons I wouldn't want to," he replied. "I don't think I would be any good at it. I'm afraid I would embarrass myself. I'm dumb as hell. I love being retired and hate meeting a schedule anymore. I enjoy watching it on TV and letting the experts do a great job. I might try."
During the second race of the year at Auto Club Speedway, Martin appeared in the booth during the second stage and visited with Joy, Bowyer, and that week's guest analyst Matt Kenseth.  
Serving as crew chief this weekend
Martin is a humble guy. He's certainly not dumb as hell, and his career proved that. He was one of the few drivers who received detailed information on his car's setup and would tell the crew all the adjustments he wanted over the radio during the race.
That's why this week's announcement that he would serve as a crew chief for Daniel Dye in a Super Late Model race didn't come as a total surprise to many of the former driver's fans. The 18-year-old Dye, who is a regular in the ARCA Menards Series, is racing at Mission Valley Super Oval in Polson, Montana in a car owned by reigning ARCA West series champion crew chief Travis Sharpe.
"I'm really excited about teaming up with Daniel Dye and Travis Sharpe for the Montana 200," Martin told Motorsport.com. "I've had my eye on Daniel for a while, and believe we can be a contender for this prestigious event."
Who knows where this might lead for Martin. One thing for sure is Dye will get the experience of a lifetime from one of NASCAR's all-time greats.
Like Sportscasting on Facebook. Follow us on Twitter @sportscasting19 and subscribe to our YouTube channel.