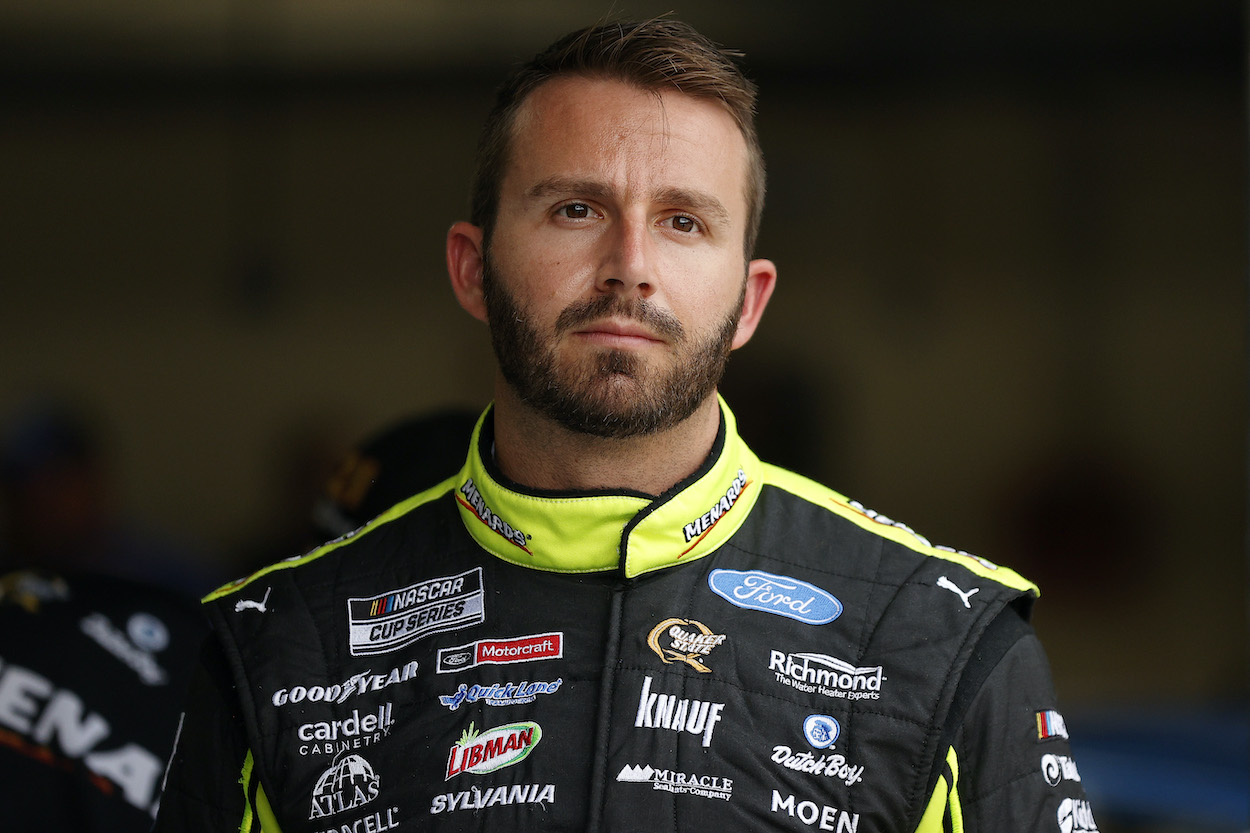 Matt DiBenedetto Getting Embarrassingly Mocked by Former Sponsor Doesn't Bode Well for His Future in NASCAR
Matt DiBenedetto didn't sound hopeful in September about landing a ride in 2022. It's gotten much worse with a former sponsor embarrassingly mocking him.
Matt DiBenedetto is living in limbo. After announcing this past summer that he didn't have a NASCAR Cup Series ride for 2022, he spoke about potential opportunities for next season. To this point, none have come to fruition. 
Unfortunately for the former Wood Brothers driver and his fans, things don't appear to be trending in the right direction. That became evident this week when a former sponsor took to Twitter and took the time to embarrassingly mock him.  
Matt DiBenedetto open to racing in Xfinity or Truck Series
Shortly after Matt DiBenedetto announced he wouldn't be returning to the Wood Brothers team in 2022, a report surfaced, and it suggested that the driver had no interest in racing anything except for the Cup Series. Trucks and Xfinity, where he had spent some time between 2009-16, were out of the picture.  
Apparently, when that initial report went public, DiBenedetto recalculated, and Davey Segal of SiriusXM NASCAR tweeted the driver was open to competing in the other two series.
"@mattdracing says he 'will entertain anything' for next year, including the Xfinity Series," Segal tweeted. "Reiterated his focus is all on finishing the last 14 races out for @woodbrothers21 on a great note. He had previously mentioned he would only want to stay in Cup, but clarified."
DiBenedetto admitted future looked grim in September
In late September, DiBenedetto appeared on SiriusXM NASCAR Radio and provided an update on his prospects, or lack thereof, in 2022 to guest co-host Corey LaJoie.  
"You know me very well, Corey. I'm pretty straightforward and honest about it all," DiBenedetto said. "There's two answers here, but one is not very good. People are like, 'What have you got working?' And I'm like, 'Nothing.' I am working on everything. 
"It's just crazy because the performance of our team is obvious and the things we've done to make some great improvements and be fast and performing very consistently, but still, as far as pertaining to next year, man, it's odd. Any door that kind of seems to crack open closes. And I'm trying to figure out what God's plan is and what that means because at this moment, I've got zero. Absolutely nothing. It's a very weird landscape. But I'm also thankful that I'm at peace with it going through this process, trying to figure it out, just working as hard as I can because I know it's going to work out as it is supposed to, but it doesn't make it easy as you know."
Past sponsor mocks him on Twitter
A couple of seasons ago, before Matt DiBenedetto joined the Wood Brothers, he raced for Go Fas Racing. Toward the end of his tenure there, he openly discussed the struggles of racing for a lower-budget team and how he was willing to bet on himself and get a better ride in the future. 
While it's understood that the smaller teams work on considerably smaller budgets than the larger teams like Hendrick Motorsports, conversations about those situations are typically reserved for behind the scenes and not in the public eye. Not surprisingly, some of DiBenedetto's comments rubbed some sponsors the wrong way. And now, years later, one of those partners, Keen Parts, decided to go public with some comments of its own after DiBenedetto's team reportedly reached out for potential funding opportunities in 2022.
"Tom got a call today from a guy working to get MattD sponsorship wanting us to sponsor him," a tweet from the Keen Parts Twitter account said, with dozens of laughing with tears emojis sprinkled throughout the comments. The company clarified in a reply that it wasn't the driver directly reaching out for funding. 
The fact the sponsor felt it was necessary to call out the driver publicly shows there were undoubtedly some hurt feelings from DiBenedetto's actions in the past. And it's hard to believe Keen Parts would be the only previous partner that feels that way. 
In other words, DiBenedetto's situation from September has obviously not changed. Whether he lands any kind of ride in 2022 is still very much up in the air. And based on the latest comments and current environment, it doesn't look promising.   
Like Sportscasting on Facebook. Follow us on Twitter @sportscasting19.