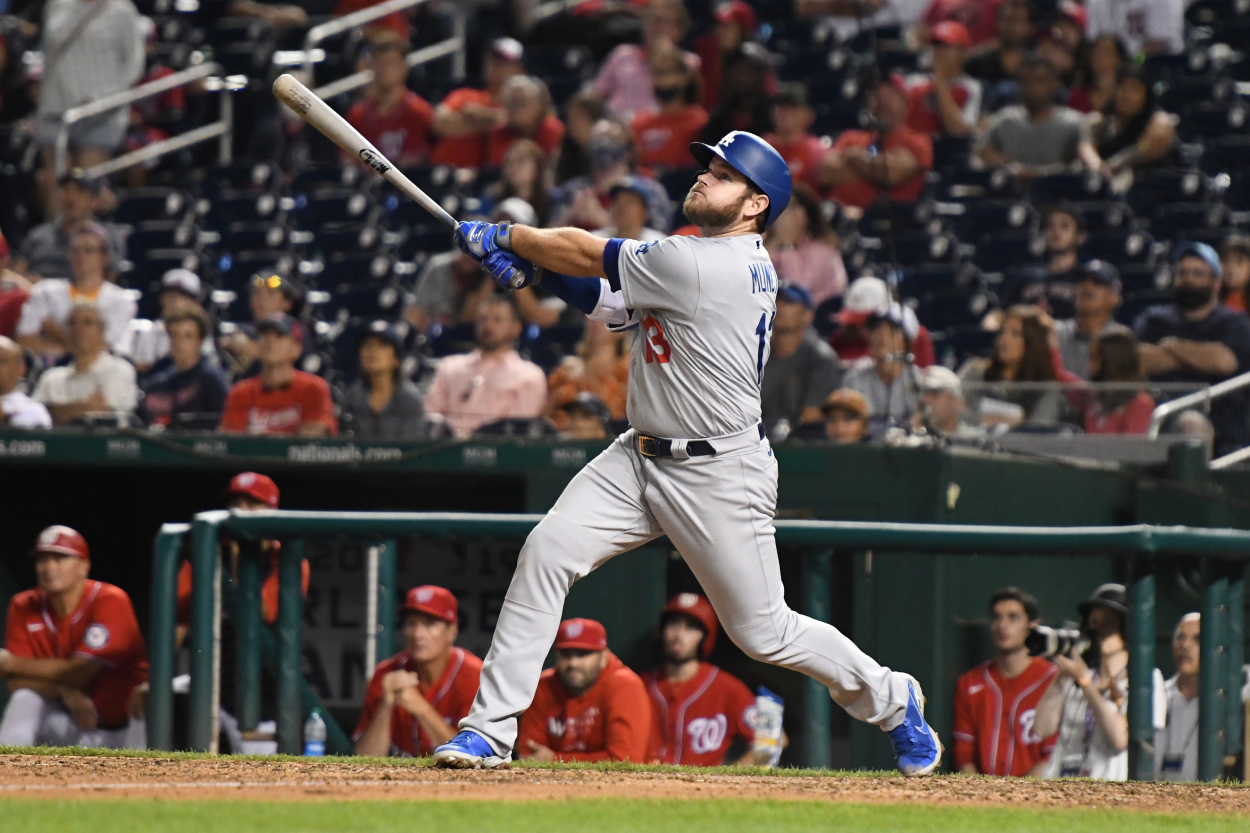 Max Muncy Fans Getting Case of Deja Vu After Mind-Blowing Coincidence During MLB Draft
Max Muncy fans were scratching their heads Sunday during the 2021 MLB Draft.
Yes, Max Muncy is a Major League Baseball All-Star for the Los Angeles Dodgers who will be making his second appearance in the star-studded game Tuesday night. Yes, Max Muncy just got drafted last weekend. A bizarre scenario took place during the 2021 MLB Draft that has Max Muncy fans – and many other baseball fans – doing a double-take.
Max Muncy is making his second MLB All-Star Game appearance
Max Muncy is in his sixth season of Major League Baseball and headed to another MLB All-Star Game. Muncy made his big-league debut on April 25, 2015, as a member of the Oakland Athletics. The Athletics selected him out of Baylor University in the fifth round of the 2012 MLB Draft.
Muncy spent two seasons with the Athletics before getting released during spring training in 2017. The Dodgers signed him in April of 2017, and he was called up to the big leagues a year later on April 17, 2018. Muncy capitalized on his second chance by smacking 35 home runs and driving in 79 runs in 137 games.
The following year, Muncy repeated his 35 homer total while driving in 98 runs. He was selected for the MLB All-Star game. This season, he's headed back to the star-studded affair after hitting 19 homers and leading the league in walks (58) and on-base percentage (.414) in 78 games.
A strange Max Muncy situation occurred during the 2021 MLB Draft
Max Muncy isn't the most common name. It's not Bob Smith or John Williams. It's Max Muncy.
On Sunday, the Athletics selected Max Muncy in the first round of the draft. This came nine years after those same Athletics selected Max Muncy in the fifth round of the 2012 draft. If that isn't weird enough that the same team drafted a Max Muncy, how's this? Both players share the same birthday. They were born on Aug. 25. The two players are not related.
The younger Muncy entered the draft as the No. 43 prospect, according to Baseball America. He's an 18-year-old shortstop taken out of Thousand Oaks High School in Southern California. He's listed as 6-foot-1, 170 pounds with a high baseball IQ.
The Dodgers' Muncy talks about the coincidence
Max Muncy, the Dodgers' star, said he started to hear about his namesake last year.
"Guys would come up and ask questions," he said during an interview with MLBPA's Jerry Crasnick on All-Star Weekend. "This year, obviously, we talked about him a lot. It's kinda crazy we got the same birthday, the same name. He was drafted by the same organization I was drafted by. It's a lot of crazy coincidences.
"I think he's starting off on a better path than I started on," the elder Muncy told MLBPA's Jerry Crasnick. "I hope he's able to have a good career, and I'll be watching, for sure."
The younger Muncy said he hasn't met the Dodgers' All-Star, but he hopes to do so one day. He said there was a meeting in the works, but it fell through. He did say he gets asked quite often if the two are related.
"I haven't met him," he said, according to NBC Sports. There was supposed to be some pre-draft communication – didn't work out. Hopefully, I'll meet him soon. I would say (being asked about their relationship) ends up being about once a day. Sometimes it's up to three times a day, wherever I'm at. I'd say at least once a day, once every two days." 
The younger Muncy hopes to follow the same path as the elder one. The goal is to get to the big leagues and then possibly an opportunity to play in the MLB All-Star Game. For that to happen, he has to make a name for himself.