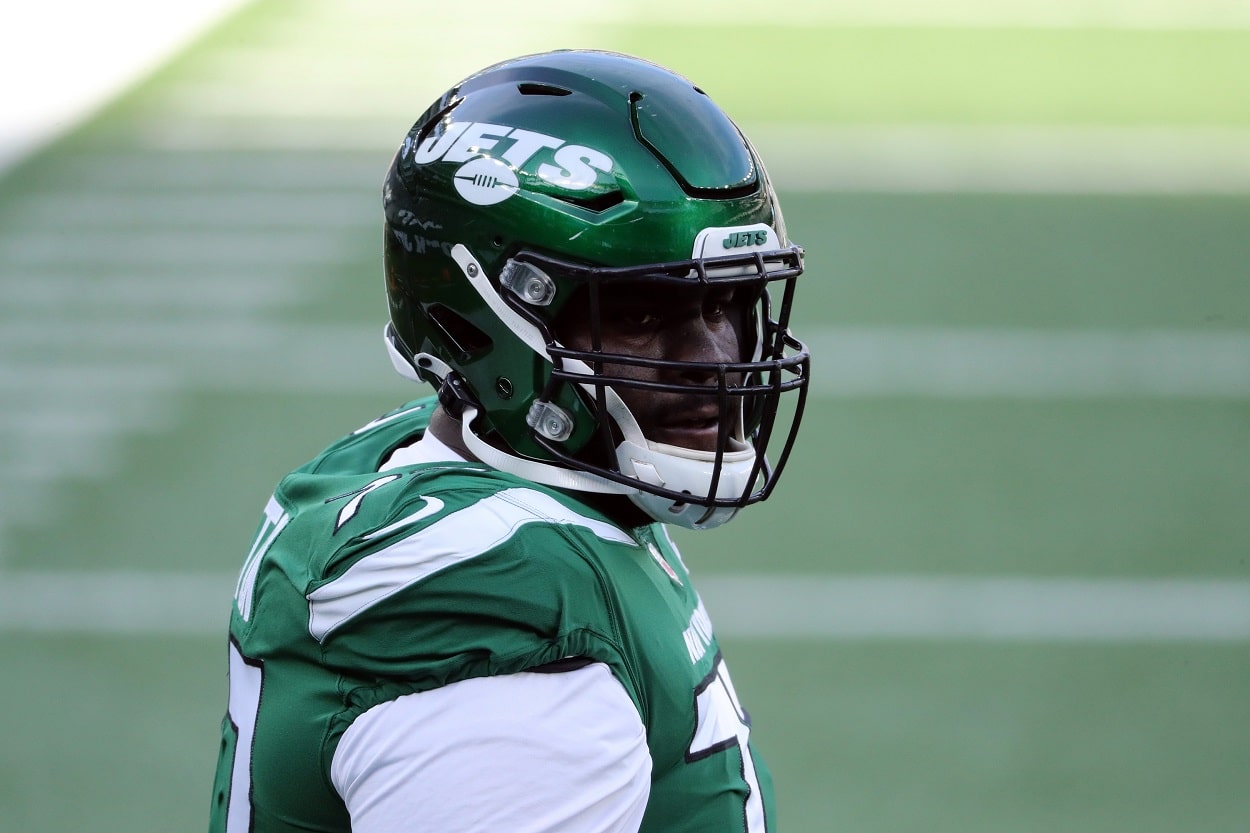 Mekhi Becton's Season-Altering Setback Seals His Fate as the Biggest Draft Bust in Jets History
Mekhi Becton should now be considered the worst draft pick in New York Jets history.
Tipping the scales at 6-foot-7, 363 pounds, Mekhi Becton boasts a frame scouts drool over in a top-tier tackle prospect. Unfortunately for the New York Jets, the odds of the 2020 first-round NFL draft pick protecting promising young quarterback Zach Wilson for years to come seem slimmer than ever. 
In fact, Becton looks bound to become the biggest draft bust in team history. With the talented but unreliable lineman suffering a season-altering setback, the Jets may have no choice but to swallow their pride, admit defeat and move forward without him in their short- or long-term plans.
Mekhi Becton appears primed to miss the 2022 season
Coming off a disappointing 2021 campaign in which he appeared in just one game, Mekhi Becton entered the offseason with an opportunity to show the Jets made the right call by taking him 11th overall in the 2020 NFL Draft. Of course, the team raised eyebrows by moving the former Louisville standout from left to right tackle–a decision that inspired plenty of warranted questions about Becton's future. 
But before he had a chance to prove whether he could play a new position, the 23-year-old sustained yet another injury that further derails his once-promising NFL career. 
According to ESPN's Rich Cimini, Becton hurt the same knee that required season-ending surgery last September. An MRI revealed a "more serious injury than initially anticipated," and a source said the assumption is the Jets' starting right tackle will miss significant time. 
During an appearance on WFAN Tuesday morning, head coach Robert Saleh said, "Obviously it's not looking good," in reference to Becton's new injury. He also said the organization feels "sick" for the third-year pro.
Hours later, the NFL Network's Ian Rapoport delivered a sobering report about Becton that confirmed Jets fans' worst nightmare. 
With their starting right tackle out for the 2022 season, Jets general manager Joe Douglas must consider fallback options. And at this point, it's undeniable that the first player he ever selected is quickly becoming the biggest draft bust in franchise history.
Vernon Gholston may soon lose the title of the worst draft pick in Jets history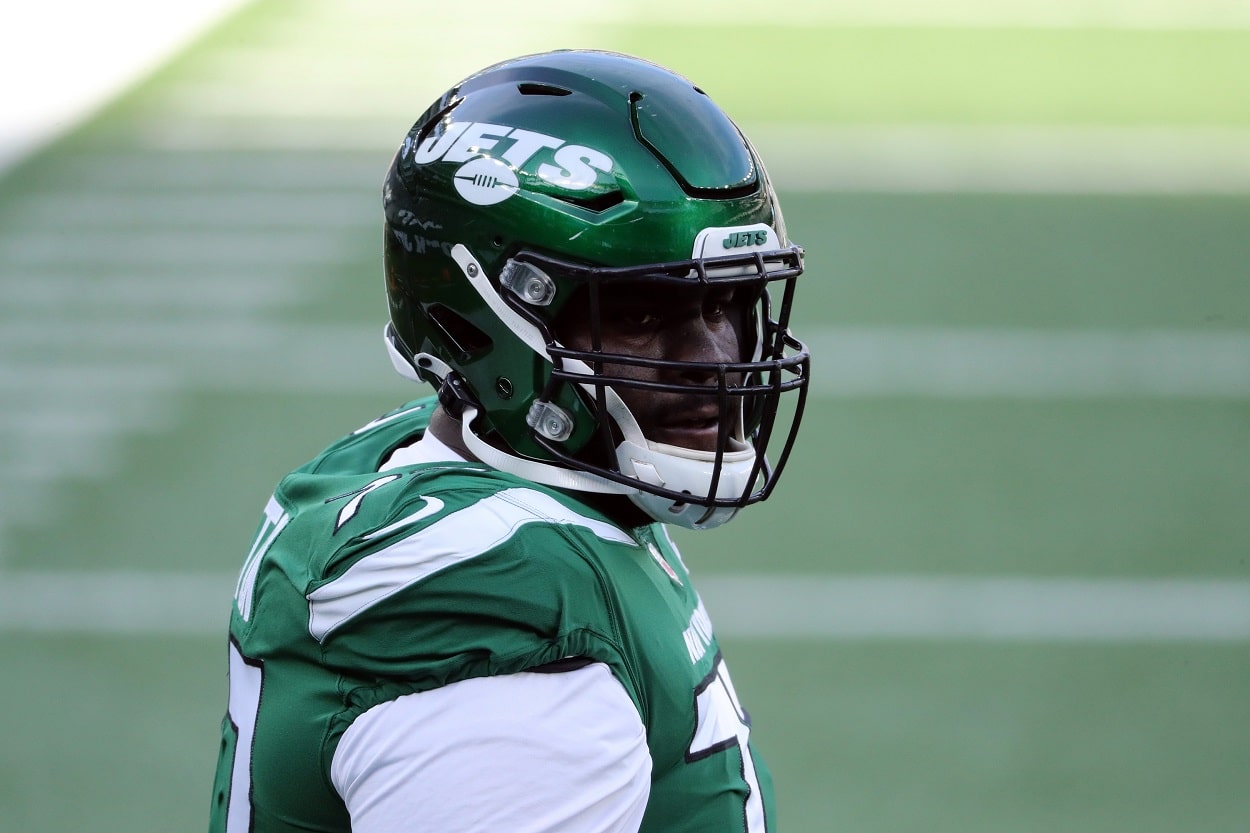 Let's just say the Jets have made several poor picks over the last decade-plus. From swinging and missing on Quinton Coples and Dee Milliner in successive years to burning a second-rounder on ex-Penn State quarterback Christian Hackenberg to betting big on USC's Sam Darnold, the franchise has made an art out of wasting draft capital. 
However, when considering every draft pick who's failed to live up to expectations in New York, no one has been able to top 2008 first-rounder Vernon Gholston. Following a freakish performance at the NFL Scouting Combine, the former Ohio State defensive end went sixth overall and registered a grand total of zero sacks in three seasons.
Needless to say, Gholston's tantalizing athletic gifts didn't translate into success at the pro level. But for all his shortcomings, at least the Michigan native played 45 games for the Jets before the team moved in a different direction. 
At this point, Becton has only appeared in a third of that amount. And the likelihood of him reaching even half of that total is about as high as the Jets making the playoffs in 2022. 
While Gholston's inability to get remotely close to opposing signal-callers cemented his case as an all-time draft bust, Becton's inability to stay healthy and protect Jets' quarterbacks makes him a worthy candidate for being the worst pick the franchise has made.
After surrendering seven sacks and committing seven penalties in 14 games as a rookie, he missed essentially his entire second season and likely won't play football again until 2023. Instead of having a young, stud left tackle on a team-friendly contract, the Jets have a key piece of their rebuilding project set to make $15.3 million in career earnings through 2022 without contributing anything meaningful since 2020. 
Considering 2021 first-team All-Pro Tristan Wirfs went off the board two picks later, the Jets should be kicking themselves for passing over the Iowa product for Becton. And because they've failed to draft a permanent heir to longtime left tackle D'Brickashaw Ferguson, the organization finds itself in a serious conundrum.
Becton's setback should convince the Jets to bring Duane Brown to New York
The Jets already showed their hand a bit by making veteran George Fant the starter at left tackle. But now that Becton's out for the year, will they have to resort to bringing in another seasoned pro to fortify the offensive line? 
Unless fourth-round rookie Max Mitchell earns the coaching staff's confidence over the ensuing weeks, the Jets' best bet might be to give Duane Brown a new NFL home. Don't be surprised if the two sides come to an agreement sooner than later. 
According to ESPN's Jeremy Fowler, the former Seahawk visited the team over the weekend, and there's "mutual interest in a potential pairing." However, Brown has also drawn interest from other potential suitors. 
Following a trade from the Houston Texans in 2017, the five-time Pro Bowler did a fine job keeping Russell Wilson out of harm's way. With 203 regular-season starts under his belt, Brown would bring plenty of experience to an offense that's still a work in progress. At the same time, the fact the Jets may have to count on the soon-to-be 37-year-old to protect their 23-year-old quarterback doesn't exactly speak well about the state of the offensive line. 
Ultimately, though, if Duane Brown joins the Jets, he may only have to spend one season with the team to play more games than Mekhi Becton.
Stats courtesy of Pro Football Reference
Like Sportscasting on Facebook. Follow us on Twitter @sportscasting19 and subscribe to our YouTube channel.