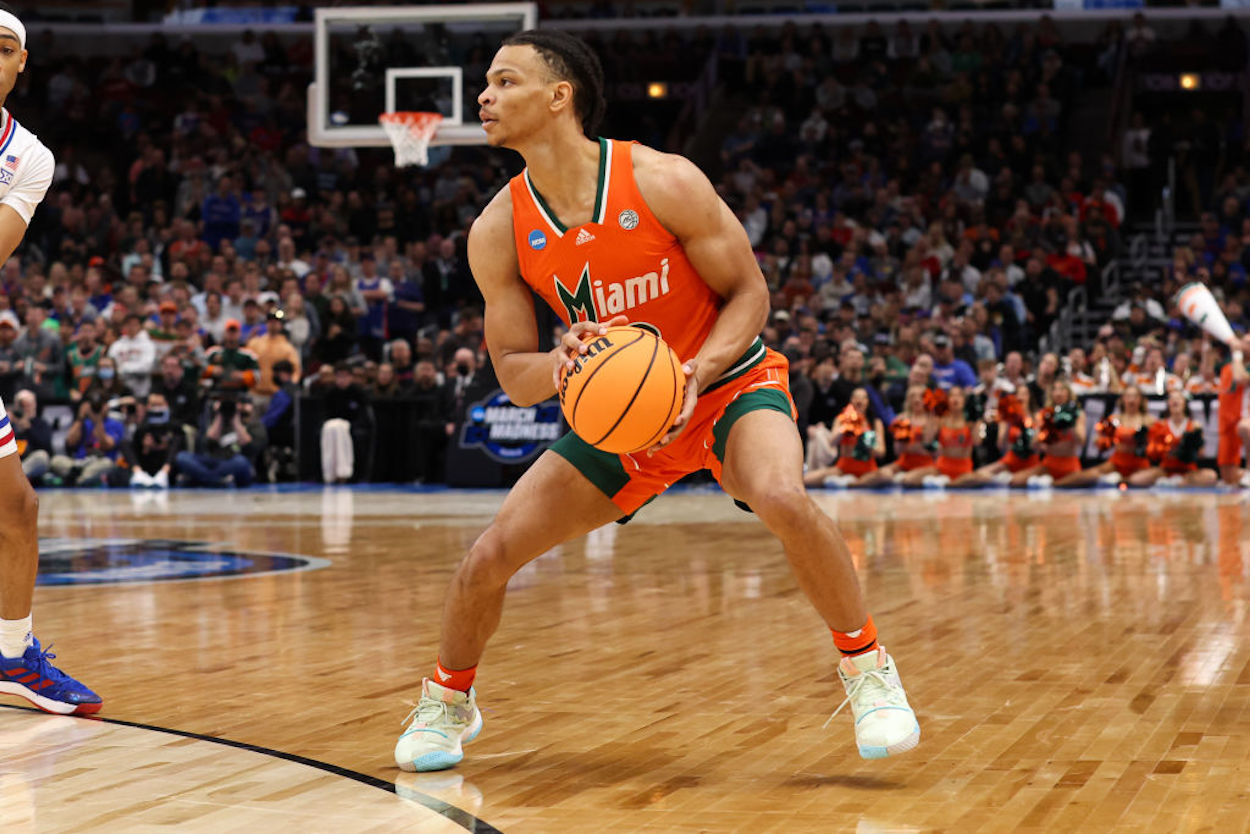 Miami Hurricanes: Don't Blame Isaiah Wong for Threatening to Transfer Over NIL Money
The NCAA's mismanagement of NIL compensation is coming to the forefront through Isaiah Wong's potential transfer.
For years, college basketball programs were familiar with the looming specter of "extra benefits." Without parsing the entire of the NCAA's bylaws, that meant that players, at a base level, couldn't receive gifts, perks, or anything else that could be viewed as compensation for their on-court performances. While things have somewhat changed thanks to new name, image, and likeness (NIL) rules, that doesn't mean that things have gotten any clearer. Take, for example what's currently going on with the University of Miami and Isaiah Wong.
For those unfamiliar with the story, Wong is unhappy with his NIL compensation and will reportedly enter the NCAA transfer portal if that number isn't increased. While it's easy to view the guard as the villain here, he isn't the one to blame.
Isaiah Wong is reportedly poised to enter the transfer portal due to NIL money
While Duke and North Carolina may have stolen the show during the 2022 NCAA Tournament, Miami also represented the ACC rather well. The Hurricanes reached the Elite Eight, but that might not be enough to keep one of their key contributors on the roster.
Isaiah Wong, a guard who would be entering his senior year, has declared for the 2022 NBA draft but will retain his NCAA eligibility. Even if he stays in school, though, there's a chance he'll be leaving Miami.
As Jonathan Givony and Jeff Borzello reported for ESPN, the guard "will enter the transfer portal on Friday if his name, image, and likeness (NIL) compensation isn't increased." Wong's NIL agent, Adam Papas of NEXT Sports Agency, recently negotiated a deal that brought Nijel Pack $800,000 over two years plus a car when he transferred to Miami.
"It's a unique situation just completing Nijel Pack's deal with Miami," Papas said. "Understanding what [billionaire John Ruiz, who orchestrated that deal] is trying to do with the NIL space and the city of Miami, we feel the value of Isaiah Wong should meet or exceed the value of an incoming transfer."
While that situation may feel a bit gross, Wong shouldn't take the blame for the NCAA's lack of guidelines
While financial transactions are the norm at the professional level, Wong's situation feels a bit different. Given the newness of the situation — it's still jarring to hear money being connected to NCAA players — it's tough to feel like Miami isn't being threatened. Give us the money in a brown paper bag, or one of your top talents is leaving.
With all of that being said, though, Wong isn't the one who's wrong here. While Hurricanes fans might not appreciate his choices, an athlete shouldn't be begrudged for looking out for themselves. Players and coaches move out of self-interest all the time. Now, the money's just out in the open.
Let's say the guard is able to secure an $800,000 NIL deal. While that might become pocket change if he has a 20-year NBA career, it's possible that he'll blow out his knee during a meaningless practice and never play ball again. That money could literally be life-changing, and if it's out there, he's entitled to chase it. Telling him to simply work for free isn't the answer. If we're all being honest with ourselves, we'd probably jump at the chance to secure an extra $800,000 for our work.
Beyond that, the blame game gets a bit trickier. You could point the finger at Adam Papas for turning the screw on Miami, but, again, he's working in the best interest of his clients. You could blame John Ruiz for offering outsized compensation for players willing to join the Hurricanes, but he's playing within the sandbox that the NCAA has created. If you want to point the finger, it should go straight to the top.
When talk of NIL compensation began, most critics raised the same few fears. They boiled down to something along the lines of: "Won't this give bigger schools, or at least the ones with the richest boosters, even more of an advantage?"
While there's room to poke holes in that argument — on the whole, blue-blooded programs are going to have an advantage simply based on inertia — it's easy to see how the Wong situation meshes with those fears. And rather than nipping things in the bud with some common-sense rules, the NCAA simply opened Pandora's box and hoped that things would work themselves out.
In the ESPN piece, Givony and Borzello perfectly summarized that reality:
Ruiz is at the forefront of a frenetic moment in the world of college sports, as the lack of clear NCAA guidelines has created a significant amount of uncertainty regarding what is permitted in the NIL space and what isn't. Question marks remain around what this new, unregulated market can sustain among schools that have huge fan bases and rich alumni compared with those that don't, or with those that have yet to dip their toes in the NIL waters.

Jonathan Givony and Jeff Borzello, ESPN
It's not exactly a groundbreaking take to rip the NCAA, but they have to bear some responsibility here. If the organization actually cares about the integrity of college sports, then they need to figure out a way to standardize NIL compensation. Otherwise, the players will continue to take the slings and arrows on everyone else's behalf.