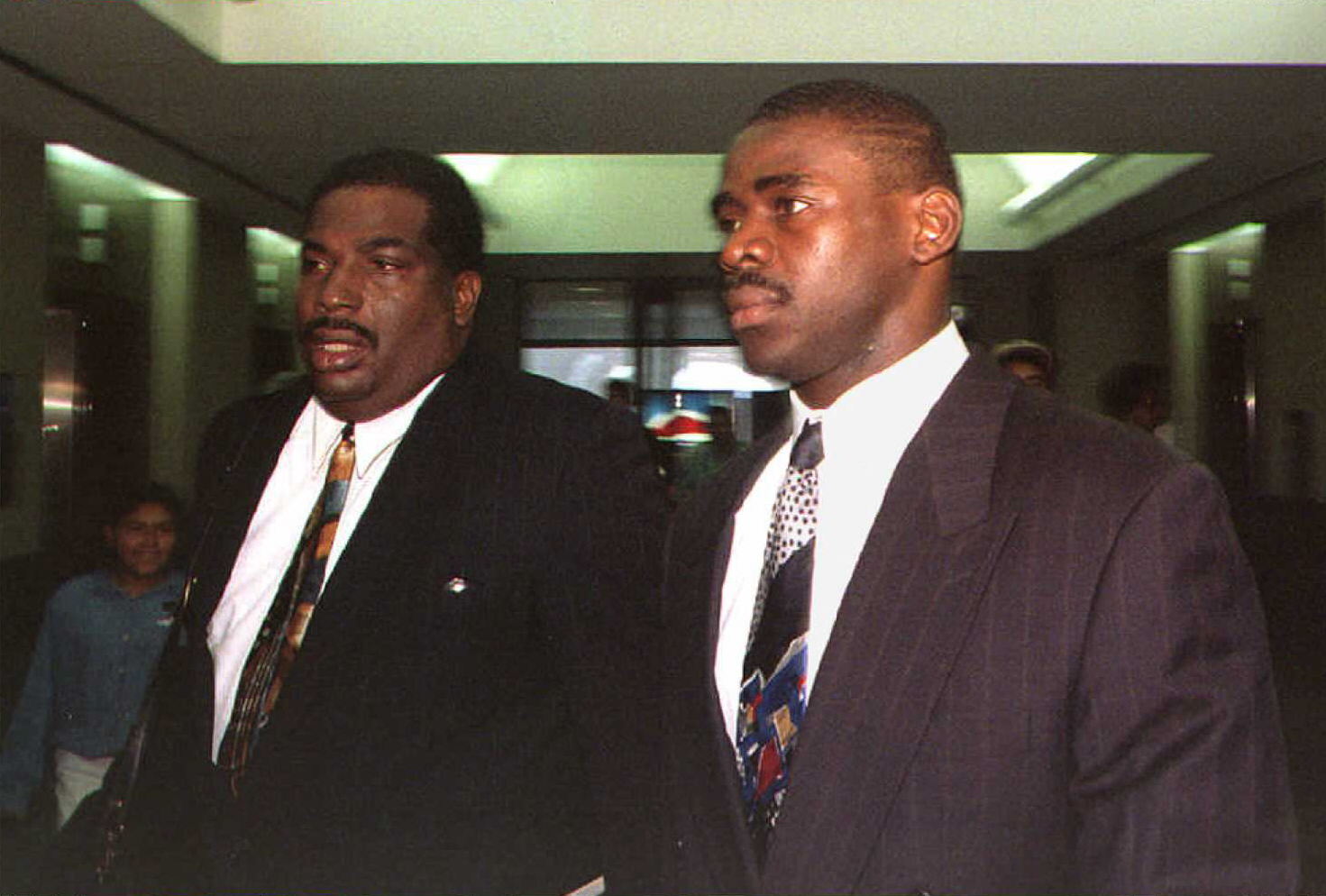 Michael Irvin's White House Full of Sex, Drugs, and Plenty of Cowboys Players
Back in the 1990s when the Dallas Cowboys were winning Super Bowls, Michael Irvin oversaw a special house that was filled with sex, drugs, and lots of women.
In the 1990s, the Dallas Cowboys were the best team in the NFL. The Cowboys won three Super Bowls in four years and like other championship-winning teams, visited the White House in Washington, D.C. each time. The players, however, had a second "White House" they frequented much more often during the midst of those championship-winning seasons. The president was Michael Irvin. 
Irvin was in charge of the house where Cowboys players went to "play" after practice or whenever they wanted to escape from their responsibilities at home. What happened inside the house is the stuff of legend. Sex, drugs, and more sex was the norm. 
Michael Irvin is president of this White House
The "White House" was a two-story brown brick home located in a cul-de-sac on Dorsett Drive, just a football field away from the Dallas Cowboys Valley Ranch practice facility. It featured five bedrooms, three baths, and a two-car garage. 
While guard Nate Newton came up with the original idea, Michael Irvin approved of it and put the plans in place.
"We did have an extra house," Irvin admitted on "Undeniable with Joe Buck." "And after thinking I didn't want to go to hotels, and all the problems that they cause, I thought maybe we should just get some guys together and buy an extra house."
Irvin's fellow wide receiver Alvin Harper leased the house. All the players who visited pitched in for the basic necessities like beer, wine, liquor, entertainment, and condoms.  
Inside, it was your typical frat house with nice amenities, including multiple large-screen televisions, a pool table, and a wet bar. Also inside was a unique feature only Irvin knew about, hidden cameras installed in each bedroom. 
Things are bigger and wilder in Texas
With the house in place and everything stocked, the only thing missing was women. Irvin and Anthony "Paco" Montoya, his former personal assistant, would go scouting for young ladies on Fridays after practice. The two would visit multiple topless bars and identify 10 women, who would then receive an exclusive invite to visit the White House for the weekend. That's how it started. Once word got out, the women no longer needed to be recruited. They recruited themselves. 
When the women arrived at the house on Friday afternoon, with booze and drugs readily available, the party officially began. The house became an "endless conveyor belt of large-breasted, blond-haired women in Pez-sized miniskirts," according to Jeff Pearlman in his book "Boys Will Be Boys."
Surprisingly, the wild and crazy parties at the White House lasted for several years. The police were never called. The media knew about it but never reported on it because they knew if they did, they would be vilified by the fans and frozen out by the team for any future interviews. 
Michael Irvin busted and the White House shuts down
It all came crashing down a few months after winning Super Bowl XXX against the Pittsburgh Steelers. That's when Irvin and teammate Alfredo Roberts were arrested at a hotel with two women and had in their possession cocaine, marijuana, and various drug paraphernalia. Irvin's shield of invincibility had suffered its first crack. There were more soon to follow. 
A couple of weeks after the hotel incident, Cowboys defensive tackle Leon Lett called Irvin and told him he thought someone had infiltrated the White House. Irvin didn't believe Lett and initially resisted. Then, a few weeks later, the White House was featured in an investigative story on the local news. 
When Jerry Jones confronted Irvin about the house, he insisted that his star receiver tell him the truth. Irvin shared his memorable response with Buck. "Boss, I was trying to do the wrong thing, the right way," he told Jones.
It was over. The sex-and-drug-filled parties ended immediately. Irvin had to go to court for the hotel incident and pled no contest. He was fined $10,000 and ordered to perform 800 hours community service. The NFL also suspended him the first five games of the 1996 season.
Irvin retired from the Dallas Cowboys after the 1999 season. For his career, he earned five Pro Bowl honors, won three Super Bowls rings, and had one failed presidency.