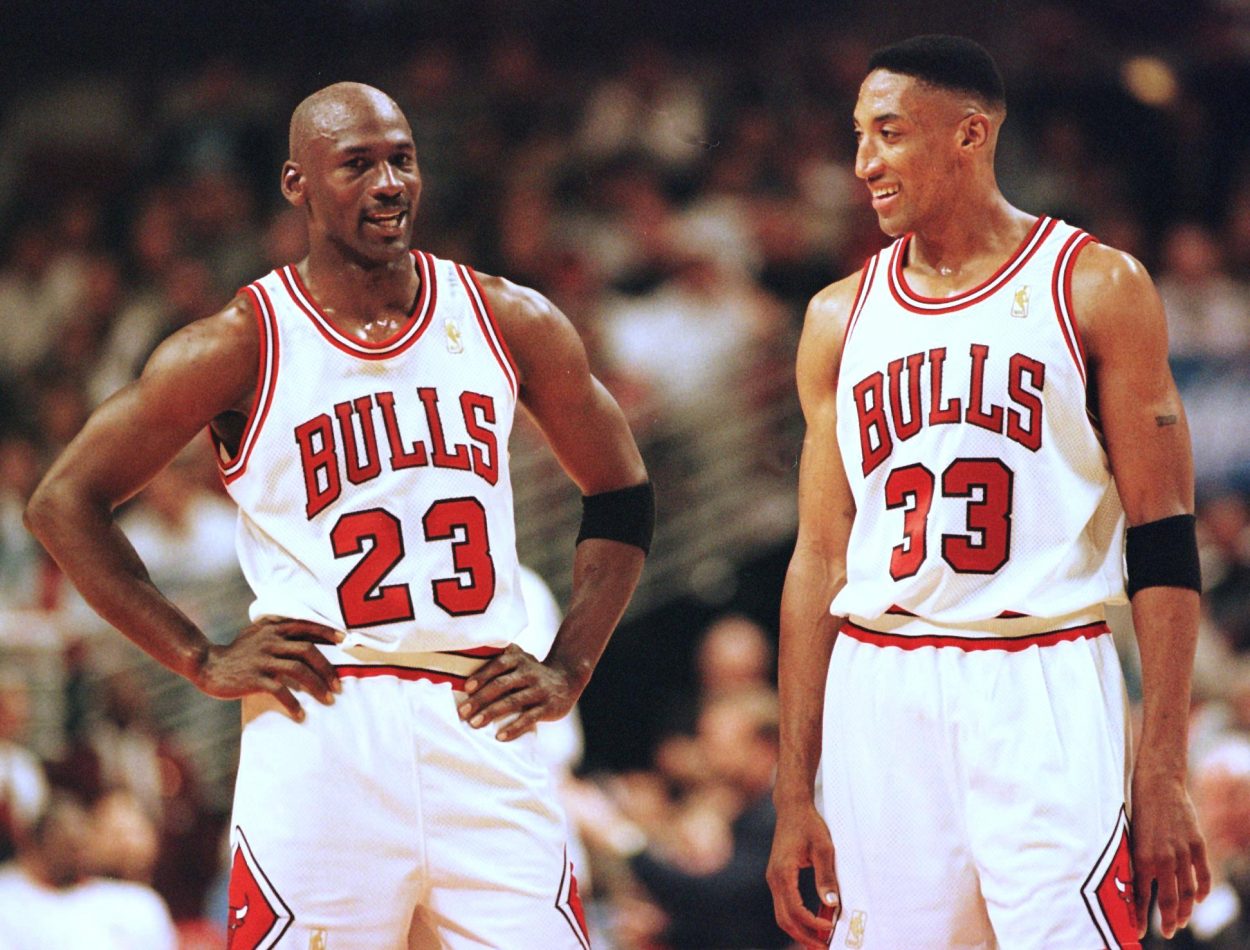 Michael Jordan Faced Down a Knicks Bully Who Harassed Scottie Pippen During the 1992 Playoffs: 'F*** You, Baby'
The New York Knicks tried to bully the Chicago Bulls during a grueling, seven-game series in the 1992 Eastern Conference semifinals. But Michael Jordan finally made a stand in Game 7, confronting the man who had harassed Scottie Pippen throughout the course of the series.
Michael Jordan demanded quite a bit from his Chicago Bulls teammates. But he also wasn't shy about sticking up for them when confronted with a challenge.
Jordan and the Bulls faced a stern test from the New York Knicks during the 1992 NBA Playoffs, as head coach Pat Riley's team attempted to bully the defending world champions. These physical tactics were personified by former Knicks forward Xavier McDaniel, who seemed to make it his mission to demoralize Scottie Pippen.
Never one to shy away from intimidation, Jordan made a stand for Pippen and the Bulls in an iconic moment with McDaniel.
Xavier McDaniel and the Knicks took a "Bad Boy" approach with Michael Jordan, Scottie Pippen, and the Bulls in the 1992 playoffs
Michael Jordan and the Chicago Bulls struggled for years to overcome the physical brand of basketball exhibited by the Detroit "Bad Boys" Pistons teams. The Knicks tried to use a similar formula to dethrone the Bulls in 1992.
New York did everything and anything it could to bother Jordan and prevent him from getting into the lane during the Eastern Conference semifinals. The Knicks also targeted Scottie Pippen through one Xavier McDaniel.
Pat Riley understood that the X-Man could not guard Pippen one-on-one. Scottie was too quick. So, Riley and McDaniel negated this issue by roughhousing with Pip. One such incident included McDaniel blatantly shoving Pippen in Game 4, a contest in which Bulls head coach Phil Jackson was ejected for complaining about non-calls.
The Knicks insisted on forcing Pippen and Jordan to shoot jump shots and keep them out of the lane by any means necessary. They also felt a level of comfort in playing a "tough guy" role. That was especially true for McDaniel, who had choice words for Jackson in Game 4 and routinely tried to get in Pippen's face.
Chicago needed to show its championship mettle and prove they would not be trifled with. Jordan provided such a moment at the most pivotal juncture.
Jordan refused to let McDaniel bully Pippen and went nose-to-nose with X in Game 7
The Knicks scratched and clawed to force a Game 7 at the old Chicago Stadium, where they'd continue to embrace the role of aggressor. But with the Bulls' season hanging in the balance, Michael Jordan told the bully off.
McDaniel and Pippen got tangled underneath the basket, with X confronting Scottie and exchanging words with Pip. Although referees separated the two, McDaniel continued to jaw at Pippen after the Knicks took a timeout.
Jordan finally had enough. He pushed Pippen aside and immediately went nose-to-nose with McDaniel. Much of the conversation is indiscernible, but one phrase can be deciphered as McDaniel is pulled away.
The Knicks already made their statement as the upstart trying to knock the Bulls off the throne. With Jordan holding his ground, it was time for Chicago to do the same.
The defending champions did just that, emphatically closing the series.
Jordan scored 42 points as the Bulls stampeded over the Knicks in Game 7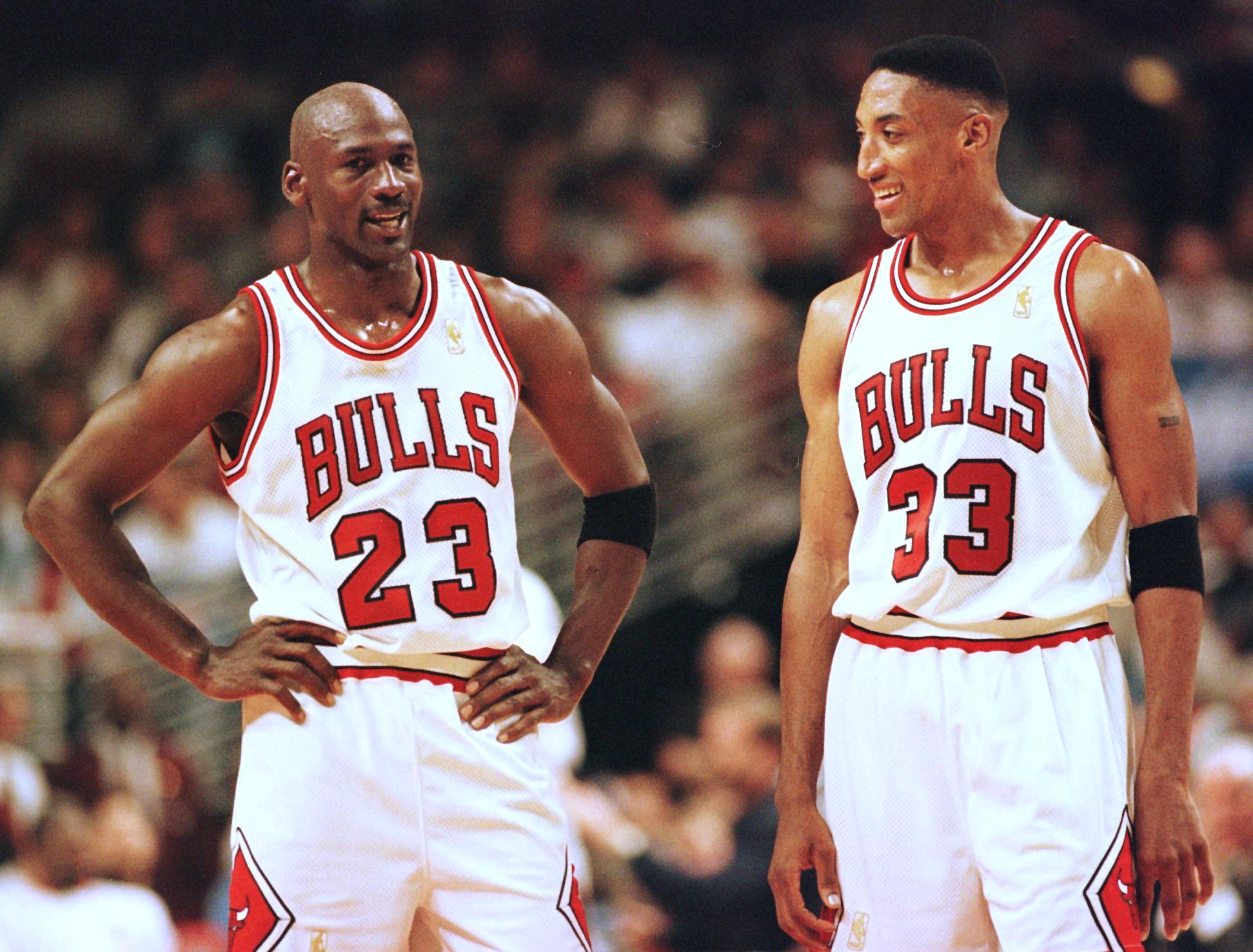 Intimidation tactics wouldn't be nearly enough for Xavier McDaniel and the Knicks to beat Michael Jordan, Scottie Pippen, and the Bulls in Game 7. Chicago had too much to play for, and MJ always rose to the occasion when the stakes were at their highest.
Jordan dominated the Knicks in Game 7. He poured in 42 points and gave New York a taste of its own medicine on the defensive end, racking up a pair of steals and three blocks. Pippen was every bit as excellent. He posted a triple-double with 17 points, 11 rebounds, and 11 assists.
Chicago steamrolled to a 29-point win, clearing their toughest psychological and physical hurdle en route to a second consecutive championship. McDaniel and the Knicks ultimately could not break the Bulls' aura, not with Michael Jordan vigorously backing Pippen and reinforcing a championship mindset.
Stats courtesy of Basketball Reference.