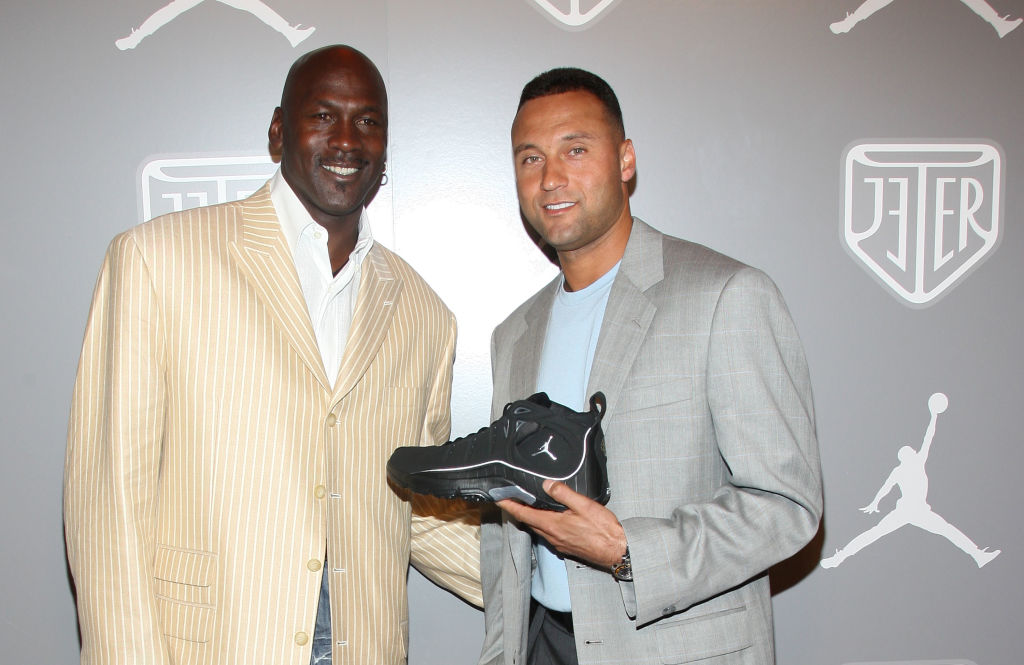 Michael Jordan Invested Millions to Join Forces with Derek Jeter
Michael Jordan gave Derek Jeter a little financial assistance to help the former Yankees star purchase the Miami Marlins.
Michael Jordan didn't become the first billionaire athlete by making bad decisions. While his gambling habit certainly didn't help his bank account, he could afford a few losses with a lucrative Nike deal. The Chicago Bulls legend utilized his fortune to purchase the Charlotte Bobcats. However, by chipping in a few million dollars, Jordan joined forces with Derek Jeter to ensure he'd still have a connection with baseball.
Michael Jordan's journey from NBA star to owner
Michael Jordan definitely should have made more money during his NBA career. Surprisingly, he didn't ascend to elite financial status because of the Bulls. Though he did earn $63 million in his final two years in Chicago, His Airness didn't even break the $100 million mark before retiring.
Of course, Jordan managed to more than make up for lackluster NBA contracts. His Nike deal turned him into one of the world's most recognizable brands. Thanks to agent David Falk's savvy advice, Jordan still collects about $130 million annually from the sports apparel juggernaut.
Even with his playing days long gone, MJ didn't stray far from basketball. In 2006, the former Bulls star became a minority owner of the Bobcats. He then spent $180 million to take control of the struggling NBA franchise. Though the Bobcats haven't experienced much on-court success, they're now worth $1.8 billion.
Derek Jeter became wealthy as the face of the Yankees
Like Michael Jordan, Derek Jeter parlayed his athletic gifts into a lucrative career. Fortunately, he turned out to be a much better baseball player than MJ. A rare athlete who spent his entire career with one franchise, Jeter made the Yankees into an even bigger brand. The 1996 MLB Rookie of the Year captured four World Series championships in 19 seasons in New York.
A prolific playoff performer, Jeter's knack for making big plays in big moments turned him into a rich man. He earned $266 million after breaking in with the Yankees as a 21-year-old. At first, his paychecks didn't put him in the upper echelon of MLB shortstops. However, that changed just a few years later.
Jeter's life-changing contract came in at $189 million over 10 years. He routinely earned $20 million at the end of the deal, including a career-high $21 million in 2010. The 2020 Baseball Hall of Fame inductee couldn't stay away from the game he loved. And with Michael Jordan's help, he joined his sports brethren in making the leap from player to owner.
Jordan helped Jeter buy the Marlins in 2017
Derek Jeter retired from baseball after the 2014 season. Just a few years later, he made the move from the diamond to the front office. According to Sports Illustrated, the 14-time All-Star was part of a group that purchased the Miami Marlins for the tidy sum of $1.2 billion. As the sixth-largest shareholder, Jeter has less than five percent equity in the National League franchise. Interestingly, part of that ownership group also includes Michael Jordan.
Jordan has a small stake in the Marlins of about $5 million. When Jeter turned to him for advice on being a CEO, Jordan told him, "If you believe in the plan, stick to the plan. Don't alter it midstream."

Unfortunately, the two Hall of Famers haven't been able to translate their success on the field/court into wins from the owner's box. The Marlins have been terrible since the sale of the team in 2017. In the last two years, Miami has gone 120-203 while trading away two of its best players. Derek Jeter never had a losing season in his entire Yankees career.