Michael Jordan Never Let Bryon Russell Forget Forget His Famous Crossover, Even When They Were Teammates
Michael Jordan beat Bryon Russell to win his last NBA title. Jordan never missed an opportunity to remind Russell about that, even when the two were teammates with the Washington Wizards.
The competitiveness of Michael Jordan is the stuff of legend. So, it's not surprising to learn Jordan savaged the man he beat with his iconic crossover move to end the 1998 NBA Finals. Jordan could hold a grudge, real or imagined, for years. He targeted Russell over comments the former Utah Jazz forward made to Jordan during a 1994 conversation.
Russell recalled the conversation with ESPN Radio's Waddle & Silvy in 2009. Russell ran into Jordan and told the superstar he wished he hadn't retired because he wanted to defend against Jordan.
When Jordan returned to the NBA in 1996, he reminded Russell about it; two years later, Jordan cooked Russell to clinch his sixth and last ring. The biting remarks didn't stop even when Jordan and Bryon Russell were teammates with the Washington Wizards in Jordan's final NBA season in 2002–2003.
Much of Jordan's bluster was for his own benefit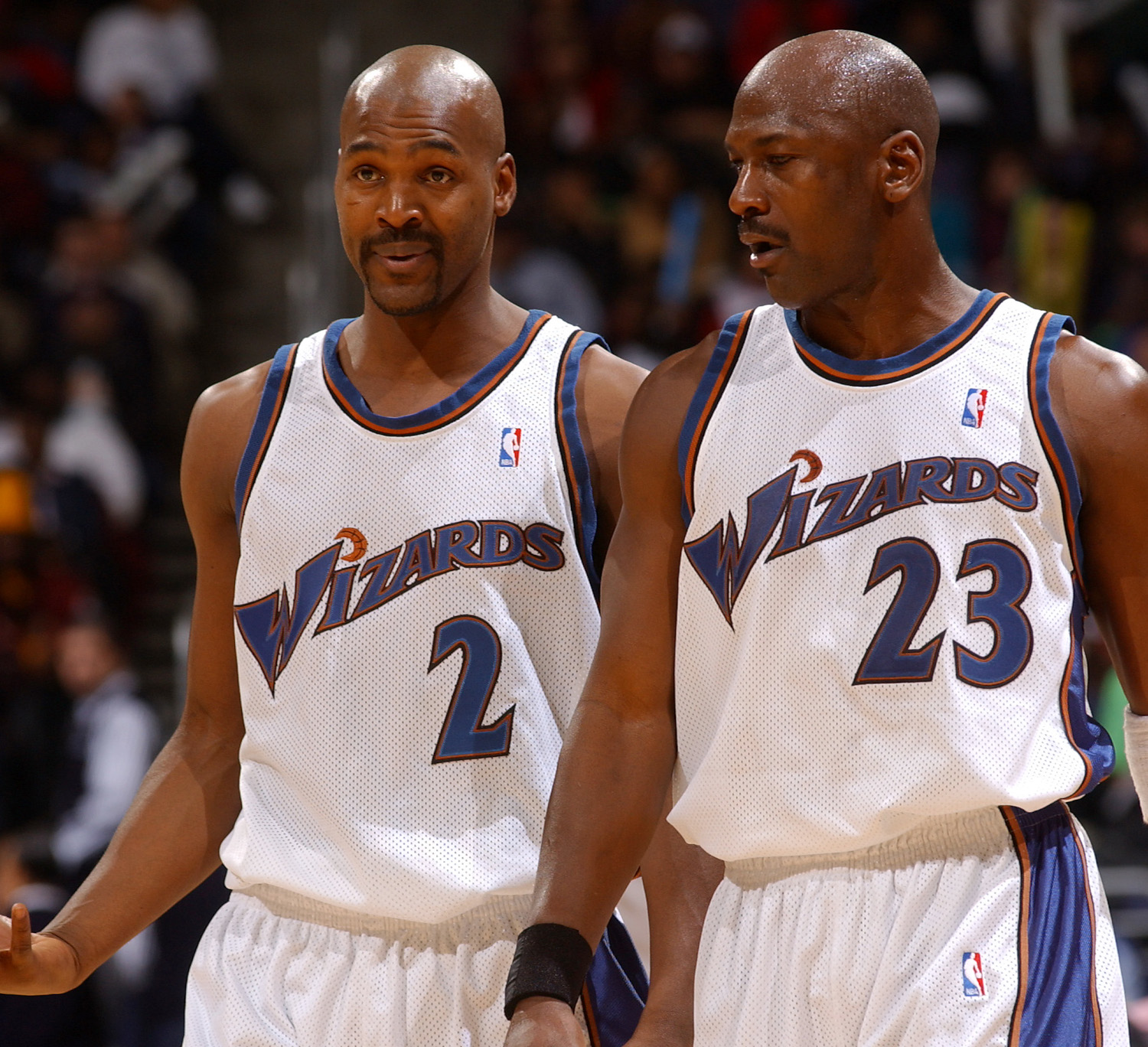 Renowned for his play, of course, Jordan's also a candidate as a first-ballot trash-talking Hall of Famer. NBA history is full of incidents where Jordan talked the talk before backing it up on the court. Early in his career, Jordan told an injured Byron Scott he would score 50 points on Scott's replacement, Anthony Peeler. Jordan backed it up and then some, hanging 54 on the Los Angeles Lakers.
During his long tenure with the Chicago Bulls, Jordan would often talk trash. It was more to fire himself up than it was to get inside the headspace of his opponents, though. The talk inspired Jordan by creating pressure to deliver the goods.
Michael Jordan never, ever forgot
When he entered the Naismith Memorial Basketball Hall of Fame in 2009, Jordan mentioned Russell in his induction speech, according to ESPN Chicago. That was 15 years after the original conversation, during which Russell challenged Jordan to leave baseball and come back to the NBA.
When the two were teammates with the Wizards, the fun for Jordan didn't stop. Brendan Haywood told Bryan Kalbrosky of Hoops Hype that Jordan was brutal in practice, even as a 40-year-old. Russell didn't back down from Jordan, but when the legend got the upper hand, he was quick to let everyone in the gym know it.
"Mike wanted to cut your heart out," Haywood said. "He wanted you to fear him. … He wanted to let you know that you couldn't guard him. Some of the days in practice, what MJ was saying to Bryon Russell was just flat-out embarrassing. He would just go after this guy! It wasn't like he didn't like him. It's just how he was. They used to compete in practice, but Russell was just a glutton for punishment. He would talk trade to MJ every day. But you can't win that battle."
Hayward recalled Jordan invoking the nickname of another Hall of Famer, Dominique Wilkins, after scoring a game-winner over Russell in practice. After all, one of Jordan's most iconic highlights came with a shot over Russell.
"One day, MJ was cooking him, and he pulled up and hit a game-winner," Hayward said. "He said: 'That's why they call you the human highlight reel. Not because you have any highlights of your own but because you are in all of mine.'"
Jordan wasn't satisfied with six rings in eight years
More than anything else, Jordan wanted to win … at everything. It took him eight seasons to get his first NBA title. All that did was make Jordan want more. He retired in 1993 after winning three straight championships, returning in 1995 and putting together another three-year run from 1996–1998.
That wasn't enough to MJ, either. Bulls' management opted to break up the team before the lockout-shortened 1998–1999 season, prompting Jordan to retire a second time. In the 2020 docuseries The Last Dance, Jordan admitted he wanted to go after a seventh title in 1999. Instead, the Bulls traded Scottie Pippen, Luc Longley, and Steve Kerr. Beyond that, Jordan retired and Dennis Rodman did whatever it was Dennis Rodman did in those days.
Jordan's success as a player has yet to translate to winning as an executive or now as owner of the Charlotte Hornets. He spent 20 months as president of basketball operations for the Wizards before making another return to the court. Washington struggled during his tenure, and Jordan is most known for taking Kwame Brown with the first pick of the 2001 NBA Draft. Jordan most notably passed on Pau Gasol to pick Brown.
Michael Jordan's tenure with the Wizards, on and off the court, is a period many fans just want to forget. Bryon Russell, however, likely won't ever forget.