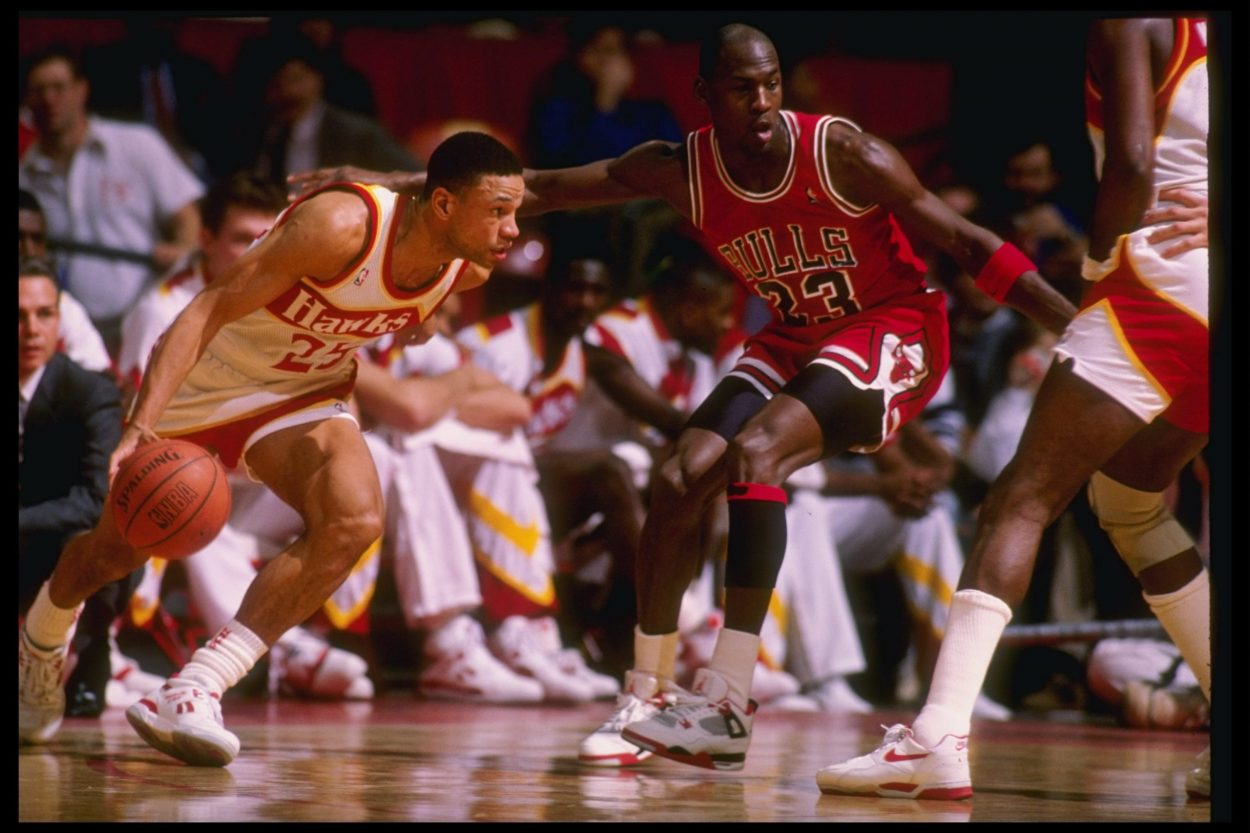 Michael Jordan Was an Offensive Juggernaut but Haunted Teams Even More With His Defensive Prowess: 'He Was Deion Sanders of Basketball'
Michael Jordan's dogged leadership and incredible array of offensive talents powered the Chicago Bulls dynasty. But while most fans probably think of the high-flying dunks early in his career and the fadeaway jumper in later years, Jordan scared teams even worse on the other end of the floor. Defensive effort or prowess doesn't necessarily attract …
Michael Jordan's dogged leadership and incredible array of offensive talents powered the Chicago Bulls dynasty. But while most fans probably think of the high-flying dunks early in his career and the fadeaway jumper in later years, Jordan scared teams even worse on the other end of the floor.
Defensive effort or prowess doesn't necessarily attract fandom. Nor does it always show up on highlight reels. But MJ's spectacular play on that end garnered the attention of the opposing coaching staff on a nightly basis.
Kenny Smith said teams refused to run plays on Michael Jordan's side of the floor
Kenny Smith tried to explain Michael Jordan's greatness during a past episode of NBA TV's Open Court.
The Jet signaled the former Bulls legend as one of the first to combine spectacular athleticism with superb fundamentals. Smith said (h/t YouTube) these fundamentals were always on display on the defensive end of the floor, going so far as to compare him to Hall of Fame NFL cornerback Deion Sanders.
"If you look at Michael, he had the correct hand in the passing lane. He was the Deion Sanders of basketball, where you wouldn't run a play on his side of the court because he could stop you on that side."

–Kenny Smith, Open Court "My Generation"
Former Bulls assistant Johnny Bach used Jordan's tremendous instincts and anticipation and partnered them with Scottie Pippen's length and on-ball guarding to devise the "Doberman Defense." That design afforded MJ the chance to be a factor in getting deflections and steals.
Indeed, having a defensive savant in Pippen and a brilliant architect in Bach benefited Jordan tremendously. But as Smith's words indicate, His Airness' individual ability terrified opposing guards and coaches.
Jordan boasts an impressive defensive resume
As elite as Michael Jordan's offensive numbers are, his defensive accolades are every bit as impressive.
Jordan captured the NBA's Defensive Player of the Year Award during the 1987-88 season. He averaged a whopping 3.2 steals and a career-high 1.6 blocks during that campaign, flying all over the court and making plays on guards and big men alike.
Mike finished his career with 2,514 pilfers, the third-highest mark in NBA history. His 828 blocks are the most by any guard in league history, narrowly edging Miami Heat great Dwyane Wade. Jordan earned nine All-Defensive selections, all of which were first-team nominations.
Defense, as the saying goes, wins championships. So why aren't Michael Jordan's defensive abilities more heralded when speaking on the Chicago Bulls dynasty?
The Bulls needed defense to carry them through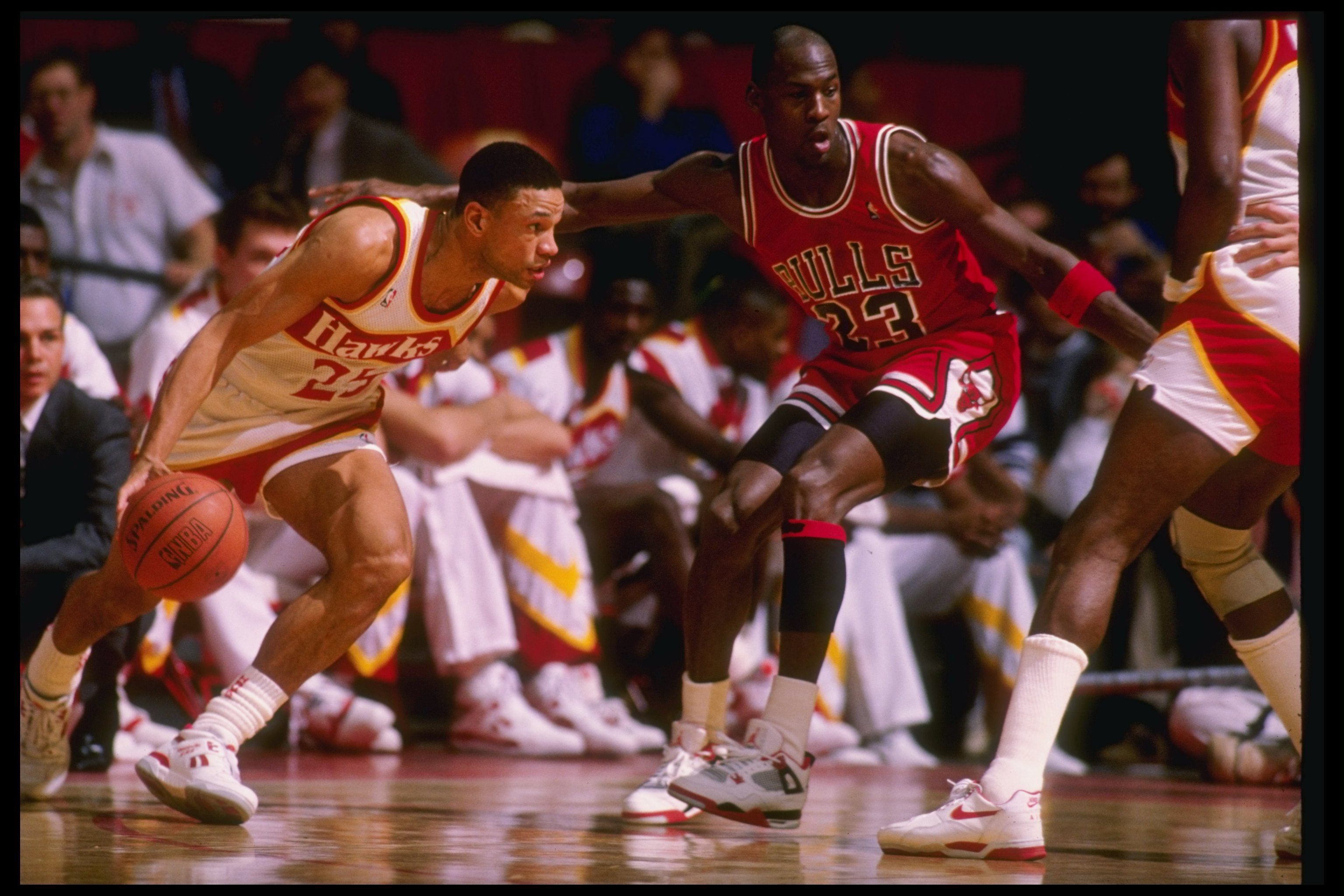 Although Michael Jordan gave the Bulls the best scorer in the NBA, they couldn't merely rely on his offensive numbers to bring success. This is especially true when thinking about the second three-peat.
Toni Kukoc was the only other Bull not named Jordan or Pippen to average double figures in scoring during the 1995-96 and 1996-97 seasons. Luc Longley joined those three in double figures in 1997-98, but he played just 58 games, while Pippen played only 44 games because of a foot injury.
Considering the Bulls had somewhat limited scoring options, they had to be sharp defensively. Jordan and Co. always seemed to ratchet up the intensity, especially during the playoffs. Indeed, Jordan had a 101 defensive rating in the 1996 and 1997 playoffs. He locked in when it mattered the most.
Michael Jordan's pure scoring ability and remarkable athleticism tend to resonate more when attempting to encapsulate his NBA legacy. But his peers lauded his defensive skills, and casual fans should learn to do the same.
Stats courtesy of Basketball Reference.