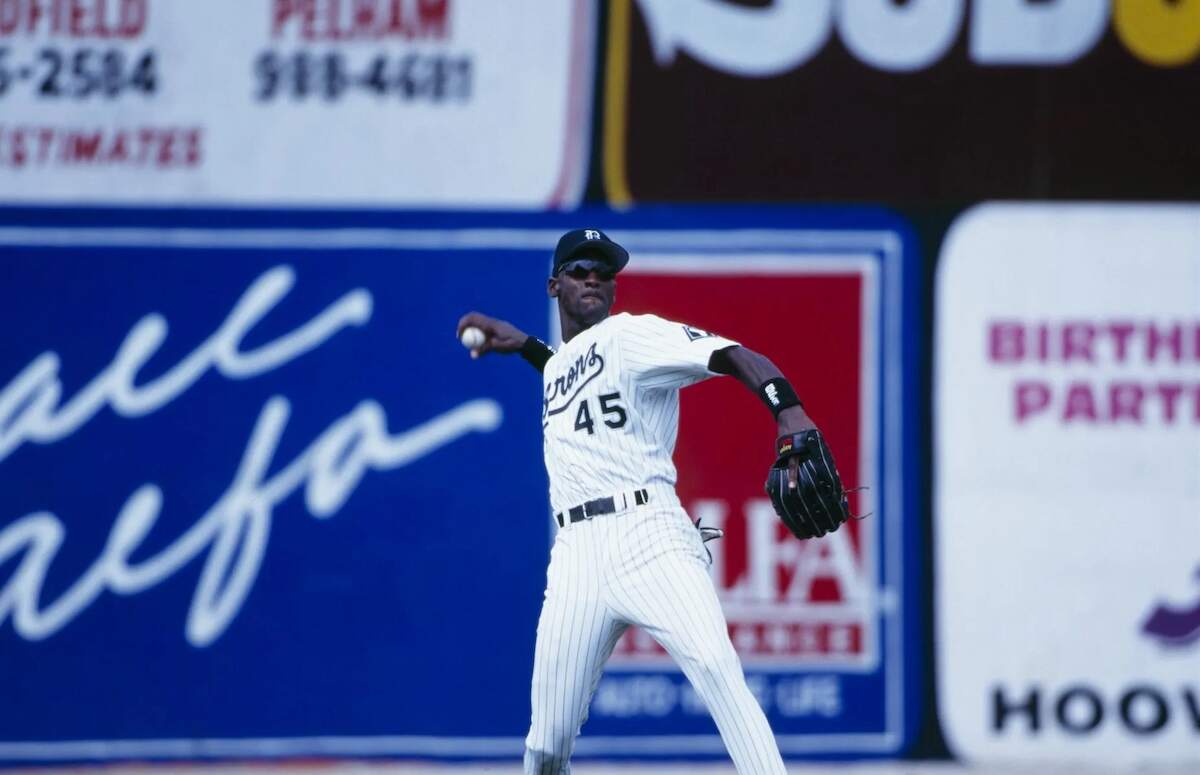 Michael Jordan Once Pulled a Potentially Illegal Power Move During His Stint in Minor League Baseball
During his time as a Minor League Baseball player, NBA legend Michael Jordan apparently pulled a potentially illegal power move.
Even if you're not a hardcore basketball fan, you're probably pretty familiar with Michael Jordan. Thanks to his incredible talent and winning ways, His Airness became the top dog wherever he went. As you might imagine, that came with some serious perks.
When he took a brief hiatus from basketball to play pro baseball, Michael Jordan still had plenty of pull. In fact, MJ apparently pulled a potentially illegal power move during his time in the minors.
Michael Jordan left the Chicago Bulls behind to play professional baseball
When you hear the name Michael Jordan, it's almost impossible to imagine him doing anything other than playing basketball for the Chicago Bulls. In the 1990s, though, His Airness hung up his sneakers and tried his hand at playing baseball.
In 1993, Jordan and his Bulls won their third-straight NBA championship. At the time, they seemed unstoppable. In October, however, His Airness shocked the world by announcing his retirement from professional basketball.
"I've always stressed to people that when I lose the sense of motivation, it's time for me to move on," Jordan explained at the time, as documented in the LA Times. "I've reached the pinnacle, and I've achieved a lot in a short period. I don't have anything else to prove."
It's also worth noting that Jordan's father had been murdered that summer. That sudden loss could have also influenced the decision, as MJ's father thought he could be a two-sport athlete.
Regardless of his true reasoning, though, Michael Jordan left basketball behind and inked a contract with the Chicago White Sox. After reporting to spring training in 1994, he joined the Double-A Birmingham Barons.
Pulling a potentially-illegal power move
While he might not have been a seasoned baseball player, Michael Jordan still arrived in the minor leagues as a global celebrity. As you might imagine, that star status came with some perks.
Although being in the minor leagues meant that MJ had to ride the bus between cities, he wouldn't do so in anything less than high style. During the 1994 campaign, the Barons traveled in a luxury ride dubbed the Jordan Cruiser. On one occasion, His Airness even climbed behind the wheel.
"For a couple of miles on an open highway, completely open highway, he actually jumped in the driver's seat and was driving," Barons' broadcaster Curt Bloom explained on the White Sox Talk podcast, according to NBC Sports. "We made a switch probably going 70 miles an hour, and our bus driver got up, and Michael sat in there and went straight. I certainly hope this doesn't get anybody in trouble. The Department of Transportation, we're sorry, and the statute of limitations has passed."
While laws vary from state to state, it's possible that Jordan technically needed a commercial driver's license to take charge of the vehicle. As Bloom noted, though, nothing came from His Airness' brief stint behind the wheel.
That wasn't the only fun Michael Jordan had on the bus
Taking charge of the bus wasn't the only fun that Michael Jordan had during road trips, though. When he wasn't in the driver's seat, he could usually be found cheating at Yahtzee in the back.
"We'd play Yahtzee on every road trip on the bus," Terry Francona, who managed the Barons during Jordan's time in the minors, told ESPN's Tim Kurkjian. 'He's the richest man in America, the best basketball player ever, and I'm making $29,000 a year. And he's cheating at Yahtzee to take my money because he just can't bear to lose."
On the baseball diamond, Michael Jordan wasn't quite as dominant as he was on the basketball court. On the team bus, however, he was apparently the same old MJ.