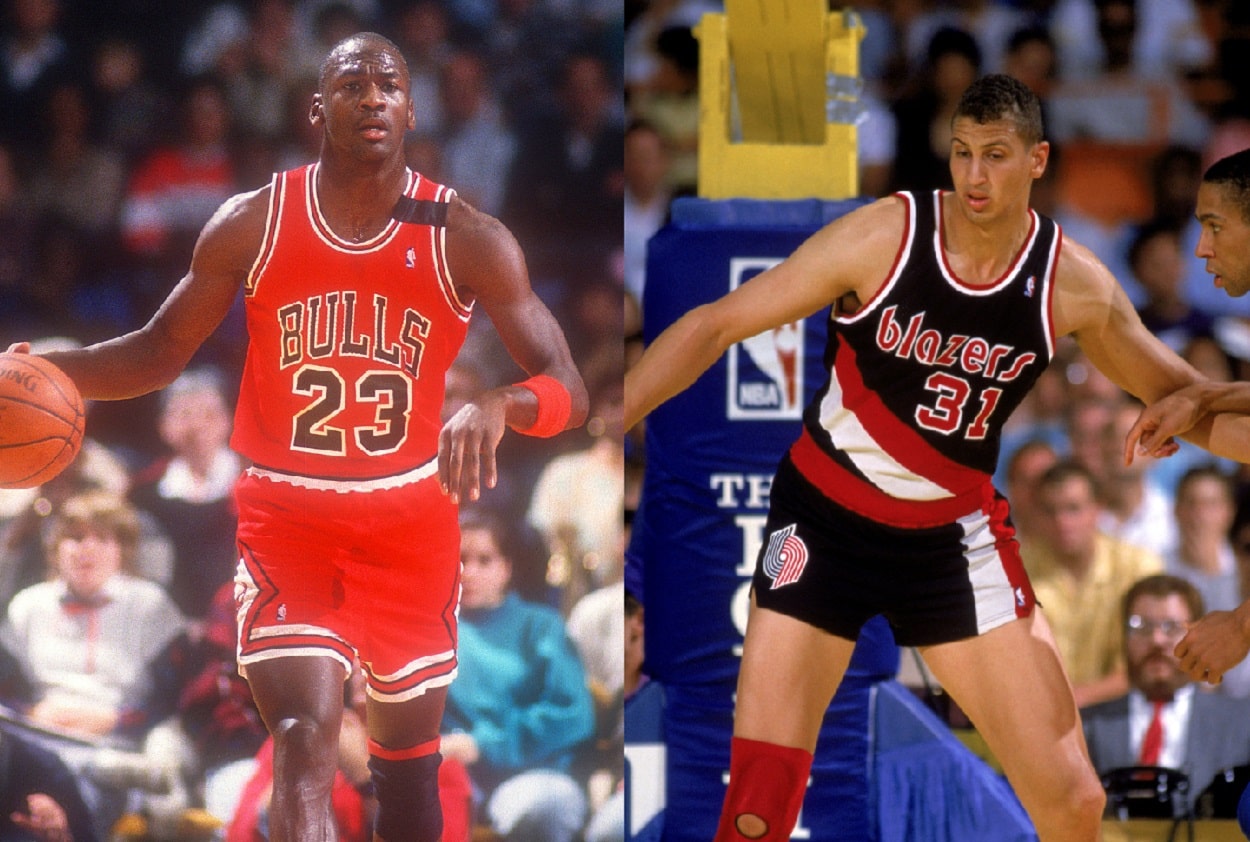 Michael Jordan Wasn't Overly Enthusiastic in a Conference Call When the Bulls Attempted to Bring Sam Bowie to Chicago
Michael Jordan was on a conference call when the Chicago Bulls attempted to recruit Sam Bowie.
Despite being a two-time All-American at the University of Kentucky who averaged double digits over the course of a 10-year pro career, Sam Bowie will always best be remembered as the guy taken one spot ahead of Michael Jordan in the 1984 NBA Draft.
But what if I told you that Bowie could have been remembered for being the guy taken ahead of Jordan and a guy who won an NBA title (or two or three) alongside him? Because that nearly was the case.
Sam Bowie being drafted ahead of Michael Jordan made sense
Drafting Bowie at No. 2 really was the smart move for the Portland Trail Blazers in 1984. They'd selected Clyde Drexler a year earlier with the 14th overall pick, so they obviously didn't need a shooting guard. And, come on, nobody could have known Jordan would become what he ultimately became, which is arguably the greatest basketball player ever to walk the planet.
But at that time, Bowie was the right call. And let's face it. The NBA was more of a big man's league in 1984, which is why the Houston Rockets took Hakeem Olajuwon at No. 1. Sure, the transition was happening with the likes of Julius Erving, Magic Johnson, Larry Bird, and then Jordan, but centers were a hot commodity back in the day.
Of course, the fact that Bowie missed two consecutive seasons at Kentucky due to issues with his left leg maybe should have raised some red flags, but the upside was there. While Jordan won Rookie of the Year in 1984-85, Bowie made the All-Rookie First Team, averaging 10 points, 8.6 rebounds, and 2.7 blocks for the Blazers.
Two years later, he averaged 16 points per game to start the season, but broke his left tibia in the Blazers' fifth game. Bowie missed the rest of the year and also missed the entire 1987-88 campaign, the season Michael Jordan won his first NBA MVP award and was named Defensive Player of the Year.
But Bowie came back strong the following season, his last in Portland, and had some solid years with the then-New Jersey Nets, averaging 12.8 points, 8.2 rebounds, and 1.8 blocks, before closing out his career with the Los Angeles Lakers.
The Bulls tried to recruit Bowie, but Jordan wasn't overly enthusiastic about it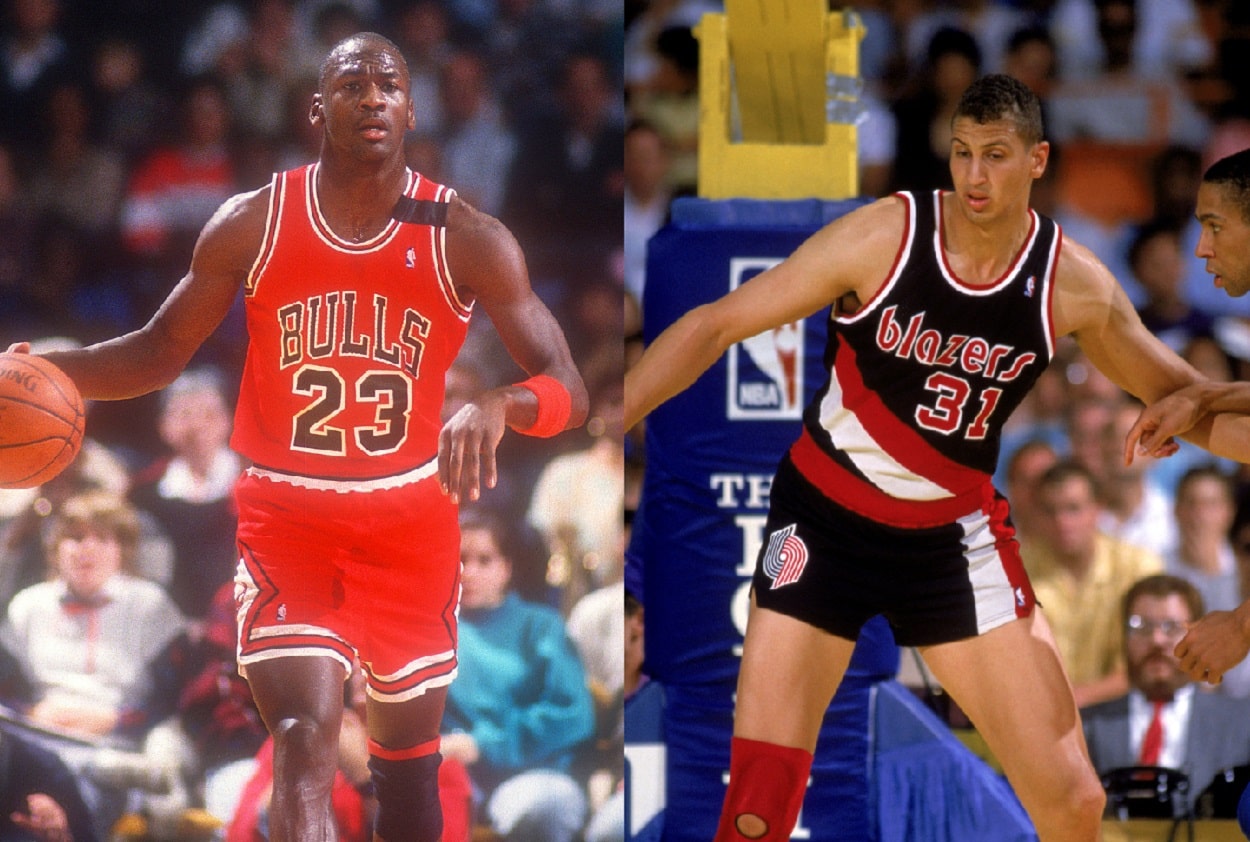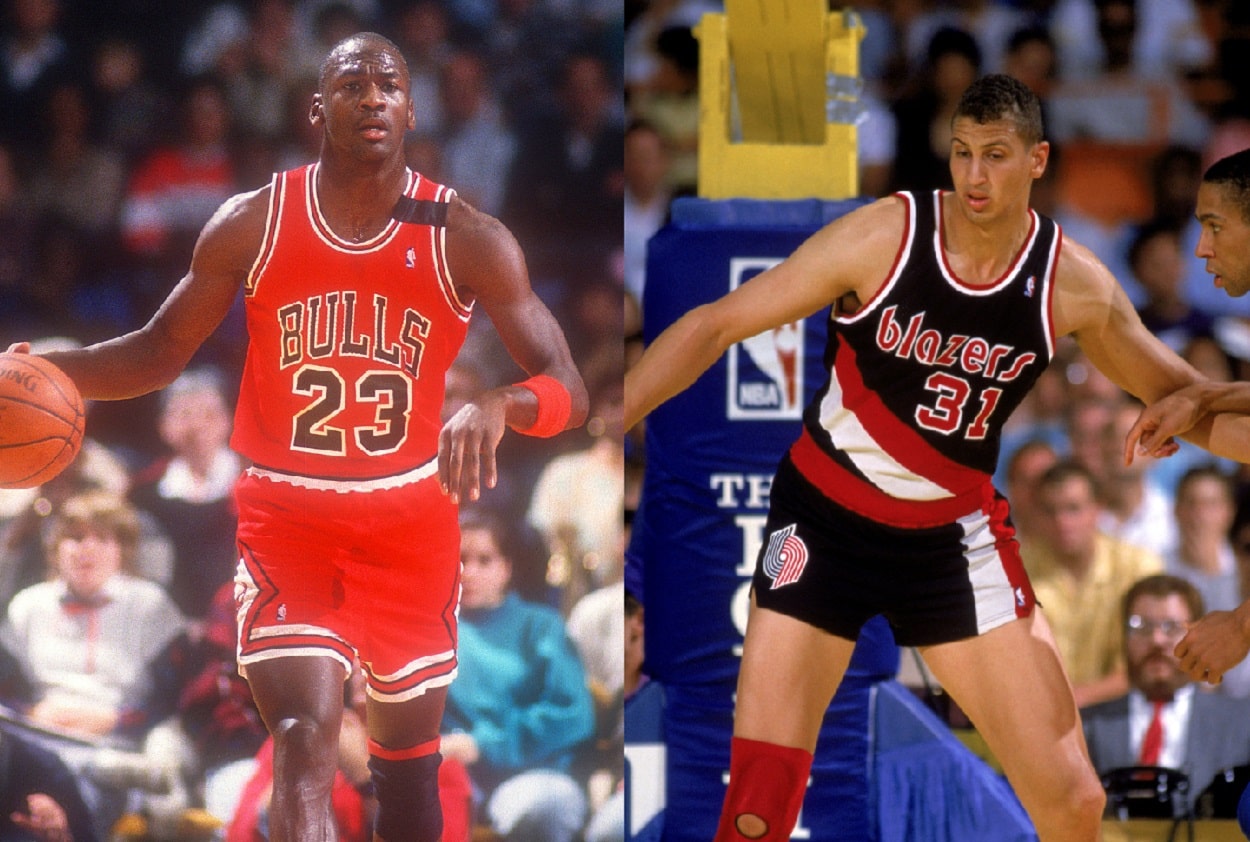 While never a full-fledged superstar, Bowie was a good NBA player. So good, in fact, that Jerry Krause wanted to bring him to the Chicago Bulls as a role player. He likely would have played a role similar to Bill Wennington or Robert Parish. And, honestly, it would have been a great end to Bowie's career had he won a title alongside Michael Jordan, given their famous connection.
And Krause even brought Jordan in for the pitch to Bowie, a conference call that also included Phil Jackson and Scottie Pippen. So how do you think that went? Jordan's longtime trainer, Tim Grover, wrote about the meeting in his book, "Winning: The Unforgiving Race to Greatness," and it's classic MJ.
"At one point, Bulls management asked him to be part of a conference call with Sam Bowie, who was a free agent at the time. Everyone made their pitch to Sam about why he should join the Bulls and how much the team wanted and needed him in Chicago.

"Phil made his pitch, along with Jerry Krause and Scottie…and then it was MJ's turn. 'Sam, you coming or not? We're winning with or without you.' His belief in himself was so powerful he never doubted the outcome."

Tim Grover on Michael Jordan and Sam Bowie
Expect anything different? Bowie obviously did not join Jordan and the Bulls, so his connection to MJ remained the '84 draft.
But given that story, the phrase "what if" can be used in more than one way when discussing Sam Bowie and Michael Jordan.
Stats courtesy of Basketball Reference
Like Sportscasting on Facebook. Follow us on Twitter @sportscasting19 and subscribe to our YouTube channel.