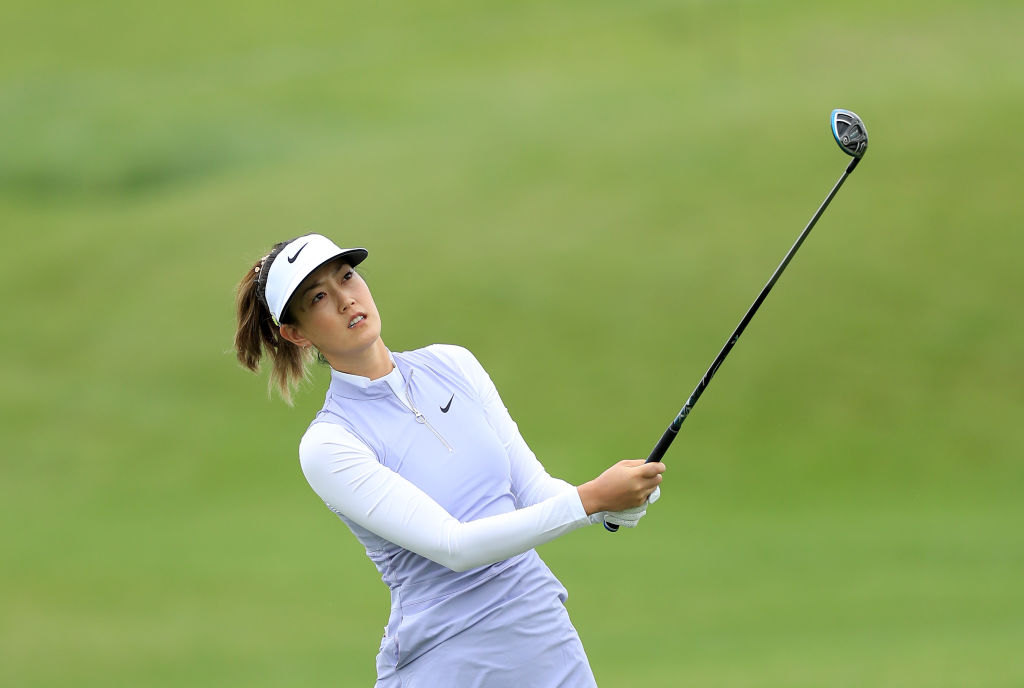 Michelle Wie Has a New Job
LPGA star Michelle Wie has been battling a wrist injury and hasn't played competitively in months. That won't keep her away from the game.
Michelle Wie hasn't played a round of competitive golf since last June at the KPMG Women's PGA Championship. Battling a wrist injury, Wie shot 84-82 in the first two days, easily missing the cut, and wondered how much longer she'd be able to play the game she's been playing since she was four years old.
Nearly 10 months later, Wie is in a different place in her life. Wie married Golden State Warriors executive Jonnie West, the son of Jerry West, last August and is pregnant with the couple's first child. Though she still isn't playing golf, Wie will still be around the game, albeit in a different capacity.
Will Michelle Wie ever play golf again?
When Michelle Wie, now 30, turned pro just before her 16th birthday in 2005, it was thought she would be one of the most successful female players in golf history. She qualified for her first LPGA event when she was just 12. She was just a freshman in high school when she was given an exemption to the Sony Open, a men's PGA Tour event, and missed the cut by just one stroke, outscoring 47 male professionals in the field.
Wie would've placed fourth in her first event as a professional, but she signed an incorrect scorecard and was disqualified. Seemingly a speed bump in what would be a career filled with wins and major championships, that didn't turn out to be the case. Wie has just one major to her credit, the 2014 Women's U.S. Open, and four additional victories on the LPGA Tour, her last coming in 2018 at the HSBC Women's World Championship.
Wie once said that once she became pregnant, that would be the end of her golf career. However, even after not playing since last June, Wie is determined to return to competitive golf.
"I do know, especially now having a baby girl, the motivation to come back is even stronger. Because I'm having a girl, I want her to see me play, and be a strong woman. That's really important. I always thought I'd be the person that I'm going to quit when I have kids. Now it's different."

Michelle Wie
For the time being, however, Michelle Wie will be around the game in a different way.
Wie has signed on to be an analyst with Golf Channel
Michelle Wie knows the game of golf. While her playing career, which still isn't over, may not have turned out like she and others thought it would, she can still bring some insight to the sport. That's likely the reason that Golf Channel has added her to a few of their "Live From" telecasts for the 2020 season.
This past September, Wie worked as a studio analyst for Golf Channel during the Solheim Cup, the women's version of the Ryder Cup in which teams from the U.S. and Europe compete against one another. Starting at The Players Championship next week at TPC Sawgrass, Wie will also join the "Live From" team for the PGA Championship in May, as well as the Ryder Cup in September.
Michelle Wie will also assist CBS at The Masters
CBS Sports has undergone a major overhaul as it pertains to its golf broadcast team. While Jim Nantz and Nick Faldo will still be the lead team, longtime contributors Peter Kostis and Gary McCord are out. Former major championship winner Davis Love III and Trevor Immelman are in, as is Michelle Wie.
While the parameters of her role have been a bit vague, what is known is that Wie will contribute to the coverage at The Masters when it begins on April 9.