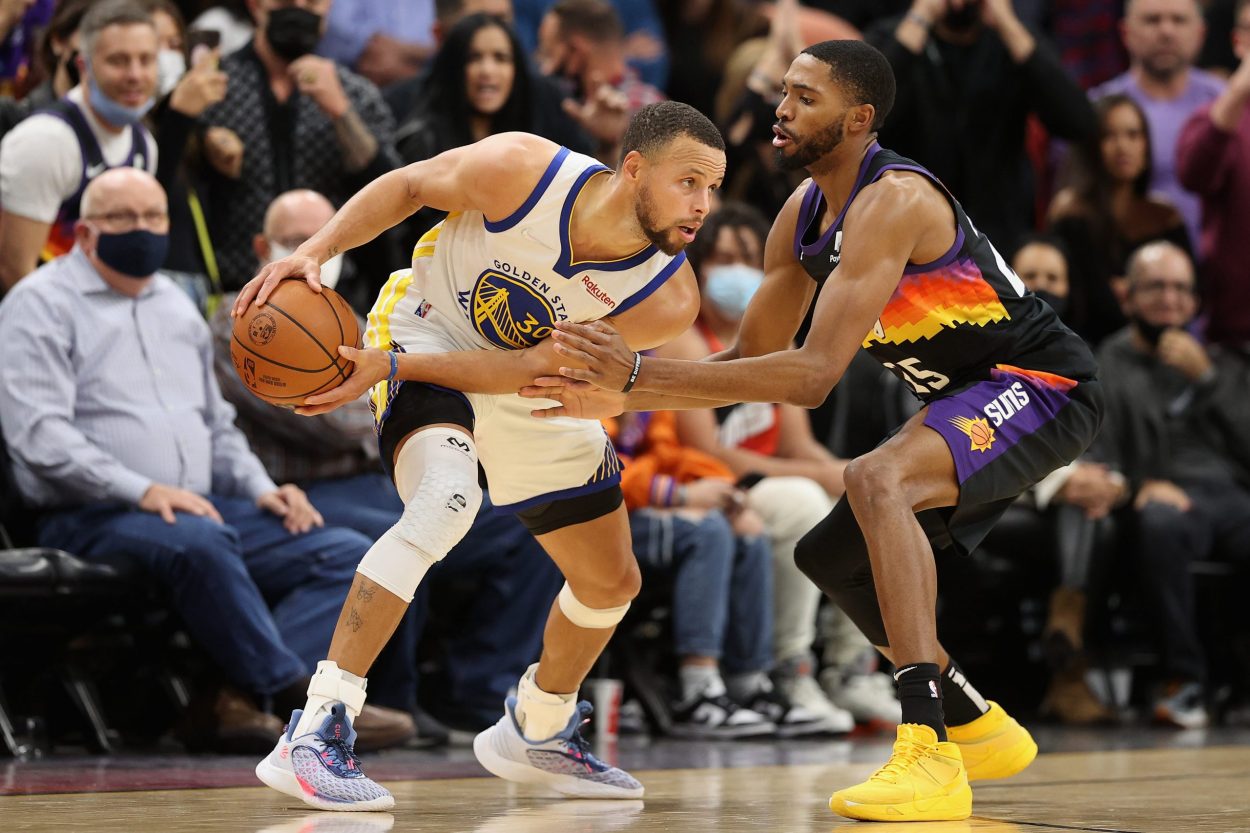 Mikal Bridges' $90 Million Extension Is an Immense Bargain For the Suns as Proven by 2 Incredible Stat Sheets
A pair of lockdown defensive performances indicate Mikal Bridges' $90 million extension could ultimately be a steal for the Phoenix Suns.
The Phoenix Suns are the hottest team in the NBA and made Stephen A. Smith look foolish with a win over the Golden State Warriors earlier this week. The Suns also have one of the strongest foundations in the NBA, thanks to their offseason commitment to Mikal Bridges.
Phoenix's most headline-worthy move came when it re-signed Chris Paul this summer. But it's the $90 million extension the Suns gave Bridges that looms large in terms of the team's ability to win a championship both now and in the future.
Bridges is building on his breakout 2020-21 campaign with stellar play on both ends of the floor. In fact, his contract might be a downright steal if his last couple of defensive showings are any indication.
The Suns gave Mikal Bridges a four-year, $90 million extension
Although the focus of the Suns' offseason always revolved around re-signing Chris Paul, they had a couple of other critical decisions to make.
Phoenix attempted to extend Deandre Ayton but did not feel comfortable giving him a max. Bridges might have played a role in the team's hesitance on that front.
The Suns felt a sense of aggression in making Bridges part of their future. He posted career-high averages in points (13.5) and rebounds (4.3) last season while shooting 54.3% from the field and 42.5% from beyond the arc. Moreover, Bridges proved himself one of the most capable on-ball defenders in the NBA.
Alas, as negotiations stalled with Ayton, the Suns jumped at the chance to sign Bridges. Phoenix inked the former Villanova star to a four-year deal worth just over $90 million, giving them a capable two-way wing to build around alongside CP3 and Devin Booker.
Bridges has immediately begun validating the contract, and his last couple of showings against two of the league's best players indicate the Suns might have got a steal of a deal.
Bridges shut down James Harden and Stephen Curry in back-to-back games
Guarding some of the best players in the NBA is nothing new for Bridges. He's been Phoenix's best on-ball defender for the past few seasons.
Still, what he did to James Harden and Stephen Curry in the last two games is remarkable.
Both men had a nightmare against Bridges and the Suns. Harden shot 4-of-15 from the field and 0-of-6 from deep on Nov. 27. He also had seven turnovers. Curry — who has repeatedly made mincemeat of strong on-ball defenders — had the worst shooting night of his career on Nov. 30, going 4-of-21 and 3-of-14 from beyond the arc.
Bridges anchored both defensive performances. According to NBA.com, Harden shot 0-of-2 in nearly seven minutes when guarded by the Suns swingman. Curry, meanwhile, went 0-of-3 from the field against Bridges. But though the attempts appear minimal, Bridges' defensive impact on both men is more adequately reflected in the total shooting lines.
Bridges' ability to make things more difficult on stars allows the Suns to have cleaner rotations and supply help when necessary. He forces guys like Harden and Curry to either give up the ball or eventually settle for more challenging looks even if they can get late switches.
An excellent example of this came at the end of the first half of Suns-Warriors. Curry got a switch onto Ayton in pick-and-roll. But Bridges stuck with Draymond Green and cut off his roll, forcing Steph to attempt a deep three late in the clock. Ayton got a piece of the shot, sending the Suns the other way.
Moreover, the 25-year-old excels as a rover who can play the passing lanes and makes players constantly aware of his presence. When Curry beat Ayton off the dribble on a switch later in the game, Bridges rotated from his assignment on Green to block the Baby-Faced Assasin at the rim.
Bridges' length and athleticism make him a handful, whether he's guarding the ball or causing havoc with superb help defense and anticipation.
Bridges is having another strong offensive season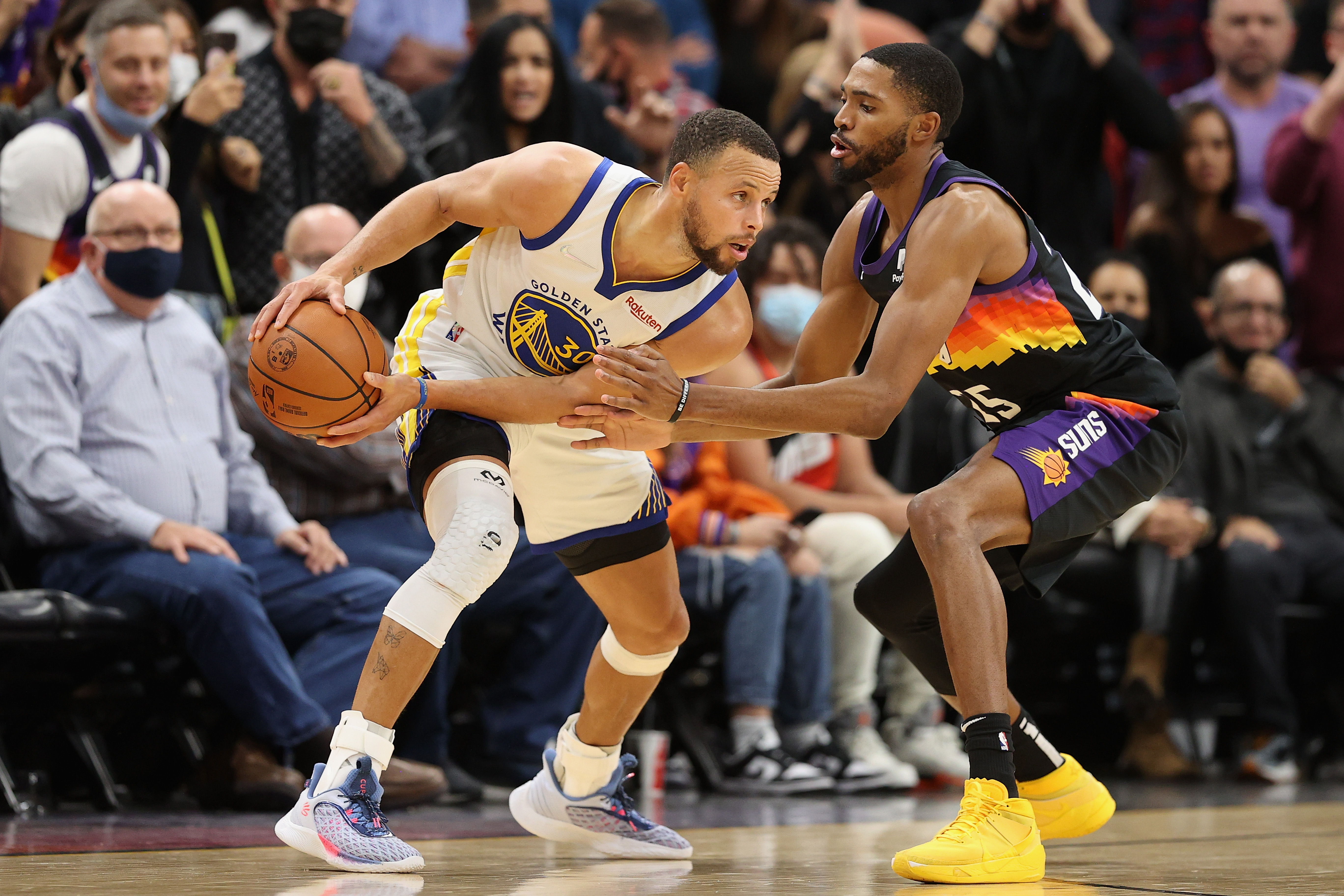 Mikal Bridges isn't just adding value as a defensive stopper. He continues to be an efficient scorer for the Suns.
Bridges is shooting 39.1% from beyond the arc. He cuts to the rim for easy twos at the rim and can finish with floaters and runners in the restricted area.
There is room for growth. Bridges struggles to shoot the ball efficiently off the bounce. But his ability to play in transition, operate as a cutter, and knock down spot-up 3-pointers makes him valuable for a team with elite shot-creators in Booker and Curry as well as a strong interior force in the paint.
The Philly native should continue to grow into his own as a scoring threat. Pair that with his superb defensive gifts, and Bridges looks like a $90 million steal for the Suns. James Harden and Stephen Curry would probably agree.
Stats courtesy of Basketball Reference unless otherwise noted.