Penny Hardaway Once Brawled With Phoenix Suns Teammates Over a $30,000 Bourré Pot Right in Front of Season-Ticket Holders
Anfernee "Penny" Hardaway provided Orlando Magic fans with plenty of memories as one half of a superstar tandem with former teammate and less-acclaimed actor Shaquille O'Neal. Phoenix Suns fans can't say the same. Still, one story from Penny's time in the desert is absolutely worth remembering because of the sheer absurdity of the situation.
Hardaway used to play cards with his Suns teammates on the team plane, which at one point included season-ticket holders as passengers. Those fans got to see a show during one particular flight, when a game of bourré sparked an all-out brawl.
Penny Hardaway spent four-plus forgettable seasons with the Suns
At one point in time, Penny Hardaway looked like the NBA's next great star. He made three All-NBA teams with the Magic as the team's do-it-all point guard.
By the time he arrived in Phoenix, however, Hardaway was an altogether different player. During two of his final three seasons in Orlando, Penny sustained multiple injuries, with knee and foot injuries looming especially large. However, he played all 50 games in the lockout-shortened 1998-99 campaign.
The Suns saw enough in Hardaway to bring him into the fold. They orchestrated a sign-and-trade to bring Penny to Phoenix, where he and Jason Kidd formed an enticing backcourt.
Despite the excitement, Hardaway and the Suns never lived up to the billing. Penny had a successful first season in the desert, averaging 16.9 points, 5.8 rebounds, and 5.3 assists while helping lead the Suns to the playoffs. Things petered out shortly afterward.
Hardaway played just four games during the 2000-01 season because of two microfracture surgeries on his knee. Penny never looked the same. He spent just over two more years with the Suns, averaging 10.6 points, 4.2 rebounds, and 3.4 assists between 2001 and 2004.
In that timeframe, the Suns traded Kidd to the New Jersey Nets. Penny followed J-Kidd out the door, as Phoenix traded Hardaway to the New York Knicks as part of the Stephon Marbury trade in 2004.
Penny's time with the Suns marked his descent from the top of the NBA. Indeed, one explosive game of cards stands out as one of his most memorable stories in Phoenix.
Hardaway and Todd Day brawled with Cliff Robinson on the team plane over a $30,000 pot in a card game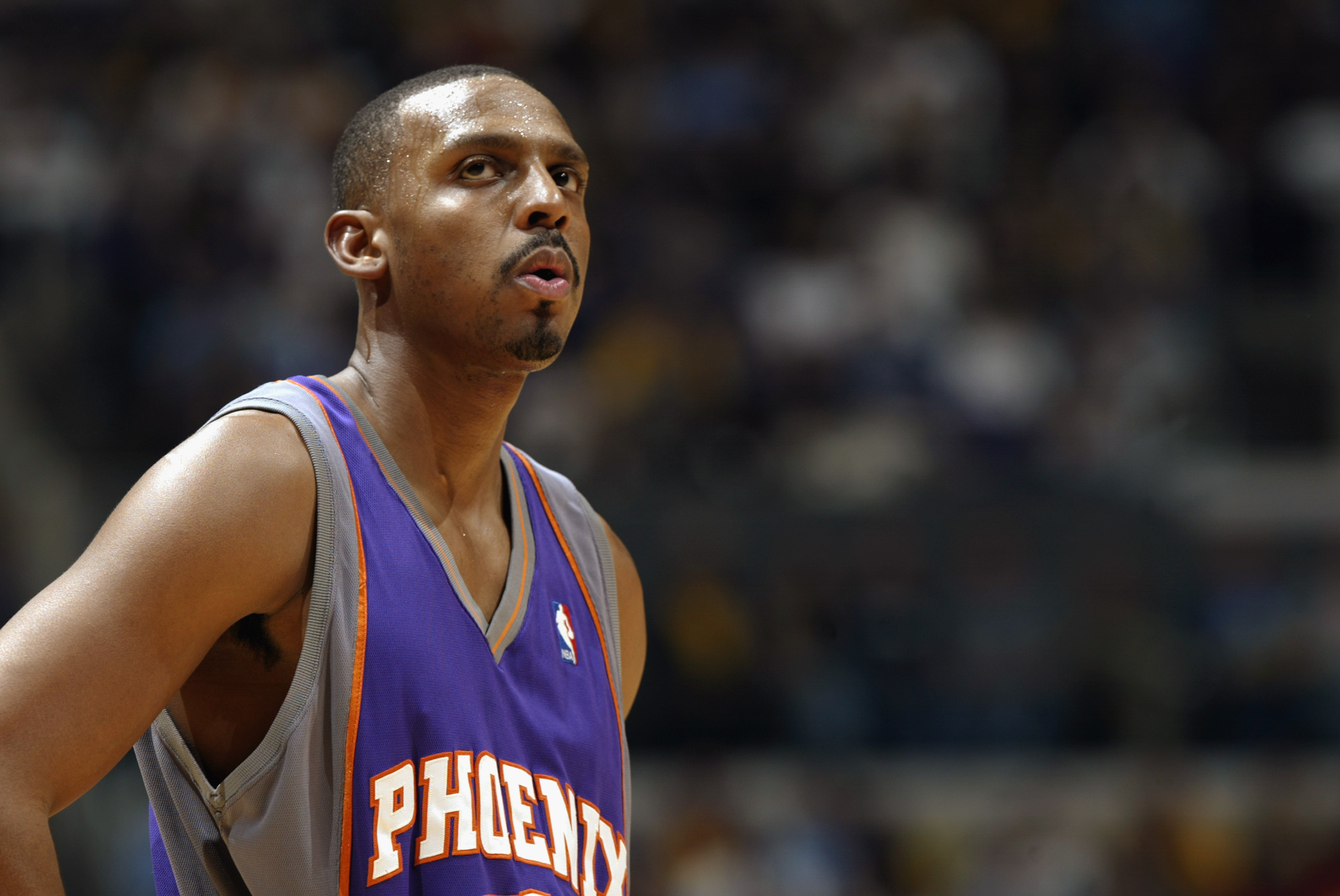 Former Suns guard Randy Livingston remembers the moment well. Livingston, Hardaway, Todd Day, and Cliff Robinson played their usual game of bourré when things turned violent.
Livingston told The Undefeated that Robinson typically got beat in cards on road trips throughout the 1999-00 season. The 18-year center finally won a game on one such occasion, with a whopping $30,000 in the pot. But someone made a remark that resulted in Robinson fighting with Day and Hardaway… right in front of season-ticket holders.
"Me, Cliff, Penny, and Todd were all playing bourré, and the pot got up there to $30,000. And something was said to Todd by Cliff, who finally won a pot. We were beating Cliff every road trip. Someone said, 'That post has to go back to [Day].' Cliff went crazy. We had season-ticket holders on the plane. The Suns let family and anyone on the plane. A fight broke out, and they grabbed each other. Cliff fell, and Todd stomped him. It was crazy."

–Randy Livington, via The Undefeated
Perhaps not coincidentally, Day signed with the Minnesota Timberwolves the following summer. Hardaway and Robinson spent the 2000-01 season as teammates, but the Suns traded Uncle Cliffy before the 2001-02 campaign.
And to think, all this came before the Robert Sarver tenure. The Suns always appear to have some dysfunction, though the latest probe amplifies that turmoil into the current Suns governor.
Regardless, Hardaway is likely hoping for more success and less drama in the next chapter of his life.
A new career in coaching
Penny Hardaway's career in basketball is far from over.
Memphis University hired Hardaway as its men's basketball coach ahead of the 2018-19 season. His tenure with the Tigers includes a high-profile scandal involving James Wiseman, whom the NCAA said received improper benefits before committing to the Tigers in 2019. However, Penny is building something in Memphis.
Hardaway went 63-32 in his first three seasons with the Tigers. He recruited the top high school player in the nation in Emoni Bates, who showed out in his debut against Tennessee Tech. The Tigers entered the 2021-22 season ranked 12th in the nation.
Penny is likely hoping to have a lasting impression on the sport, more than two decades after his career appeared marred by injuries and card games turned awry.
Stats courtesy of Basketball Reference and Sports Reference.