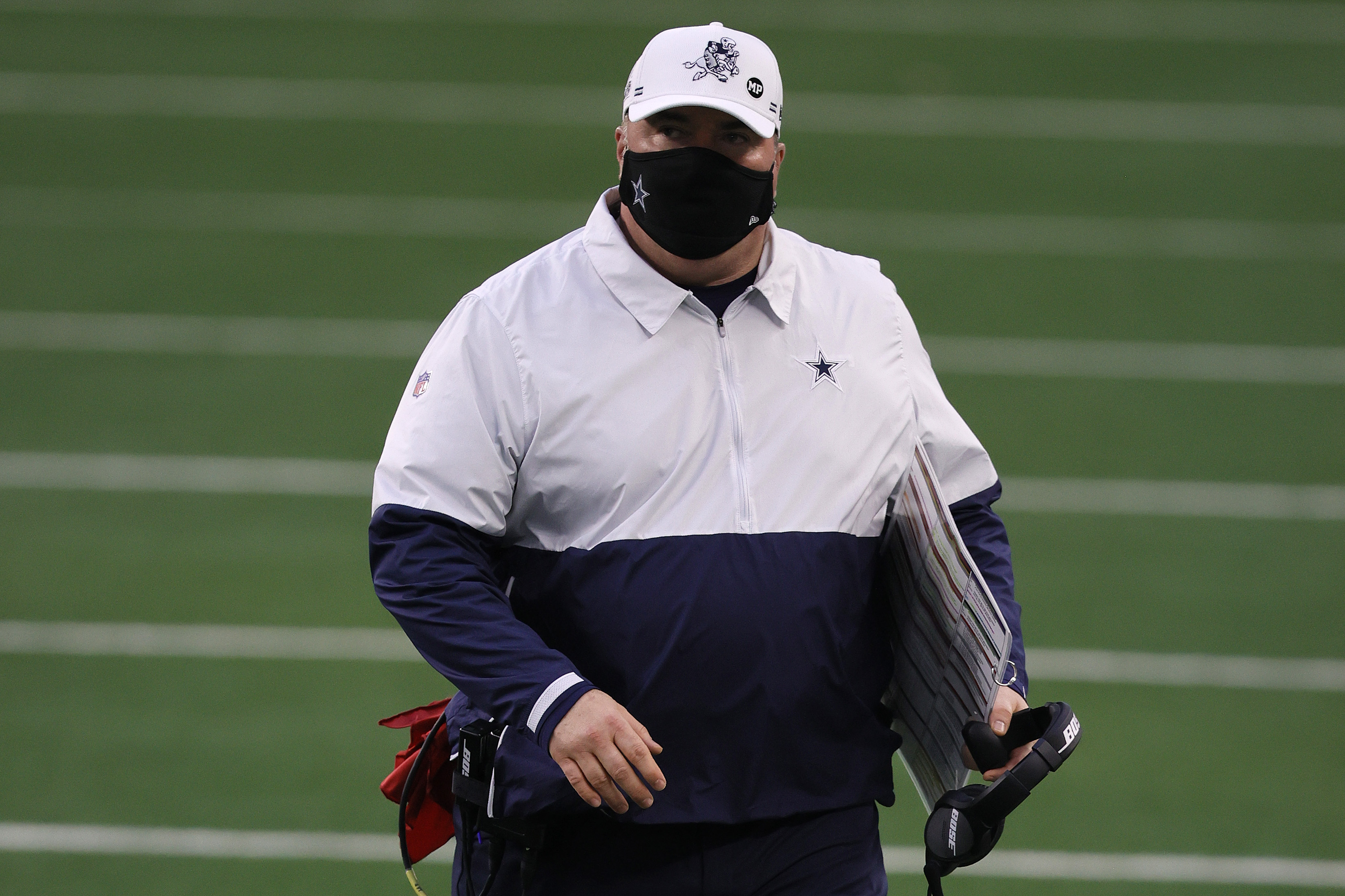 Mike McCarthy Just Showed Why This Might Be His Final Season With the Cowboys
Cowboys head coach Mike McCarthy just showed why his first season in Dallas may also wind up being his last.
Just when you thought the Dallas Cowboys were starting to turn things around, Mike McCarthy tried to outthink himself. Or maybe he wasn't thinking at all. McCarthy, in his first season as head coach of the Cowboys, turned in a well-below-average coaching performance Thursday and may have shown that he could be one and done in Dallas.
Mike McCarthy has a strong coaching resume
Mike McCarthy spent 13 seasons as the head coach of the Green Bay Packers. Including the playoffs, McCarthy went 135-85-2 and guided Green Bay to a victory over the Pittsburgh Steelers in Super Bowl 45. McCarthy had eight seasons of 10 or more wins with the Packers.
During the Packers' Super Bowl run, Green Bay finished the regular season with a 10-6 mark. The Packers made the postseason as a wild card and then won three straight road games to reach the Super Bowl. They defeated the Steelers 31-25. McCarthy's best regular-season came the following year when the Packers went 15-1. They were defeated by the San Francisco 49ers in the NFC title game.
After a 6-10 season in his third year, McCarthy bounced back with eight straight winning seasons. His last two in Green Bay, however, were forgetful. He went 7-9 in 2017 and then was fired during the 2018 season when the Packers were 4-7-1. His struggles have continued as he is 3-8 in his first year with the Dallas Cowboys.
McCarthy has always struggled with fourth-down decisions
Kick a field goal? Punt the football? Go for it? Mike McCarthy struggles when it comes to fourth down. It's no secret that McCarthy usually makes the wrong decision when it comes to fourth down. One of his biggest blunders came when he was with the Packers in 2018 and it just may have been what ultimately led to his firing.
In a must-win game against the Seattle Seahawks to keep any playoff hopes alive, Green Bay faced fourth-and-2 from their own 33-yard line with 4:20 remaining. McCarthy took the ball out of Aaron Rodgers' hands and put it into Russell Wilson's by punting. Seattle ran out the clock and won. Even the Seahawks were surprised – and happy – that McCarthy gave up the ball.
Tramon Williams, a defensive back for the Packers, questioned McCarthy's decision, according to ESPN. "When we're in games like this, we gotta go for it, man," Williams said. "We play to win, you know? We play to win. We've got the best quarterback behind center." In the season opener this year, McCarthy went for it on fourth-and-3 from the Rams 11 with his team trailing 20-17. The Cowboys failed on fourth down and lost 20-17.
McCarthy seems to have lost his touch
Is it too early to give up on Mike McCarthy? The short answer is no. Actually, the only answer is no. Although the Dallas Cowboys lost 41-16 to the Washington Football Team on Thanksgiving, the game broke open after the second of two McCarthy fourth-down blunder calls.
Trailing by four in the second half with his team facing fourth-and-10 from its own 24, McCarthy tried, failing miserably, a fake punt. Washington was not fooled and then scored on the ensuing possession to make it a two-score game. "Ultimately, it's my responsibility when a play like that doesn't work," McCarthy said, according to USA Today. "But we're trying to generate a big play. At that point in the game our information that you look for going into it, it was a solid call."
Earlier in the game, with the score knotted at 10, McCarthy elected to go for it on fourth-and-1 from the Cowboys 34. He called for a pass play that fell incomplete and Washington capitalized on the great field position. McCarthy's not the answer in Dallas. The fact he blew two more fourth-down calls is bad enough. The fact, he still believes the fake punt on fourth-and-10 from his own 24, down by four points, was the right call, means he should be shown the door after this one disastrous season in Dallas.