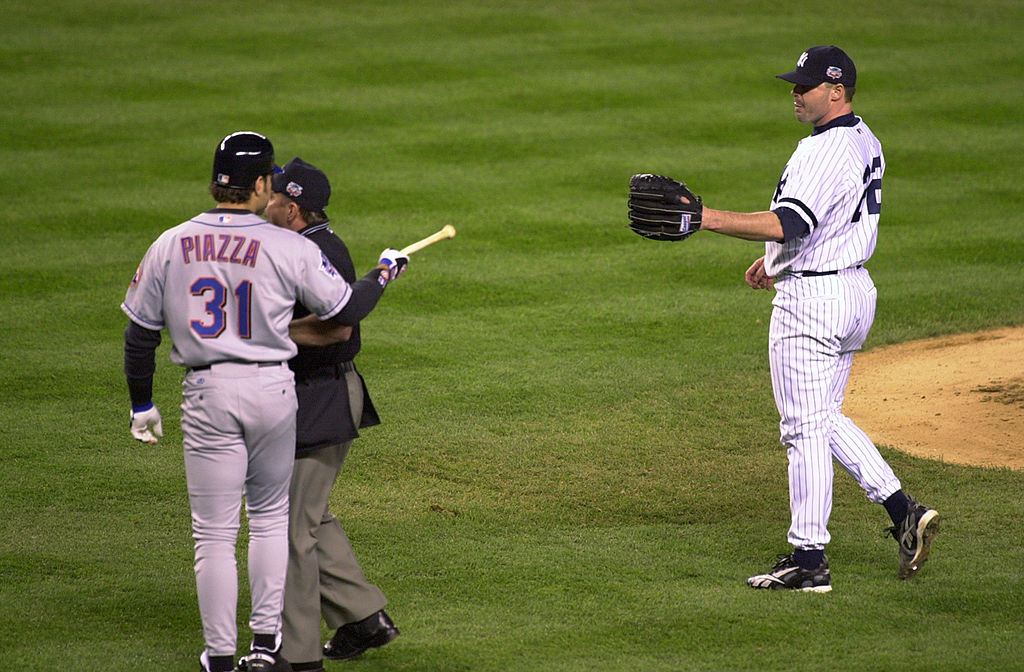 Mike Piazza Reflects on His On-The-Field Issues With Roger Clemens
Former MLB All-Star catcher Mike Piazza reflects on his on-the-field issues with pitcher Roger Clemens during the 2000 season.
During Mike Piazza's 16-year Major League Baseball career, he's has some big moments. He was named the 1993 National League Rookie of the Year after being drafted in the 62nd round of the 1988 MLB draft. He was a 12-time MLB All-Star who finished his career with 427 home runs. Piazza will be remembered as one of the best offensive catchers in Major League Baseball history as he finished his career with a .308 batting average. Piazza will also be remembered for a couple of incidents with Roger Clemens that took place during the 2000 season.
Mike Piazza hit in the head by a pitch from Roger Clemens
During the 2000 season, Mike Piazza was hit in the head by a pitch from New York Yankees pitcher Roger Clemens. Piazza stayed on the ground for a minute, was helped up by a trainer and walked to the bench. Several of the Mets moved to the top step of the dugout, and coach John Stearns seemed particularly animated.
Piazza suffered a concussion from the beaning and was forced to miss the 2000 MLB All-Star Game. At the time, Piazza said he wouldn't come out and say Clemens was intentionally trying to hit him, but believed he was aiming in the direction of his head.

"I don't want to say he intentionally hit me in the head, but I think he intentionally threw at my head. There's no place for that in baseball."

Mike Piazza
The Yankees said Clemens tried by reach out to Piazza later that night, but Piazza felt the pitcher showed no remorse.
"But I'm flattered in a way because he feels the only way to get me out is to hurt me," Piazza went on to say. "I didn't accept a call last night, and I wouldn't if he called me now."
The beanball incident carried over to the Subway Series later that year
The New York Yankees and the New York Mets met in the 2000 World Series, billed as the Subway Series, later that year and emotions ran high between Mike Piazza and Roger Clemens once again.
In the first inning of Game 2 of the series, Clemens threw a 1-2 pitch to Piazza, who fouled the ball off as his bat shattered, sending the jagged barrel of the bat to Clemens. Clemens picked up the bat and threw the bat in the direction of Piazza, who was running toward first base.
The bizarre incident caused both benches to clear and replays show that Clemens appeared to say, "I thought it was the ball." No punches were thrown when the players came on the field.
"When he threw the bat, I walked out to the mound to see what his problem was," Piazza said at the time. "He really had no response. It was bizarre."
Clemens gave his own account of what happened. "I had no idea Mike was running on the foul ball. There was no intent there," Clemens said to reporters.
Mike Piazza's take today on his battles with Roger Clemens
In an interview with CBS Sports Radio on Wednesday, Mike Piazza talked about his career, his life after baseball, and his run-ins with Roger Clemens. He said he was happy to be alive after that beaning incident in 2000.
"Not to sound sort of flippant about it, but I'm glad I'm still alive," Piazza said on The Zach Gelb Show. "I tell people all the time when I first saw it, it could have killed me. So I was happy I got my head down and I was able to get the ball off the helmet. But it's still one of those situations that was unfortunate all around. It was, to me, a stain obviously on my career and I'm sure for him. He probably would want to take it back. I can't speak for him. He's never really talked about it, so it's tough for me to comment on how he feels about it."
He also made reference to the 2000 World Series which the Yankees went on to win 4-1.
"We blew some opportunities in the World Series and probably missed a chance to be the world champions," Piazza said. "But you've got to take your hats off to the Yankees. They had great teams and we had epic battles and great games that fans today still remember."