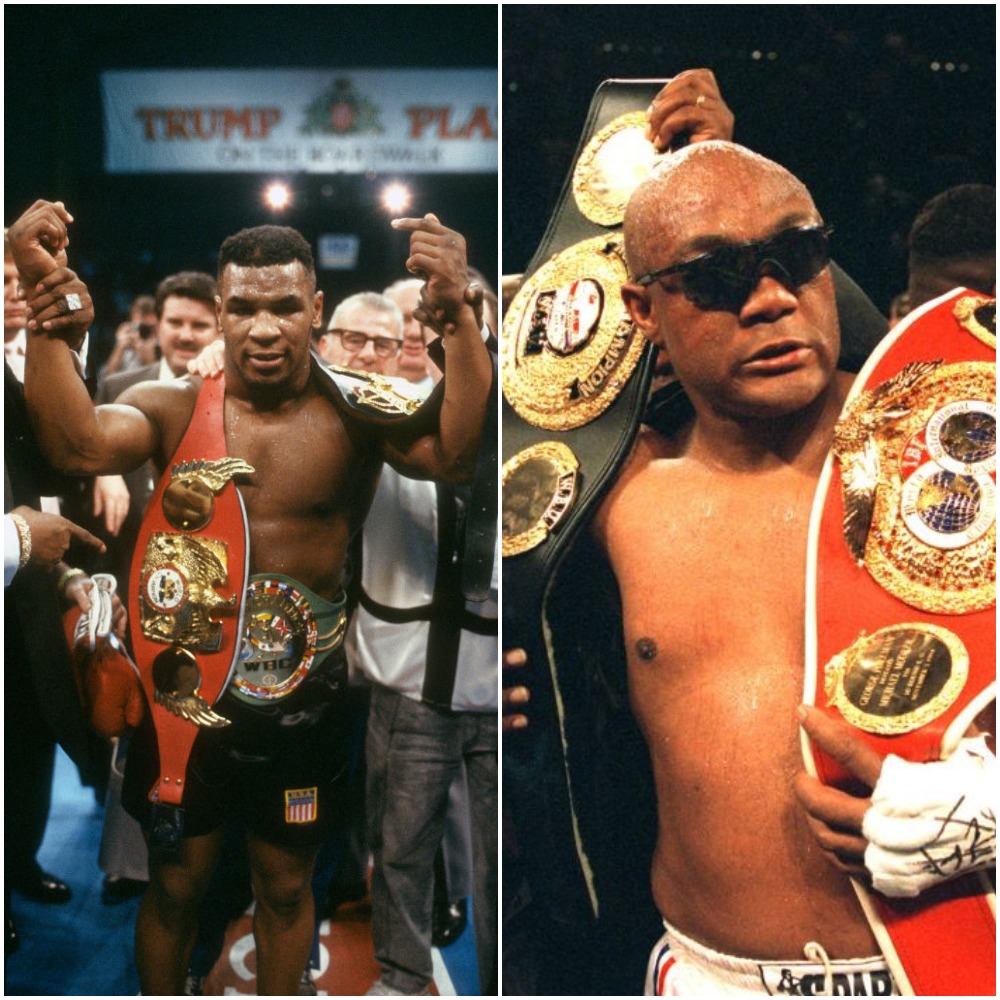 Mike Tyson Return to Ring Is Bad Idea According to George Foreman
Mike Tyson recently announced he's planning a return to the ring at age 53. George Foreman, who boxed until he was 49, thinks it's a bad idea.
As recent news reports indicated that Mike Tyson was planning a return to boxing at age 53, many in the boxing community were excited and hopeful to see the "baddest man on the planet" make a return to the ring and show off his skills and power one last time. Don't count George Foreman, one of the oldest to ever lace up a pair of gloves, among them.
Mike Tyson planning a return to boxing
Last week, in an Instagram video with rapper T.I., Mike Tyson made a surprise announcement that he was training for a return to the ring to participate in four-round exhibitions and offered up details of his current workout routine.
"I do two hours on cardio. I do the bike and the treadmill for an hour, then I do some light weights, 300, 250 reps," Tyson said. "Then I start my day with the boxing thing, I go in there and hit the mitts, 30 minutes, 25 minutes, start getting in better condition."
The former heavyweight champ said he has even impressed himself with his sharpness, but also acknowledged his older body feels it more. 
"I've been hitting the mitts for the last week. That's been tough, my body is really jacked up and really sore from hitting the mitts. I'm starting to put those combinations together. I'm in pain. I feel like three guys kicked the s**t out of me." 
George Foreman says a Mike Tyson comeback is a bad idea
George Foreman knows a thing or two about making comebacks later in life. After losing a fight in March 1977 at 28 years old, Foreman called it quits. At least temporarily. 
Ten years later a 38-year-old Foreman returned to the ring and fought for another decade, cementing his legacy as one of the greatest fighters of all time. Late in 1997, just a few months before his 49th birthday, Foreman lost his heavyweight title in a bout with Shannon Briggs. He retired soon after.
Foreman, who fought almost into his 50s, believes Mike Tyson's legacy is enough already. In a Twitter post, Foreman said Tyson, at age 53, has nothing to prove by making a return to boxing, even if it is an exhibition.
"Tyson has done enough great things for boxing. No more is needed. He is in the Hall of fame. And was a mighty puncher."  
Why a Foreman and Tyson fight never happened
Foreman's reference to Mike Tyson's punching power is one of the reasons the two heavyweights never met in the ring. Despite a couple of times where serious negotiations for a potential Tyson-Foreman fight took place, the 71-year-old Foreman said in a recent ESPN interview, he didn't want any part of Tyson.
"That guy was a nightmare in the ring. I didn't want anything to do with that guy. I didn't want a part of Mike Tyson. He was a monster. If he missed you with his left, then missed you with his right, he'd bite you," the always affable Foreman said with his trademark smile.
Apparently, the feeling was mutual. Tyson was never keen on the idea of fighting the older and much larger Foreman. In a meeting with boxing journalist Frank Lotierzo, Don King's matchmaker Bobby Goodman said Tyson believed Foreman was much better than people thought and he used his older age as a front. He viewed Foreman as a wolf in sheep's clothing.
All these years later, you can't help but wonder if Tyson's fear/respect of Foreman will translate into Tyson listening to the elder boxer's call for him not to return to the ring. It's highly unlikely anything will prevent Tyson from a return to boxing, unless the suggested opponent is George Foreman.