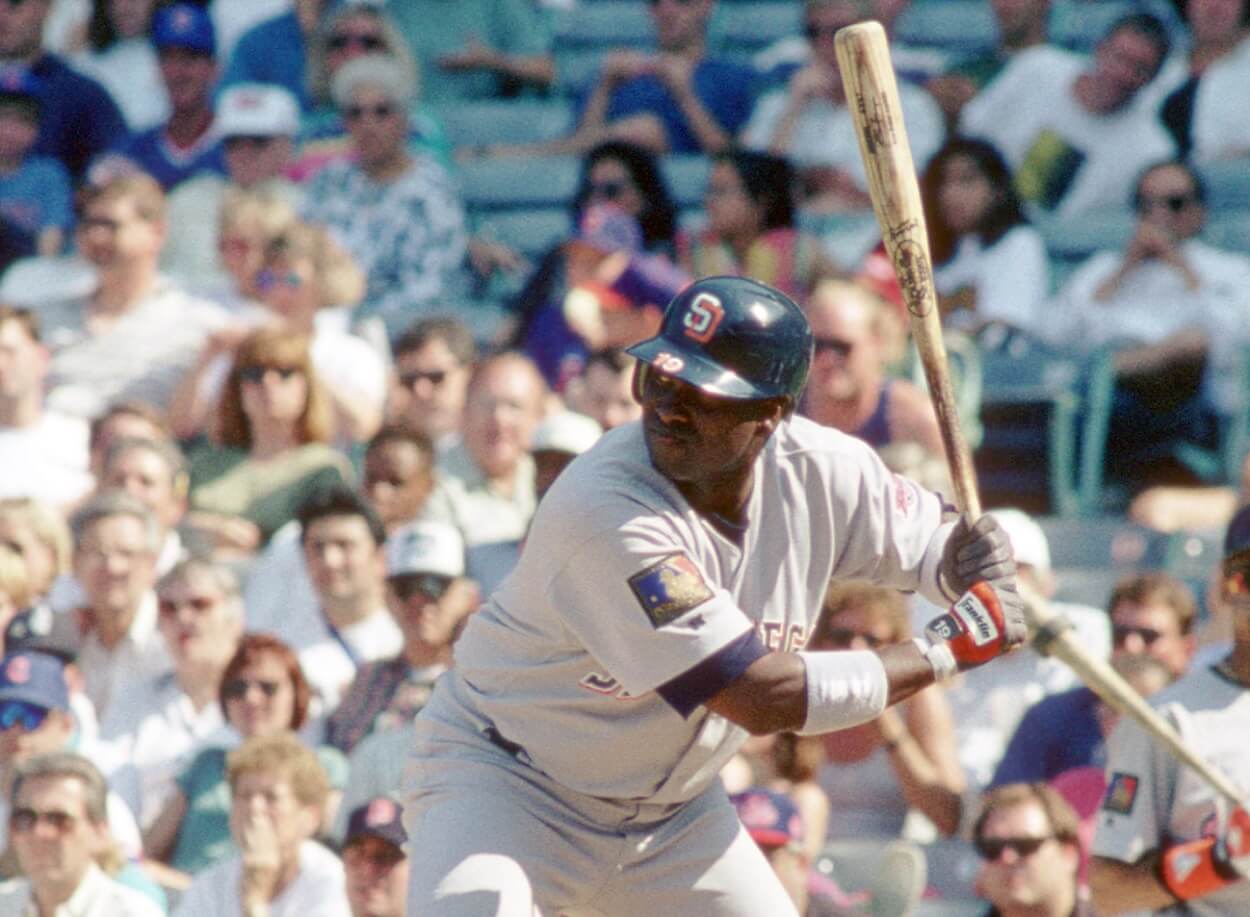 Who's Come Closest to Hitting .400 in MLB Since Ted Williams Accomplished the Feat in 1941?
A look at the MLB players who've come closest to hitting .400 since Ted Williams last hit the mark in 1941.
Posting a .400 batting average across a full Major League Baseball season remains one of the most difficult tasks in the game. Truth be told, even hitting .300 these days is difficult for the vast majority of MLB players.
The last player, of course, to hit the magic number was Boston Red Sox legend Ted Williams, who hit .406 in 1941. While the Hall of Famer hit .400 in 1952 and .407 in 1953, he didn't have nearly enough plate appearances to qualify for any official MLB records.
Since then, a few have come close, including Williams himself, but nobody has been able to finish the job. Let's take a quick look at the five who've come closest to the magical .400 over the last 80-plus years.
5. Larry Walker — .379, 1999
Five-time MLB All-Star Larry Walker was the most recent hitter to threaten .400 as he posted a stellar .379 batting average in 1999 with the Colorado Rockies. Say what you want about Walker playing in the steroid era and playing the majority of his games in notoriously hitter-friendly Coors Field, but the Canadian could straight-up rake (and run).
Walker finished his career with 383 career home runs, a .313/.400/.565 slash line, and 230 stolen bases for good measure. He won three National League batting titles, hit .350 or higher four times (in five seasons, mind you), and won the 1997 NL MVP.
It's mind-boggling that Walker finished only 10th in the 1999 NL MVP vote, as he was an All-Star, a Gold Glove winner, and a Silver Slugger Award winner, all while leading the league in batting average (.379), on-base percentage (.458), slugging percentage (.710), and on-base plus slugging percentage (1.168).
4. Rod Carew — .388, 1977
For our next entry, we turn the calendar all the way back to 1977 to review the magical year for Minnesota Twins legend Rod Carew.
Never much of a power hitter, Carew was still one of the most lethal offensive weapons in all of baseball through the late 1960s, all of the '70s, and into the early- and mid-'80s. The Panama native racked up nearly three times as many career hits as strikeouts (3,053 vs. 1,028), and his 1,018 walks nearly equal the strikeout total.
Carew began his career as an All-Star in 1967 and never looked back, making 18 straight teams until his final season in 1985. He was never better than in 1977, though, when he earned his lone AL MVP award, posting career-highs in pretty much every offensive category and leading the league in runs scored (128), hits (239), triples (16), batting average (.388), on-base percentage (.449), and OPS (1.019).
3. Ted Williams — .388, 1957
As mentioned, Ted Williams himself came close to hitting .400 again. Only this time, he was near the end of his career.
Sixteen years after hitting .406, Williams hit .388 for the Red Sox in 1957, a season during which he not only led the league in batting average but also in on-base percentage (.526) and slugging (.731). Had it not been for his .295 average in June, the month in which his average dropped below .400 for the final time, Williams would have undoubtedly reached the magic number yet again.
In fact, had he just gotten five more hits throughout the entire season, he would have hit exactly .400. And just so you know, the reason Williams isn't tied for third is that he hit .3881 while Carew hit .3880.
2. George Brett — .390, 1980
Casual baseball fans may best know George Brett best from when he went bonkers during the "pine tar game." Aside from that, however, the career-long Kansas City Royal was one of the best hitters in MLB through the 1970s and '80s, taking the proverbial baton from Carew.
Brett finished his career with more than 3,000 hits, 650 doubles, 130 triples, 300 home runs, and 200 stolen bases to go along with an elite .305/.369/.487 slash line. 
It's no surprise that Brett was able to get so close to reaching .400 back in 1980 when he finished with a .390 mark. True, he only played in 117 games and registered 449 at-bats, but that's still a mighty impressive chunk of the year to hit that well.
1. Tony Gwynn — .394, 1994
Unfortunately, thanks to the 1994 MLB strike, we never got the chance to see if the late great Tony Gwynn could reach .400 that season. The strike halted play in mid-August, denying Gwynn the opportunity to take a real shot at history.
The charismatic outfielder, by the way, had a 14-start hitting streak (he went 0-for-1 in a substitution appearance on August 4) at the time of the strike, so he was certainly showing signs of pushing the legendary figure. Other factors in Gwynn's favor that season: He was hitting at least .300 since the first game, and his average had been steadily climbing since mid-May.
It's unfortunate that the shortened campaign stole a chance at baseball history, but the San Diego Padres Hall-of-Famer's .394 in 1994 still stands as the closest anybody has come to the Splendid Splinter after all these decades.