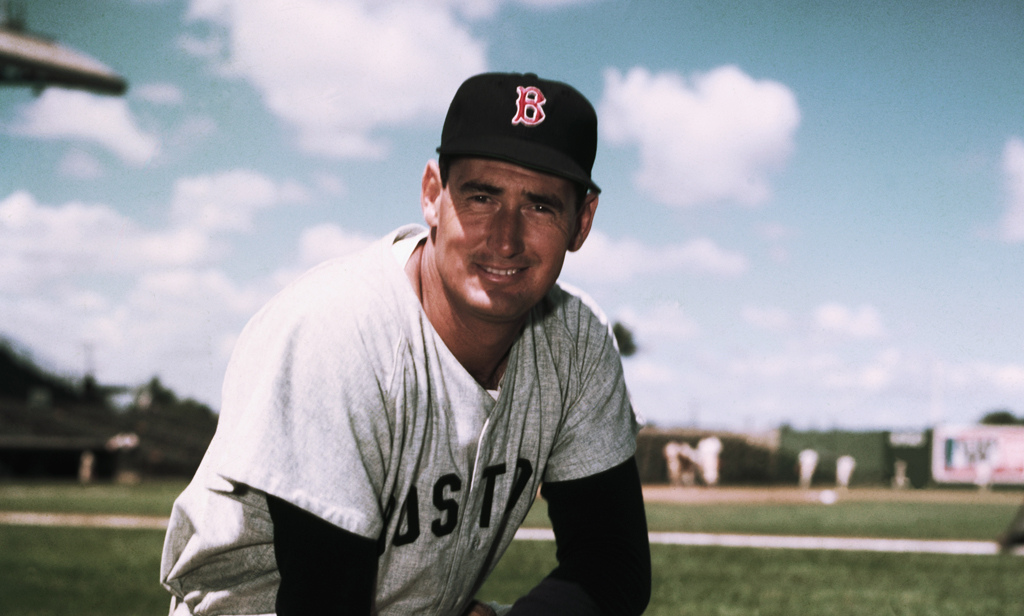 Ted Williams Was Robbed of More Than 140 Home Runs
Ted WIlliams' career in Major League Baseball was interrupted twice by military service during wars.
Any conversation about the greatest hitters in Major League Baseball history includes Ted Williams, whose numbers in 19 seasons with the Boston Red Sox are undeniably impressive.
What makes Williams' numbers even more eye-popping is that he lost what amounted to almost five full seasons while serving in the military in two wars during the prime of his career.
No one reached base like Ted Williams did
The shortlist of great MLB hitters also includes names like Babe Ruth, Rogers Hornsby, and Joe DiMaggio, but Ted Williams separated himself from most career .300 hitters because of unmatched discipline at the plate. A frequently told story, which may have no basis in fact, has an umpire responding to a catcher's complaint by saying, "If Mr. Williams didn't swing at it, it wasn't a strike."
Williams' lifetime on-base percentage of .482 ranks near the top of the list of unbreakable sports records. Rather than swinging at pitches outside the strike zone, Williams maintained strict discipline at the plate and sacrificed a few additional hits per season for many more walks. Even though he never produced 200 hits in a year – it was the era of 154-game seasons – Williams did reach base 300 times in a season seven times with the help of 2,021 career walks.
When Williams did take the bat off his shoulder, the results were staggering by any measure. He retired in 1960 with 521 home runs, 1,839 RBIs, and a .344 batting average highlighted by a .406 performance in 1941, his third year in the majors.
The Splendid Splinter answered when his country called
It's a foreign concept to roughly half the country in 2020, but there was a military draft in the United States through the end of 1972 and mandatory registration with the Selective Service System until 1975.
Up until the end of the draft, many athletes saw their careers interrupted by induction into the armed forces, whether through active service or call-ups to the National Guard. Times of war, however, were a different matter because tours of duty were longer and more dangerous.
Boston Red Sox outfielder Ted Williams was affected more than just about any prominent player in a team sport because he lost nearly five full seasons while serving in both World War II and in Korea.
Williams hit 127 home runs with a .356 average through his first four MLB seasons, although his most amazing statistic may have been drawing 495 walks as opposed to striking out 196 times. His numbers for the next three seasons were nothing but zeroes, however, as Williams went into the service as a Navy and Marine Corps pilot and instructor.
Williams returned for six more seasons with the Red Sox but was called back to active service a week into the 1952 season at the age of 33. After recertifying and then flying 39 missions in Korea, Williams was able to return stateside to hit 13 homers in the final six weeks of the 1953 season.
Ted Williams' final numbers could have been astounding
Baseball analyst and SABRmetrics expert Bill James has estimated that World War II cost Williams 561 hits, 103 homers, and 382 RBIs. Conservatively, the portions of two seasons lost while serving in Korea probably cost Williams another 250 hits and 40 homers.
By lumping the projections in with his actual numbers – 2,654 hits and 521 homers – it's reasonable to say Williams should have finished with at least 3,400 hits and more than 660 round-trippers.
Williams ranked third all-time in home runs when he retired. Had he not lost all that time to military service, he would likely trail only Barry Bonds (762), Hank Aaron (755), Babe Ruth (714), and Alex Rodriguez (696) on the current list.
All stats courtesy of Baseball-reference.com