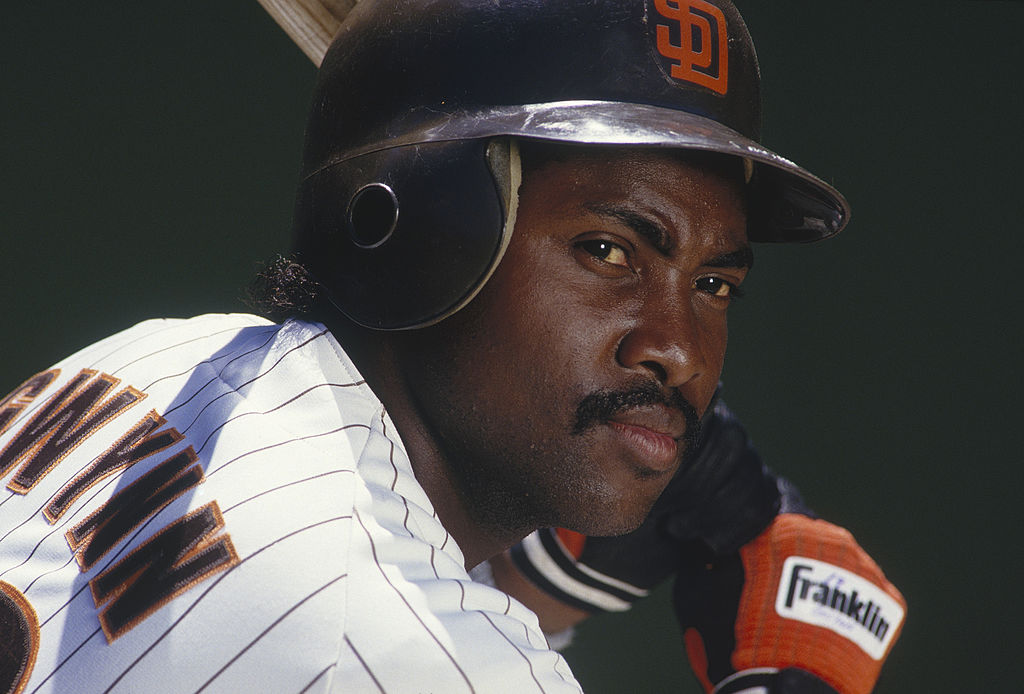 Tony Gwynn Embodied "The Third Time's the Charm" With an Incredible Strikeout Stat
Padres legend Tony Gwynn would have turned 60 today. The Hall of Famer incredibly only had one game in which he struck out three times.
Tony Gwynn would have turned 60 today. While the San Diego Padres legend died six years ago, his impact on the game of baseball lives on. Gwynn dominated for two decades despite an unconventional frame. His Kobe Bryant-like obsession at perfecting his craft allowed Gwynn to become arguably the best pure hitter of his generation. Renowned for his plate discipline, Tony Gwynn rarely struck out, let alone multiple times in a game. In fact, he spent 20 years embodying the phrase, "The third time's the charm."
Tony Gwynn spent his entire 20-year career with the Padres
It's rare for an athlete to spend his entire career with one organization. Yet, Tony Gwynn ended his career exactly where it began: in San Diego. The 5-foot-11, 185-pounder didn't look like an elite athlete. In fact, you probably could walk right by Gwynn on the street without stopping for a second. But baseball purists recognized greatness whenever "Mr. Padre" stepped into the batter's box.
A California native, Gwynn starred at San Diego State University before getting drafted by the Padres in 1981. He broke into the big leagues the following year and became a full-time player in 1984. That season, Gwynn led the MLB with a .351 batting average. He'd earn seven more batting titles during his legendary Padres career. In the strike-shortened 1994 season, he came dangerously close to becoming the first hitter since Ted Williams to hit .400. Unfortunately, he finished just short of his hitting idol with a .394 average.
Though he only hit 135 home runs in 2,440 games, Tony Gwynn established a reputation as the most difficult out in baseball. He racked up 3,141 hits and surprisingly displayed uncanny speed for a player with his body type. Gwynn retired with a .338 batting average, a .388 on-base percentage and 319 steals.
15-time All-Star got elected to the Baseball Hall of Fame in 2007
Consistent would be the first word that comes to mind with Tony Gwynn. He made the All-Star team every year from 1984 until 1999 except for the 1988 season. That year, he somehow didn't earn an All-Star nod despite pacing the league with a .313 average. Other than his 54-game debut in 1982, Gwynn never hit lower than .309. He recorded at least 175 hits eight times.
The left-handed contact artist also proved to be a valuable defender. Gwynn won five Gold Glove awards, including three straight from 1989-91. The seven-time Silver Slugger rarely earned MVP love, but that didn't stop him from earning a near-unanimous induction into the Baseball Hall of Fame in 2007. In fitting fashion, Tony Gwynn and Cal Ripken got inducted together after spending each of their careers with one franchise. Unfortunately, the Padres legend passed away on June 16, 2014, after battling cancer for several years.
Gwynn lived up to "The third time's the charm" with an unbelievable strikeout stat
Tony Gwynn led the league in hits seven times. He won eight batting titles. He even led the league in runs scored in 1986. But for all of his impressive accomplishments, it was something he didn't do that stands out most prominently. In 10,232 plate appearances, Gwynn struck out just 434 times. That equates to a strikeout rate of just 4.2 percent. For comparison sake, fellow '90s star Mark McGwire struck out almost 21 percent of the time he stepped into the batter's box. Even Babe Ruth's 12.5 percent strikeout rate looks titanic compared to Gwynn's sub-five percent figure.
For a hitter who prided himself on putting the ball in play, Mr. Padre truly embodied the phrase, "The third time's the charm." In his 20-year career, Gwynn struck out three times in a game just once. Los Angeles Dodgers pitcher Bob Welch fanned the Padres outfielder three times on April 14, 1986, which was the eighth game of the season. Tony Gwynn would go on to lead the league in hits and never struck out three times again over the next 15 years.