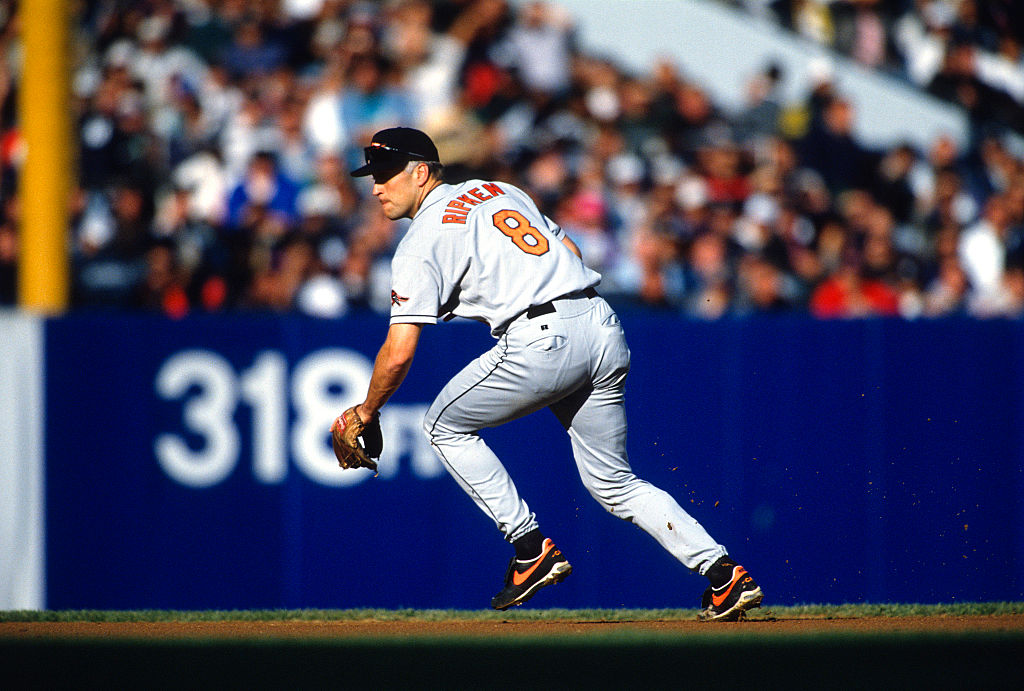 How Did Cal Ripken Jr. Stay Healthy and Play Over 2000 Consecutive Games?
During his career, Cal Ripken Jr. played in 2,632 consecutive Major League Baseball games. How did the infielder stay in shape?
While every professional sport has plenty of stats, Major League Baseball is defined by its numbers. Every fan, for example, can tell you how many home runs Hank Aaron — or even Barry Bonds — belted or the number of games in Joe DiMaggio's hitting streak. Cal Ripken Jr.'s Iron Man streak, however, stands on its own in sporting lore.
It goes without saying that playing 2,632 consecutive Major League Baseball games wasn't an easy feat. So how did Cal Ripken Jr. stay healthy and make it onto the field night after night?
Cal Ripken Jr.'s historic baseball career
As the son of a major leaguer, Cal Ripken Jr. seemed destined to follow in his father's footsteps. His own career, however, would write the family's name in the baseball history books.
After a strong high school career, Cal was drafted by the Baltimore Orioles. He spent three seasons in the minor leagues before making it to the big club; once he was called up in August 1981, he became a fixture in the Charm City.
After a slow start to his first full season in the pros, Cal Ripken Jr. hit his stride once Earl Weaver moved him to shortstop. He hit .264 for the season, racking up 158 base knocks, 28 home runs, and 93 RBI en route to the AL Rookie of the Year title; Ripken would follow up the feat by claiming the 1983 AL MVP Award and winning the World Series.
From there, Ripken would go on to have a legendary career. He smashed Lou Gehrig's consecutive game streak with relative ease; when everything was said and done, the shortstop made 2,632 straight appearances for the Orioles.
How baseball's Iron Man stayed fit throughout his career
While it might seem obvious, Cal Ripken Jr. had one overarching key to staying healthy during his playing career. Beyond good luck, the veteran infield simply worked hard to keep himself in shape, whether that meant training through the summer or doing some extra gym sessions after a night game.
"I work on the principle that something is always better than nothing," he told Mark Maske of The Washington Post in 1998.
But what did Ripken actually do to stay in shape? For the most part, he stuck to the fundamentals, just like he did on the diamond. Beyond playing basketball in the offseason, the infielder primarily did cardio and lifted weights. The exact workouts, however, varied depending on the time of year.
"During spring training, one of Ripken's workouts might involve running from foul pole to foul pole on the field eight to 10 times, with 30 seconds off in between," Masse explained. "But during the season, he says, he does no endurance running and concentrates on sprints. He'll run 40- to 60-yard sprints outside. Or he'll get on a treadmill, crank it up to the maximum 17.5 miles per hour and do six to 10 sprints of 10 seconds apiece."
Cal followed a similar trend in the weight room, too. "Ripken divides his weight training into thirds, with a legs day, a chest and back day, and a thighs and triceps day," the article continued. "During the season, he says, he'll work each set of muscles perhaps twice a week instead of the three or four times per week that he'll do during the offseason. He doesn't reduce the amount of weight that he lifts during the season, he says, but he might decrease the number of sets or the number of repetitions per set."
We'll never see another Cal Ripken Jr. again
Regardless of his exact fitness regimen, Cal Ripken Jr.'s accomplishments ultimately speak for themselves. While it's impossible to predict the future, it's unlikely that anyone will ever break his Iron Man streak.
Beyond the pure luck involved—a single accident, whether in the ballpark or in one's personal life, can end the streak—professional sports have changed since the 1980s. These days, teams view rest differently; as we're seeing in the NBA, taking the night off is now seen as preservation, rather than weakness. Consequently, most Iron Man streaks end before they even get close to the record.
Major League Baseball has plenty of iconic statistics. Cal Ripken Jr.'s consecutive game streak might not be the flashiest one, but it's still incredibly impressive.