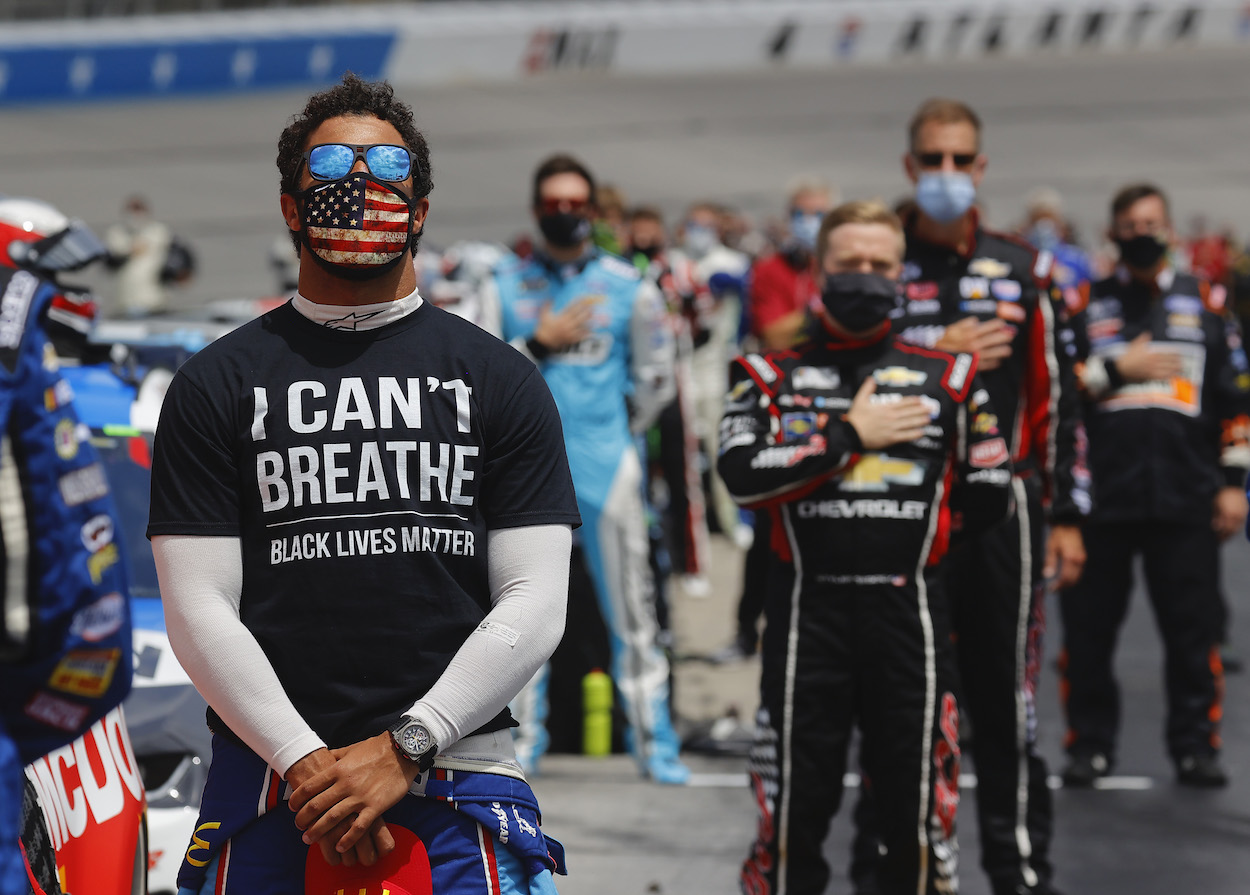 NASCAR Delivers Powerful Video Message on Organization's Efforts to Address Diversity and Inclusion Throughout Industry
NASCAR delivered an update on its diversity and inclusion efforts in a powerful new video.
Last year, NASCAR surprised many people with its progressive stance after the tragic death of George Floyd and the nationwide protests that followed. The organization banned the confederate flag from all NASCAR-related events. The drivers did their part, producing a video and speaking out in support of the social justice movement. Many openly admitted they needed to further educate themselves on the issues facing the black community.
Now, almost a year after Floyd's death, NASCAR has delivered a powerful new video message on the social justice initiatives it supports and how they're making a difference in the local communities. For an organization that's better known for its left turns and less-than-diverse fanbase, it's a step in the right direction and an encouraging sign of what's in store for the future. 
NASCAR president delivers emotional message to drivers
Just over a week after George Floyd's death and protests spreading across the nation, NASCAR President Steve Phelps stated the organization's position moments before the start of the race in Atlanta, where his message was delivered to the drivers over the radio and broadcast to a national television audience.
"Our country is in pain, and people are justifiably angry, demanding to be heard. The black community and all people of color have suffered in our country, and it has taken far too long for us to hear their demands for change. Our sport must do better. Our country must do better. The time is now to listen, to understand, and to stand against racism and racial injustice."
After the message from Phelps, Fox showed a moving video created separately by the drivers that presented a unified group standing against racism, similar to a video produced by NFL players earlier in the week.
At the video's conclusion, Fox's Mike Joy delivered a powerful statement. "We hold these truths to be self evident, that all men, ALL men are created equal. That's from the Declaration of Independence. As true or truer now, as it was then."
NASCAR bans confederate flag
Just a couple of days after the race in Atlanta, Bubba Wallace, the lone black Cup Series driver, began making the rounds as the unofficial spokesman for the organization, discussing racial inequality and social justice issues. He made countless appearances, including one interview on CNN with host Don Lemon.
Wallace discussed multiple topics, including the next steps NASCAR should take in doing its part to overcome the racial division in America. The driver suggested something that, at the time, seemed radical.
"We should get rid of all confederate flags. There should be no individual that is uncomfortable showing up to our events to have a good time with their family…Get them out of here. They have no place for them," Wallace told Lemon.
NASCAR officials were watching. Two days later, the organization announced a ban of confederate flags and related memorabilia at all events, effective immediately. 
Posts powerful new video on diversity and inclusion efforts
The banning of the confederate flag was the first tangible move by NASCAR. It was a moment that caught many by surprise but was viewed as a big step in the right direction. Behind the scenes, NASCAR was taking additional steps, naming Brandon Thompson the Vice President of Diversity and Inclusion, a new position meant to promote diversity throughout the NASCAR industry.
Almost a year later, and the organization has formed a variety of partnerships to advance its mission of diversity, equity, and inclusion. Among those partners are the Urban Youth Racing School, Trevor Project, the Women's Sports Foundation, and UnidosUS. And it's just getting started. NASCAR has also worked with the Ross Initiative in Sports for Equality (RISE), the Institute for Sport and Social Justice, and DECK Leadership to complete more than 3,000 sensitivity and unconscious bias training sessions across the industry.
Thompson said he's proud of what NASCAR has accomplished in the last year but understands there's much more work to do. 
"So we certainly made a lot of strides, but last year in many ways was just the beginning," he told NASCAR.com. "NASCAR publicly in making its stance on issues surrounding diversity, equity and inclusion, and social justice was important — a seminal moment for the sport, for sure, but now the actual work begins in terms of what that looks like."
To NASCAR's credit, the organization has slowly yet methodically began to dispel the stereotypes and perceptions of the industry. But those like Thompson understand this movement is a 500-mile race, not just a couple of laps around the track.
Like Sportscasting on Facebook. Follow us on Twitter @sportscasting19.