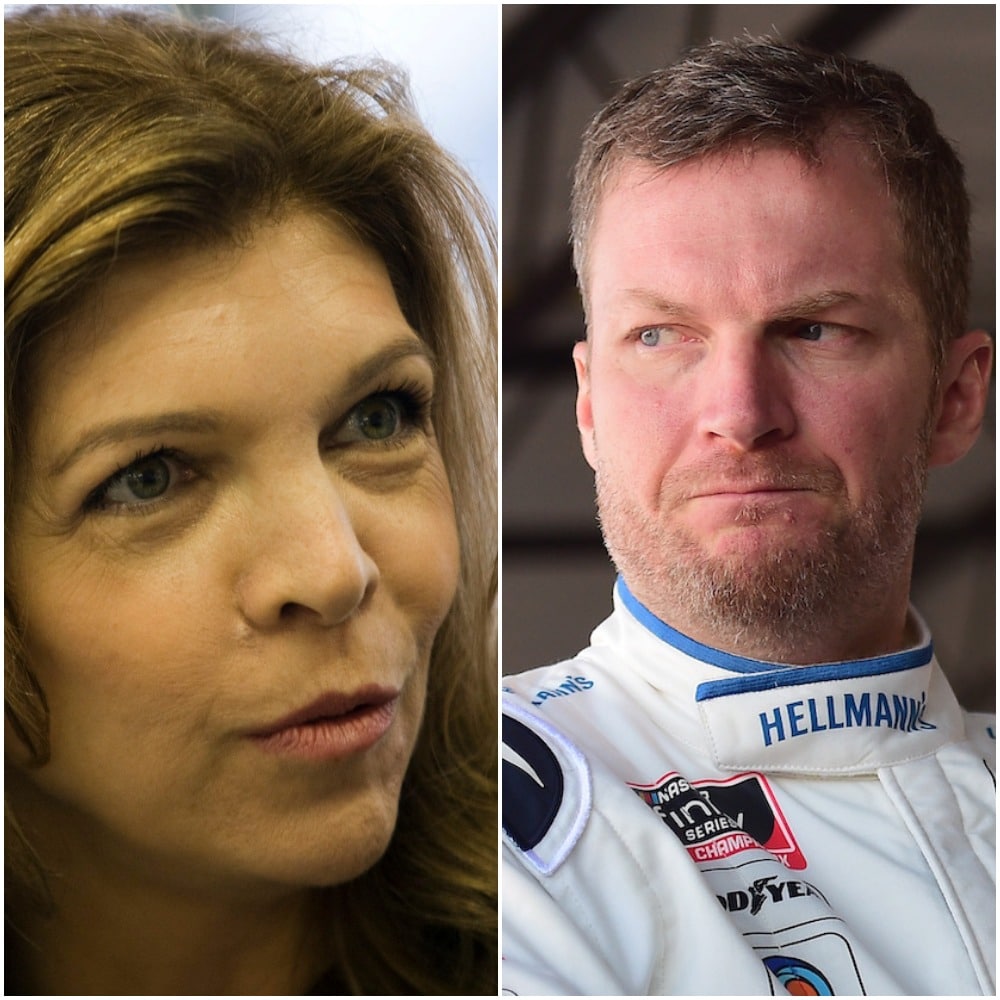 Outspoken NASCAR Fans Accuse Teresa Earnhardt of Power Move and Changing Dale Earnhardt Jr.'s Throwback Scheme
Dale Earnhardt Jr. and Teresa Earnhardt have had a rocky relationship in the past. That's why many fans accused her this week of making a power move and forcing one Cup Series team to change its Dale Jr. throwback scheme.
Dale Earnhardt Jr. hasn't shied away from talking about Teresa Earnhardt and their rocky relationship in the past. He did it just last year on his podcast when he revealed how she had prevented him and his sister from accessing some of their father's prized possessions. That contentious history is the reason why many fans this week were outspoken and accused her of getting involved and forcing the change to a throwback scheme for a car that is special to Junior. Did it happen?   
Dale Earnhardt Jr. raced against his dad for first time in Japan
Dale Earnhardt Jr. grew up watching his dad dominate on the track. You can only imagine the excitement and anxiety he experienced that first time he had the opportunity to test his skills against his legendary father. It happened in 1998 at an exhibition race in Japan. 
The satisfaction of the results varied depending on who you asked. Junior was pleased because he finished ahead of his father. Senior wasn't understandably unhappy with the finish and a move his son made during the race when he put him in the fence.
"I go in there, and I'm changing clothes," Earnhardt recalled on an episode of the Dale Jr. Download. "It's been a long trip, a long way over here, but I'm happy. And Dad comes in, and I just saw the look on his face, and he don't want to talk. I'm changing. He's taking his shoes off, and I bent over to tie my shoe or something, and a freaking driving shoe went right over the top of my head…And it was coming hard. This wasn't no toss and then it smacked the wall behind. I was like, 'Man, he is pissed.'" 
Trackhouse running throwback schemes from Japan cars
Despite those tense moments, Junior has long cherished that first race. He was reminded just how much this past week when Trackhouse Racing owner Justin Marks paid the Download studio a visit and revealed that Daniel Suarez and Ross Chastain would be racing this weekend at Darlington with throwback schemes from the two Coca-Cola-themed cars the Earnhardts raced in Japan.
The gesture moved the Hall of Famer.
"Oh my gosh," Earnhardt said after watching a video that included clips from the 1998 race mixed with footage of the Trackhouse cars. "The 1 car almost takes my breath. It's the car. Because when you do throwbacks — we were talking earlier — it's really unique. It's almost like an eclipse when you can do the sponsor, the colors, and the number in the right font. Everything. And, that's the car."  
Car design modified and fans blame Teresa Earnhardt
Earnhardt fans excitedly responded on social media when the Trackhouse schemes were revealed. However, more than a few suggested that Teresa Earnhardt, who has had a contentious relationship with Dale Jr. and his siblings for years, including an attempt to prevent Kerry from including the family name in a business back in 2016, would have something to say about the design.  
In a strange plot twist, a day later, the designer of the schemes announced on Twitter that the No. 1 car had been modified slightly to include the slash that is also featured in the Trackhouse logo. No reason was provided for the change, but plenty of fans had their theories, and most of them led back to Teresa.
One included a sequence of photos with Oprah playing the role of Teresa and readily serving papers to everyone. Another said: "Teresa Earnhardt is the Karen of NASCAR."
Fox's Bob Pockrass answered a fan's question on Twitter about Teresa's involvement.
"I've been told that Trackhouse did not change the 1 on its throwback because of any request from Teresa," the reporter wrote.  
Whether or not she had any involvement, fans will likely never know. On Sunday at Darlington, no one will be worrying about the slash on the No. 1 car but instead, enjoy going back in time to that 1998 race when Junior piloted that car to a better result than his father. And with Trackhouse's performance thus far in 2022, there might not be any shoes thrown, but there is certainly the potential for a watermelon making its way through the air and smashing on the ground.  
Like Sportscasting on Facebook. Follow us on Twitter @sportscasting19 and subscribe to our YouTube channel.