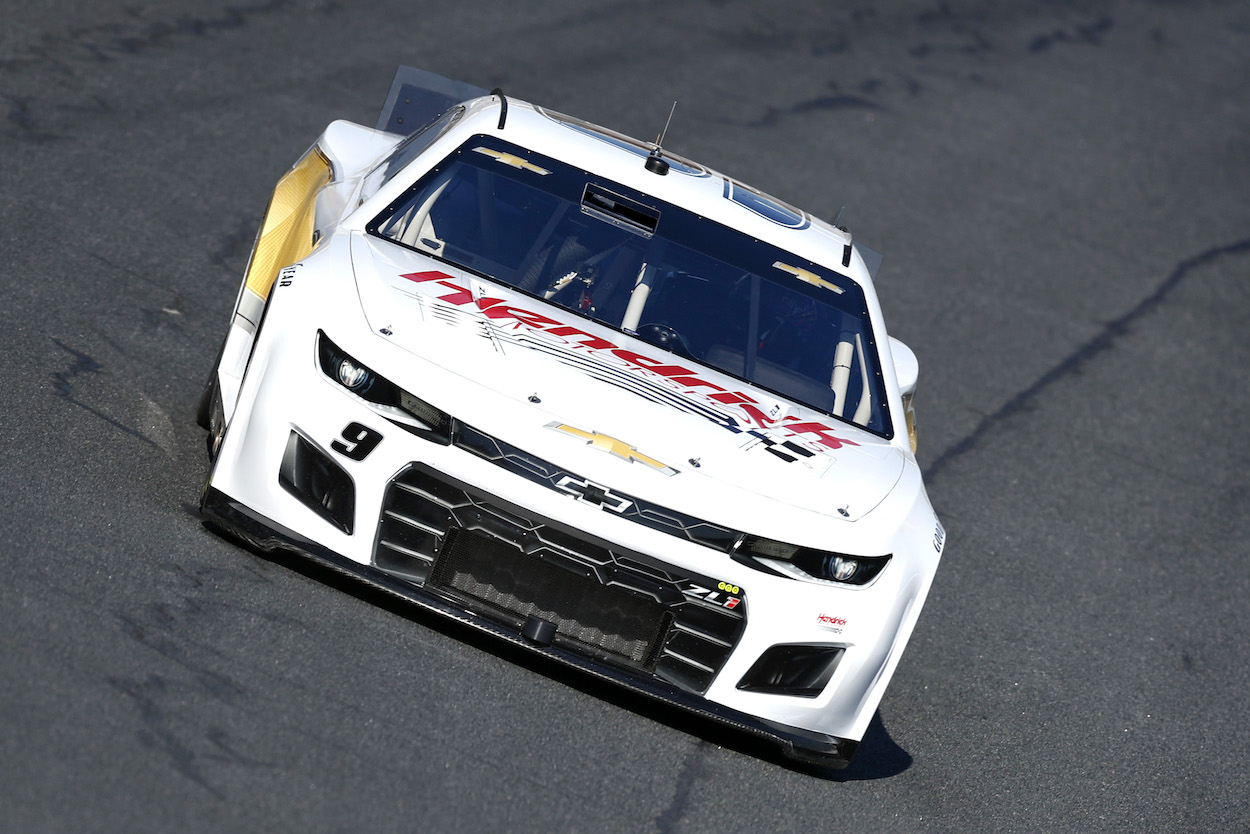 NASCAR Next Gen Car Test Produces Wrecks, Spins, and Eye-Popping Comment: 'I Think You Are Going to See Guys Crash a Lot More'
The NASCAR Next Gen car was put to the test at Charlotte Motor Speedway and proved to be more challenging than many drivers expected.
With the 2021 NASCAR Cup Series season behind us, all eyes have shifted to 2022 and the much-anticipated debut of the Next Gen car. However, before that first race in February at the Coliseum in LA, the cars are being tested on multiple occasions to allow drivers to get a better feel for how the cars handle and to work out the final kinks.
This week the tests are happening at Charlotte Motor Speedway. And based on the first day's results, the car could prove considerably more challenging for drivers and a lot more exciting for fans to watch in 2022.   
Austin Dillon crashes Next Gen car early in testing
A week ago, Austin Dillon appeared on the Dale Jr. Download and talked at length with Dale Earnhardt Jr. about his experience testing the Next Gen car. Today, Dillon gained a whole new set of knowledge when he crashed the car early during testing at Charlotte Motor Speedway.
While there's no video footage of the accident, according to Fox's Bob Pockrass, Dillon hit the outside wall in turn 2 and then came across the track to the inside wall in the morning session. Alex Bowman, who was on the track at the same time, noted there was less grip in the area where the Richard Childress Racing driver crashed. Some suggested the slick conditions could have been the result of dew or dust on the track.
Dillon was taken to the infield care center, where he was examined and released. He was later seen standing atop his hauler watching other cars test. 
Denny Hamlin and Kyle Larson spin Next Gen car running solo laps
Denny Hamlin has been vocal about the Next Gen car, specifically regarding its safety. Back in July, with rumors swirling about potential safety issues, the three-time Daytona 500 winner was critical of NASCAR's lack of transparency in addressing those concerns. 
After testing at Daytona in September, the Joe Gibbs Racing driver said he felt "more educated" on the concerns but admitted it was something he and all drivers would have to get accustomed to because it was moving forward regardless of how they felt. 
"I still have questions," Hamlin admitted. "But I think that really, I'll have to see all the information to really understand the questions that I want to have. But certainly we're going to race it. We're all going to have to get comfortable." 
At Charlotte, Hamlin got uncomfortable during testing when his car got loose coming out of a turn, spun, and backed up the track. Fortunately, he managed to avoid the same fate as Dillon and kept it off the wall. 
Alex Bowman talks about how hard cars are to drive
After Dillon's crash and Hamlin's spin, new Cup Series champion Kyle Larson got in on the action by spinning himself. Larson's teammate Alex Bowman didn't have any incidents during his testing sessions but did tell reporters how challenging the car is to drive. 
"I think you're going to see guys crash a lot more than normal," Bowman said. "I don't remember the last test that we've been to that multiple guys were spinning out and crashing."
A challenging car for the drivers should produce exciting racing action for the fans to watch. 2022 can't get here soon enough.
Like Sportscasting on Facebook. Follow us on Twitter @sportscasting19.