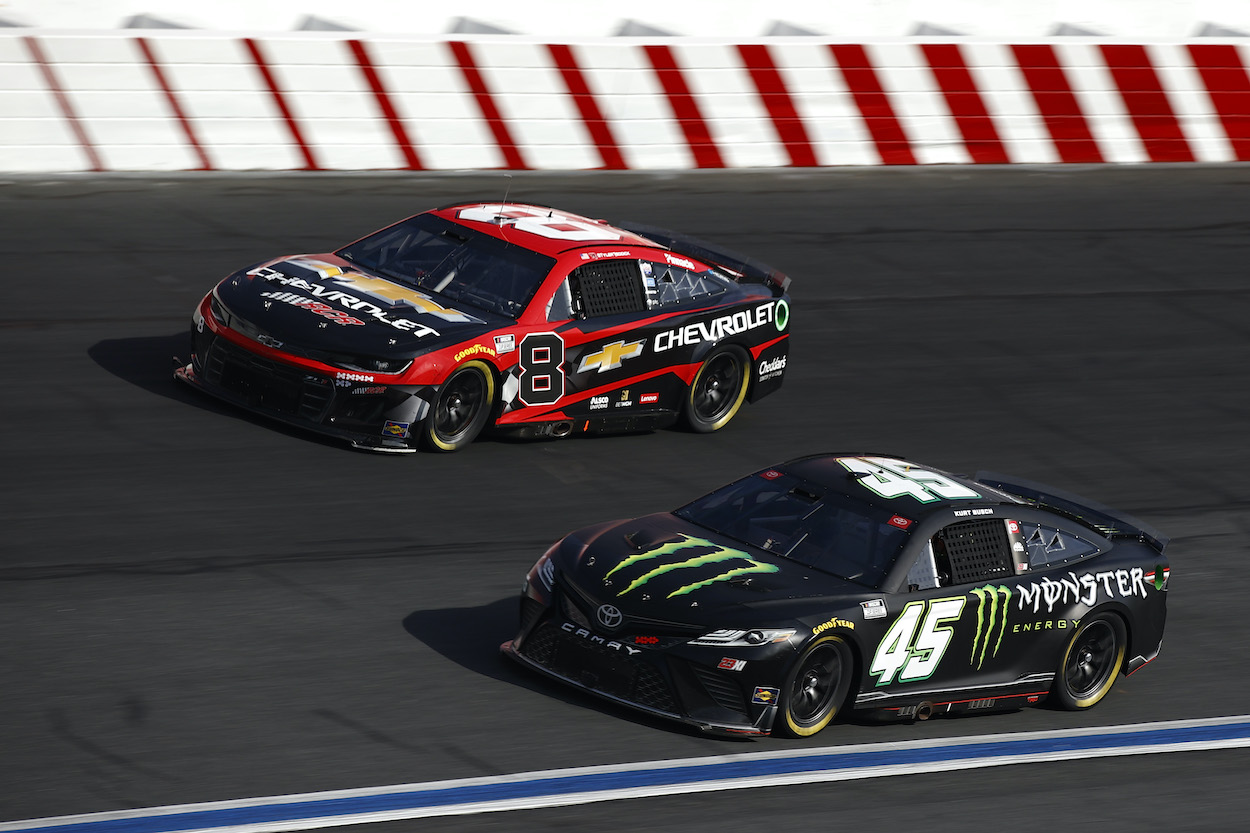 NASCAR Sends Serious Warning That Teams Caught Cheating on Next Gen Car in 2022 Will Pay a Harsh Penalty: 'We Expect Everyone to Get in Line'
NASCAR warns teams considering cheating with Next Gen car that there will be a high price to pay if caught.
In a matter of weeks, NASCAR Cup Series drivers will be debuting the much-anticipated Next Gen car in its first official race at the Daytona 500. The new ride is completely different from its predecessor and uses a templated approach of building cars from parts produced by suppliers. Its uniform design reduces costs, appeals to potential new manufacturers, and levels the playing field for the teams.
This week, NASCAR officials sent a clear message that there has been "a culture shift" when it comes to what teams can get away with alterations. The organization intends to maintain a level playing field and revealed that any teams caught cheating and altering their vehicles will suffer severe consequences and face a harsh penalty.
NASCAR Next Gen car proves challenging for drivers
When the Next Gen car makes its first official race laps in less than two months, it will have been three years in the making. NASCAR is hoping this radically different car will do many things, including producing a better racing product.
After months of testing, drivers have said NASCAR fans should be happy with what they see and consistently reiterated that the car is a handful to drive. 
"The positive is that the cars are so far proving to be a significant improvement in terms of how they require talent to drive & cost to operate – compared to years past," Brad Keselowski tweeted after recent testing at Charlotte. 
NASCAR warns teams altering cars will face stiff penalty
Unlike years past when teams constructed the cars in-house from start to finish, suppliers now provide the parts, and the teams build the cars. This uniformity is intentional and NASCAR hopes teams will be respectful of the integrity of the new car's design. 
"It used to be let's see what we can get away with and go racing," NASCAR Executive Vice President Steve O'Donnell said during testing sessions at Charlotte. "That's not the case with this car. We've built this car to try and make it as fundamentally sound as possible in collaboration with the teams. And then really put it on the teams and drivers and pit crews to go out there and win races."
O'Donnell didn't sugarcoat how serious NASCAR is in its desire to have the drivers and teams decide the outcome of races and those who attempt to make unapproved adjustments to the cars will face stiff penalties. 
"Penalties will be ratcheted up," he said. "We're hopeful that we don't have to do that but we have put everybody on notice that this is a culture shift. This is why we went to this car as well and we expect everyone to get in line. We're all going to learn together."
Dale Earnhardt Jr. says cheating with Next Gen car is critical for success
Dale Earnhardt Jr. won 26 Cup Series races, including a pair of Daytona 500s, and is in the NASCAR Hall of Fame. He knows what it takes to be successful. Earlier this year on his podcast, he didn't hesitate in recommending teams should go against what NASCAR is suggesting now in order to achieve success 
"If you're not trying to figure out how to cheat, you're not going anywhere," Earnhardt bluntly admitted on the Dale Jr. Download. "With this new car, with new parts, new pieces, absolutely you've got to find an advantage. You've got to find an advantage secretly, and keep it secret, keep it to yourself as long as you can, before everybody catches on and before word gets out, or somebody sees the part."
While he encouraged drivers to find that advantage through any means necessary, he also acknowledged it could come with a heavy price. 
"You've got to be willing to take that gamble that NASCAR is probably going to come down super hard on the first guy that gets caught for messing with some of their stuff," he said. "Because NASCAR takes offense, man. They've given you these parts. They're trying to make this car the next great thing. They're working real hard to have all these vendors making these pieces. It's this big production. And you're going to go screw it up and cheat it up. They're going to be real upset about that so get ready for them to come down hard on the first guy they catch."
Earnhardt blatantly suggesting that teams cheat is a pretty good indicator that it's going to happen. Now the question — who is the first team to get caught and see just how aggressive NASCAR is with its penalty?
Like Sportscasting on Facebook. Follow us on Twitter @sportscasting19.