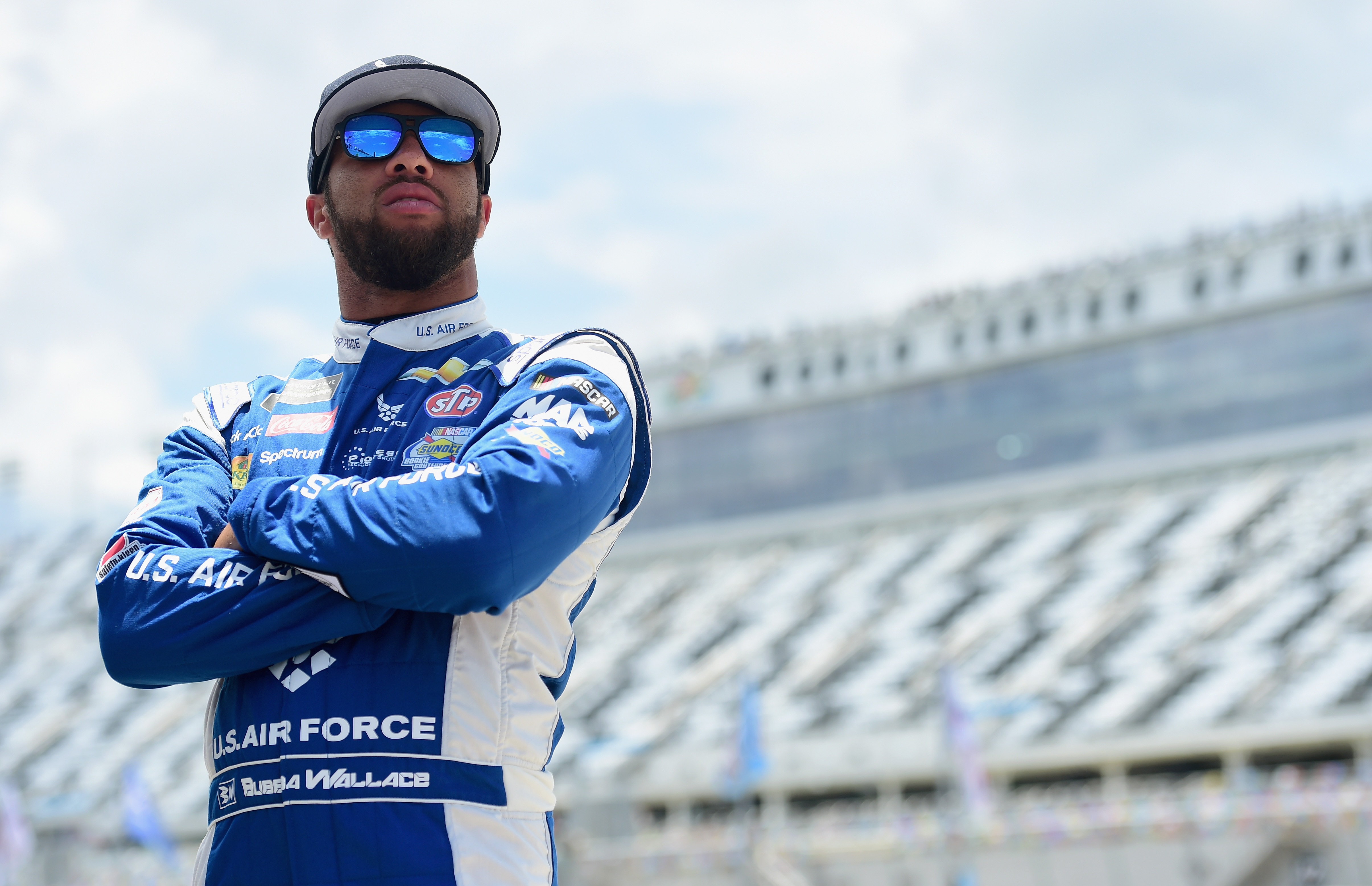 NASCAR's Bubba Wallace Not a Racial Target, According to the FBI
Bubba Wallace, NASCAR's only fulltime Black driver, was not a target of a hate crime, according to the FBI.
NASCAR can breathe a sigh of relief as the FBI found no evidence that a noose was recently placed in Bubba Wallace's garage was a hate crime. Wallace, NASCAR's only fulltime Black driver, was thought to have been the victim of a racially motivated crime when a noose was found by one of Wallace's teammates Sunday. With racial tensions running high after the murder of George Floyd, NASCAR has been under caution not knowing if the rope was purposely placed by one of its own in Wallace's garage as a racist act. The FBI on Tuesday said that wasn't the case.
Rope found hanging in Wallace's garage Sunday
One of Bubba Wallace's teammates reported to NASCAR that a noose was found in Wallace's garage stall at Talladega Speedway on Sunday. Wallace is the lone fulltime Black driver in NASCAR and has been a strong supporter of banning the Confederate flags at all NASCAR events. He has been very active in the Black Lives Matter movement and very outspoken about the removal of the Confederate flags.
"There should be no individual that is uncomfortable showing up to our events to have a good time with their family that feels some type of way about something they have seen, an object they have seen flying," Wallace said in a CBS News story. "No one should feel uncomfortable when they come to a NASCAR race. So it starts with Confederate flags. Get them out of here. They have no place for them."
NASCAR drivers showed support of Wallace prior to Monday's race (postponed from Sunday) when all 39 other drivers and their pit crews pushed Wallace's No. 43 car to the front of the line with him in it. Wallace emerged from the car very emotional, later saying, "This sport is changing. The prerace deal was probably one of the hardest things I've ever had to witness in my life. From all the supporters, from drivers to crew members, everybody here, the badass fan base, thank you guys for coming out. This is truly incredible, and I'm glad to be a part of this sport."
NASCAR issued statement regarding the 'noose'
When it was reported to NASCAR that a noose was found in Bubba Wallace's garage stall on Sunday, NASCAR immediately issued a statement. The statement said that it was launching an immediate investigation and was planning to eliminate the culprit from the sport.
"Late this afternoon, NASCAR as made aware that a noose was found in the garage stall of the 43 team," the statement read. "We are angry and outraged, and cannot state strongly enough how seriously we take this heinous act. We have launched an immediate investigation and will do everything we can to identify the person(s) responsible and eliminate them from the sport. As we have stated unequivocally, there is no place for racism in NASCAR, and this act only strengthens our resolve to make the sport open and welcoming to all."
Alabama Gov. Kay Ivey also issued a statement. "There is no place for this disgusting display of hatred in our state," Ivey said, according to ESPN. "Bubba Wallace is one of us. He is a native of Mobile, and on behalf of all Alabamians, I apologize to Bubba Wallace as well as to his family and friends for the hurt this has caused and regret the mark this leaves on our state."
FBI finds no crime was committed
On Tuesday, the FBI released the result of its investigation on the matter and found that no crime was committed. It found that a pull rope had been on a garage door since October. The investigation put NASCAR's PR team back to work with another statement on the matter.
"The FBI report concludes, and photographic evidence confirms, that the garage door pull rope fashioned like a noose had been positioned there since as early as last fall," NASCAR said in its statement. "This was obviously well before the 43 team's arrival and garage assignment.
"We appreciate the FBI's quick and thorough investigation and are thankful to learn that this was not an intentional, racist act against Bubba. We remain steadfast in our commitment to providing a welcoming and inclusive environment for all who love racing."