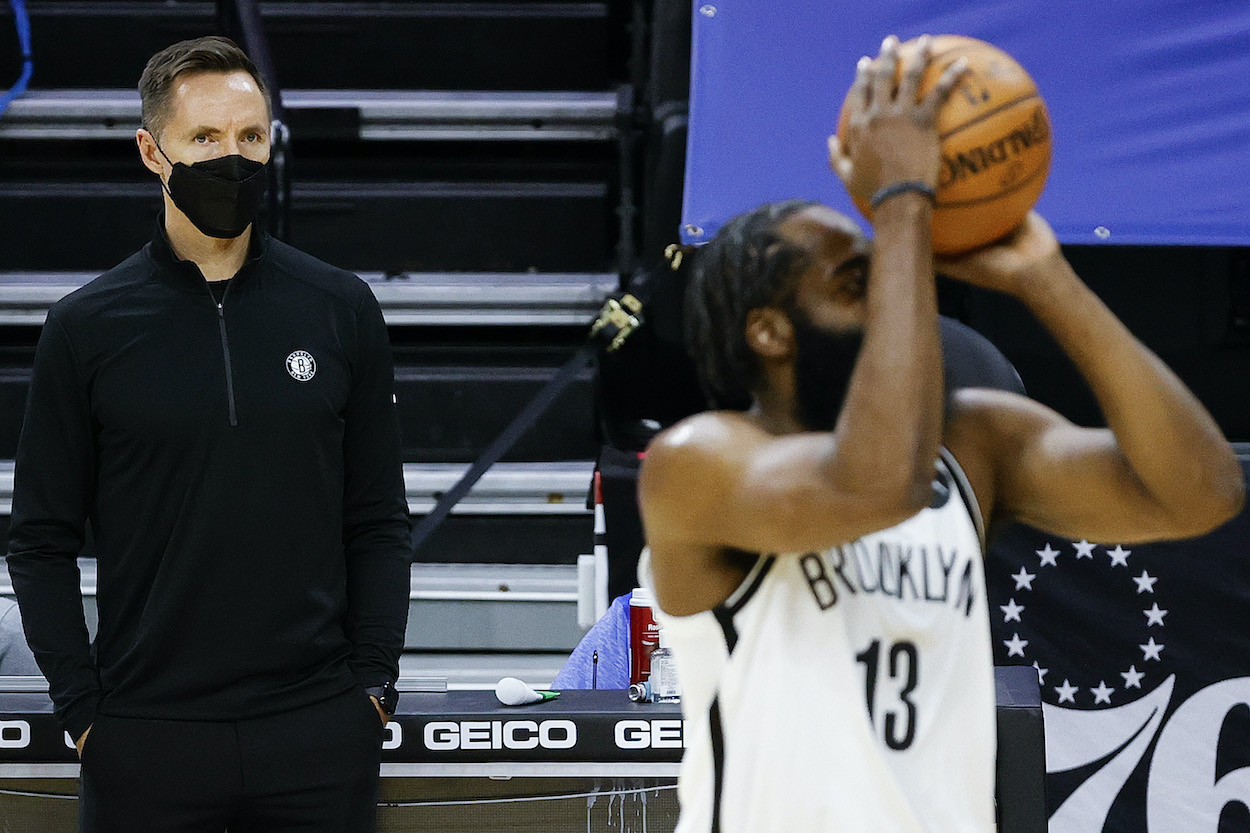 Nets Head Coach Steve Nash Just Crushed the 76ers' Dream of Trading for James Harden With 1 Simple Word
It looks as if James Harden won't be traded before the February 10 deadline after all, as Brooklyn Nets head coach Steve Nash squashed those rumors.
Philadelphia 76ers fans across the country rejoiced last week when reports surfaced that the Brooklyn Nets were interested in discussing a James Harden-Ben Simmons deal ahead of the NBA trade deadline on February 10. A potential superstar swap would make sense for both teams involved, but Nets head coach Steve Nash just emphatically squashed those rumors with a definitive statement about Harden's future in Brooklyn.
The Nets were reportedly open to a James Harden-Ben Simmons trade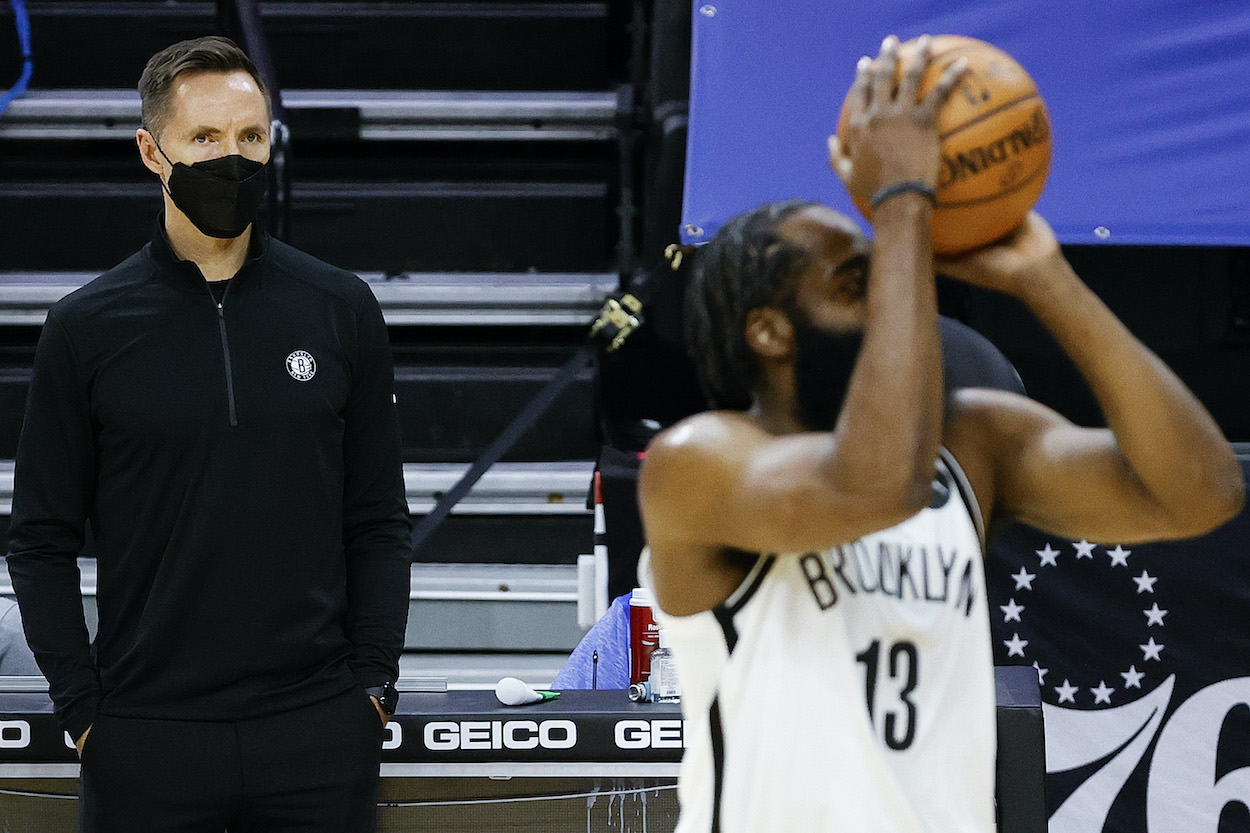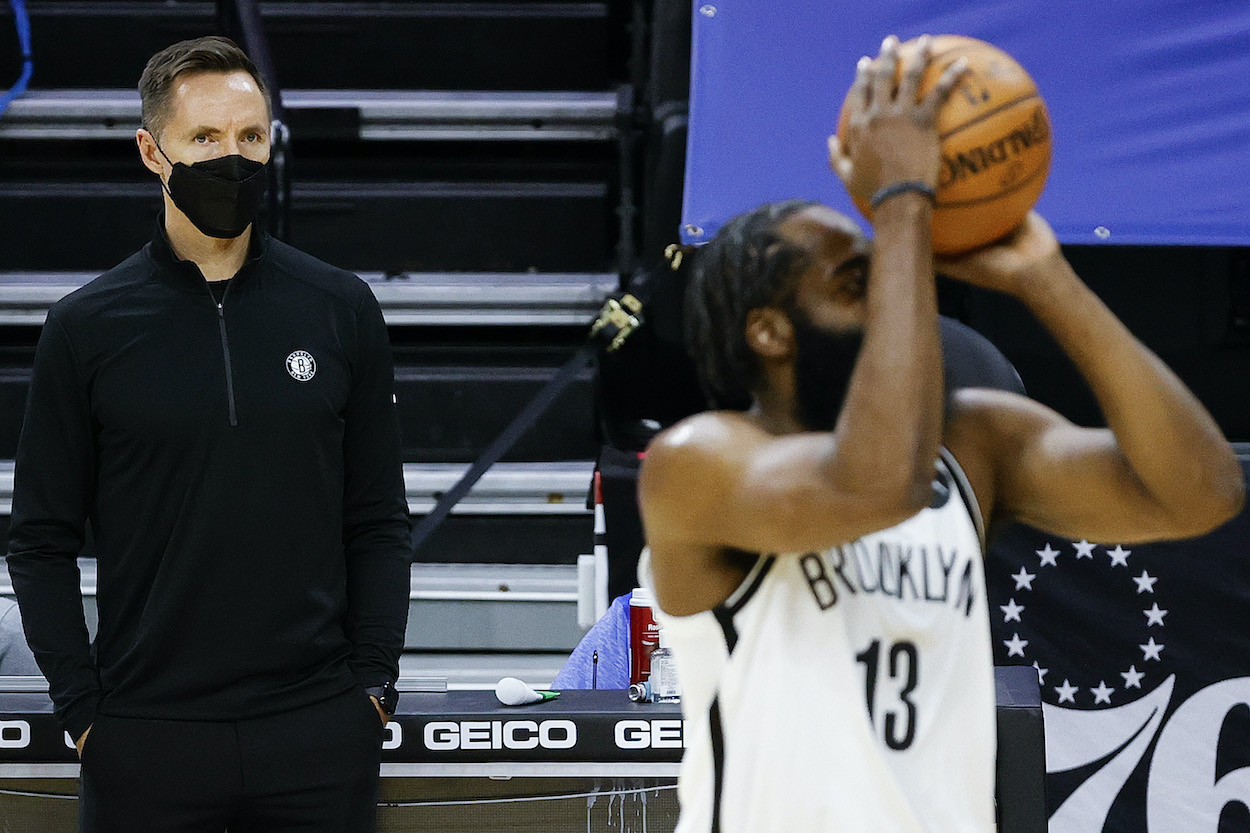 The 76ers continue to search for a trade partner for Simmons, but they're running out of time with the NBA trade deadline now less than a week away. Harden seemed to be an ideal target for Philadelphia considering Daryl Morey, the team's president of basketball operations, built a championship-caliber team around him in Houston a few years ago.
Last week, a Simmons-Harden swap started to look more realistic based on a report by Shams Charania of The Athletic.
"With the NBA trade deadline just days away on Feb. 10, the 76ers are expected to pursue Harden in the coming days and the Nets are believed to be open to discussing a deal, sources with knowledge of the situation tell The Athletic," Charania wrote in his report. "There's expectation that both the 76ers and Nets will engage in dialogue on a deal around Simmons for Harden, multiple sources say, with Philadelphia holding a chest of role players in Seth Curry, Tyrese Maxey and Matisse Thybulle that could sweeten a potential package."
The city of Philadelphia started to swell with excitement following the report, but Nash just crushed that hope with a single word.
Steve Nash squashes the Harden trade rumors
With the 76ers growing more and more desperate to trade Simmons and Harden starting to look less and less interested in giving max effort for the Nets, a swap seemed to be the base-case scenario for both teams ahead of the NBA trade deadline. But that won't be happening, according to Nash.
In a press conference with reporters on Sunday, Nash was asked if the Nets have any plans on trading Harden this week. His answer? "No."
"He's continually reiterated that he wants to be here," Nash said of Harden. "And we've continually said that we want him here. That's our best chance to win. Nothing's changed from the communication we've had."
Well, there you have it. We were expecting fireworks at some point before February 10, but it sounds as if both Simmons and Harden will be staying put for the time being.
The 76ers' Harden dream isn't dead yet
Philadelphia apparently won't be able to make a trade for Harden before Thursday's deadline, but that doesn't mean he can't be on the roster to start the 2022-23 season. Recent reports have indicated Morey is planning on gunning for Harden in the offseason, which is starting to look more realistic than ever.
Harden will become a free agent this summer, and the 76ers will undoubtedly explore a sign-and-trade deal involving Simmons when that time comes. Depending on how Brooklyn's season shakes out, Harden could still team up with Joel Embiid soon.
Like Sportscasting on Facebook. Follow us on Twitter @sportscasting19.