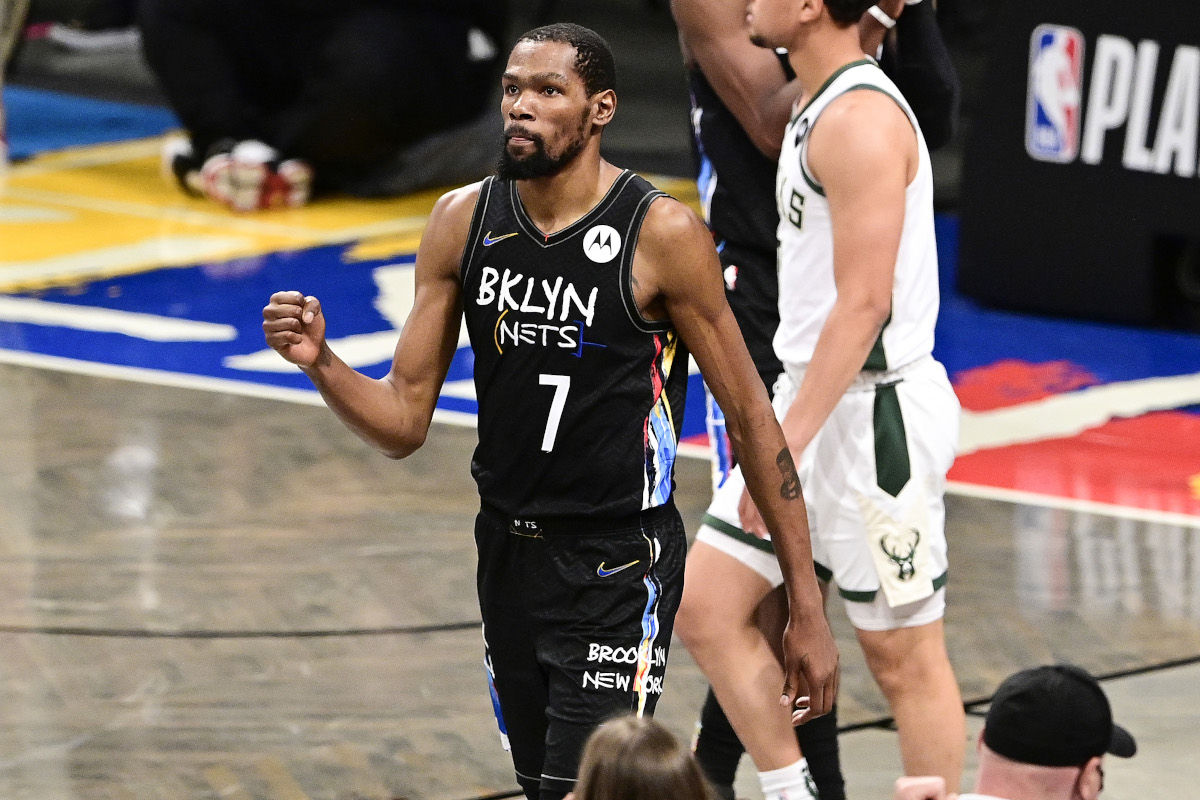 New Book Reveals Kevin Durant's Father Pleaded With Him to Sign With the Knicks
Kevin Durant and his father had a heated exchange via text message over his father's desire for Durant to sign with the New York Knicks instead of the Brooklyn Nets back in 2019.
Before Kevin Durant made his decision to tip the NBA's balance of power in July 2019, he sought counsel from an unlikely source. In a series of heated text messages with his sometimes-estranged father, Durant didn't get the affirmation he sought. Instead of his father signing off on his plan to sign with the Brooklyn Nets, Wayne Pratt had a different destination in mind: the New York Knicks.
Pratt didn't just encourage Durant to join a different team. No, Durant's father confided that he had gone so far as to take a conference call with the Knicks' front office. That didn't sit well with the son and led to a profanity-laced exchange of texts. In the end, Durant went his own way and joined the Nets. And while Pratt didn't intimate Kevin Durant was making an impaired decision, he was emphatic that Brooklyn was the wrong choice.
Kevin Durant was entering free agency for just the second time in his career
In the summer of 2019, Kevin Durant's career was in a much different place than it had been three years earlier when Durant jumped from the Oklahoma City Thunder to the Golden State Warriors. That wildly unpopular move led to KD earning two championship rings and a pair of NBA Finals MVP awards. But he also received plenty of scorn from fans, talking heads, and even current and former players.
But Durant was also in a more precarious decision. It was doubtful at best whether Durant would play at all in 2019–20 (spoiler alert: he didn't) after rupturing his right Achilles' tendon during Game 5 of the 2019 NBA Finals. That was the same game during which Durant returned from a nine-game absence with an injured right calf.
In Brooklyn, general manager Sean Marks had created a new culture after taking over from the failed regime of Billy King in February 2016. After the Nets won 48 games combined over the 2016–17 and 2017–18 season, the roster Marks assembled found some magic under coach Kenny Atkinson. Brooklyn shook off injuries and a slow start to make a surprising playoff run.
Marks was looking to make a big move. Kevin Durant was one of the superstar targets on his list, and the prospect of paying Durant not to play for a season didn't inhibit Marks' interest. It wasn't what any of the pundits expected for Kevin Durant, however.
Durant and Kyrie Irving were bound for New York, just not the Knicks
It was widely assumed as the 2018–19 season wound down that Kevin Durant and Kyrie Irving were a package deal.
The consensus was that it was the Knicks in the driver's seat. That made Durant's father happy. So, when the son reached out with a question, things got ugly.
According to Matt Sullivan, author of Can't Knick the Hustle: Inside the Season of Protest, Pandemic, and Progress with the Brooklyn Nets' Superstars of Tomorrow, the conversation escalated quickly.
"KD texted his dad: What do you think about Brooklyn? Like his agent, KD's occasionally estranged father, Wayne Pratt, was a Knicks fan. When Wayne told his son that he'd taken a video-conference call from the Knicks executives Steve Mills and Scott Perry, and that the Knicks were trying to turn away KD's interest from Brooklyn before free agency had officially begun, the father-son text chain blew up with expletives. KD didn't think it was on anyone to mess with his personal freedom."

Matt Sullivan
Ultimately, Pratt's stance was clear, according to Sullivan.
"The Knicks is Mecca, KD's dad declared. If you want to do it, do it big! If you want to be a New Yorker, be a Knick!"

Matt Sullivan
The decision didn't go Pratt's way.
Kevin Durant took a different route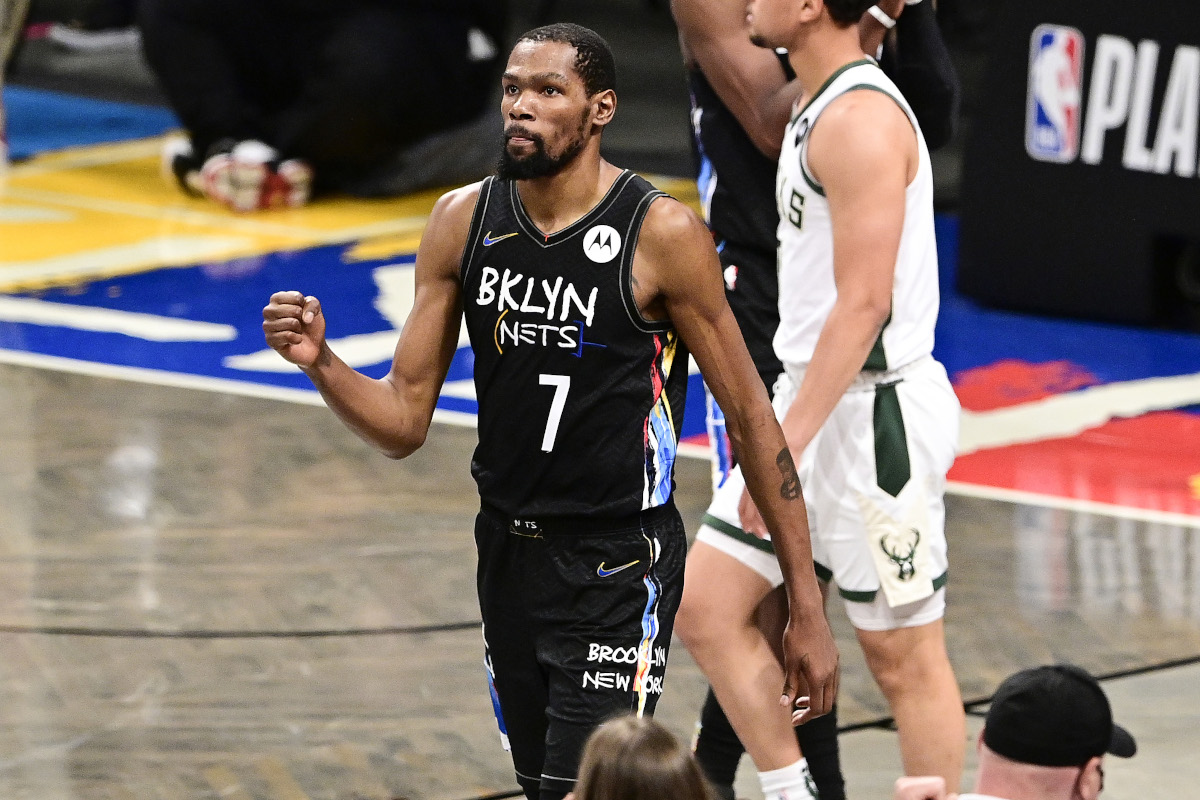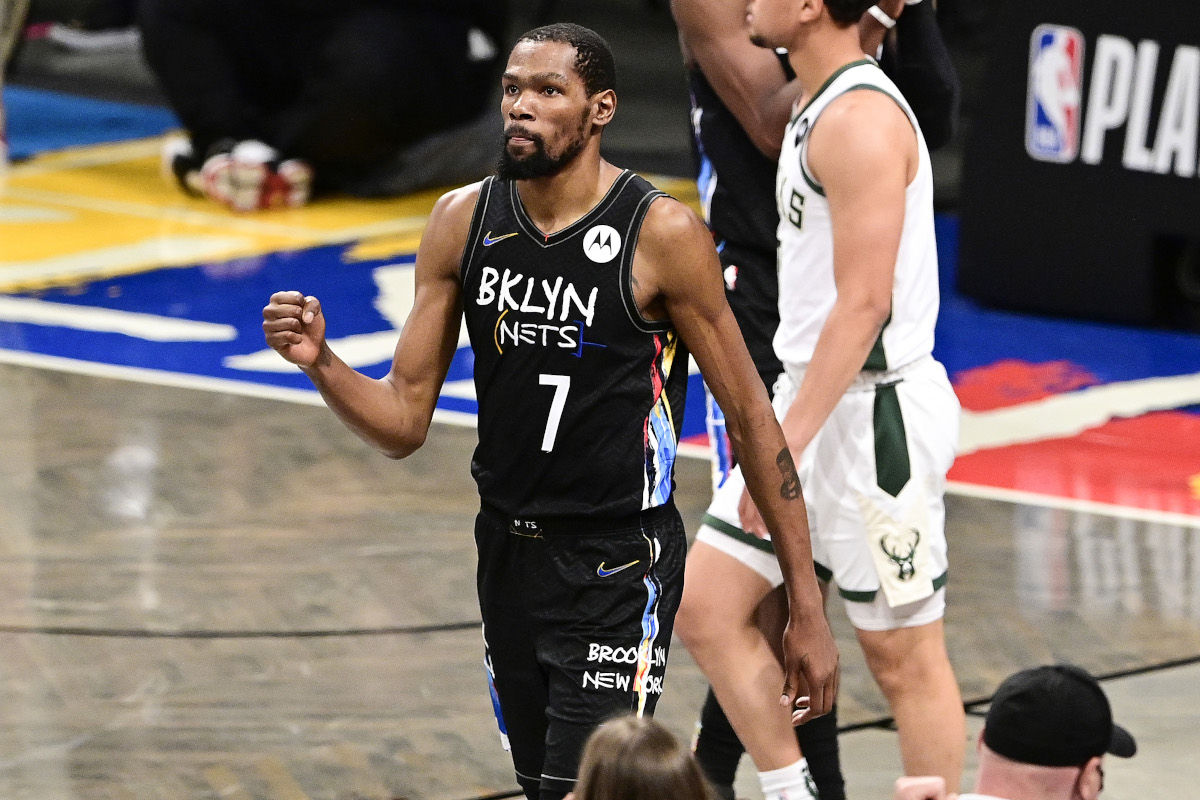 While Kevin Durant's father asked if his son was making the Brooklyn move for Irving, Durant said it was his call. According to Sullivan, Durant fixed his gaze on Brooklyn for reasons of his own.
"New York City was the Mecca of basketball, and KD wanted to live there. But he felt like Brooklyn was his vibe: 'chill, on the low, all-black everything.' He'd been eyeing the Nets for years now, and they him."

Matt Sullivan
A little more than eight hours before the free agency negotiating period opened on July 1, 2019, ESPN's Adrian Wojnarowski tweeted that Durant, Irving, and DeAndre Jordan were going to Brooklyn.
Kevin Durant's return from his Achilles' injury went well, albeit with unrelated injury problems. Injuries also plagued Irving and James Harden, a third superstar acquired in January 2021. The group's first playoff run ended in the Eastern Conference semifinals.
Though signed through next season, Brooklyn's Big Three all have player options for 2022–23. That means the title window may be closing as quickly as it opened for the Nets.
Contract data courtesy of Spotrac.