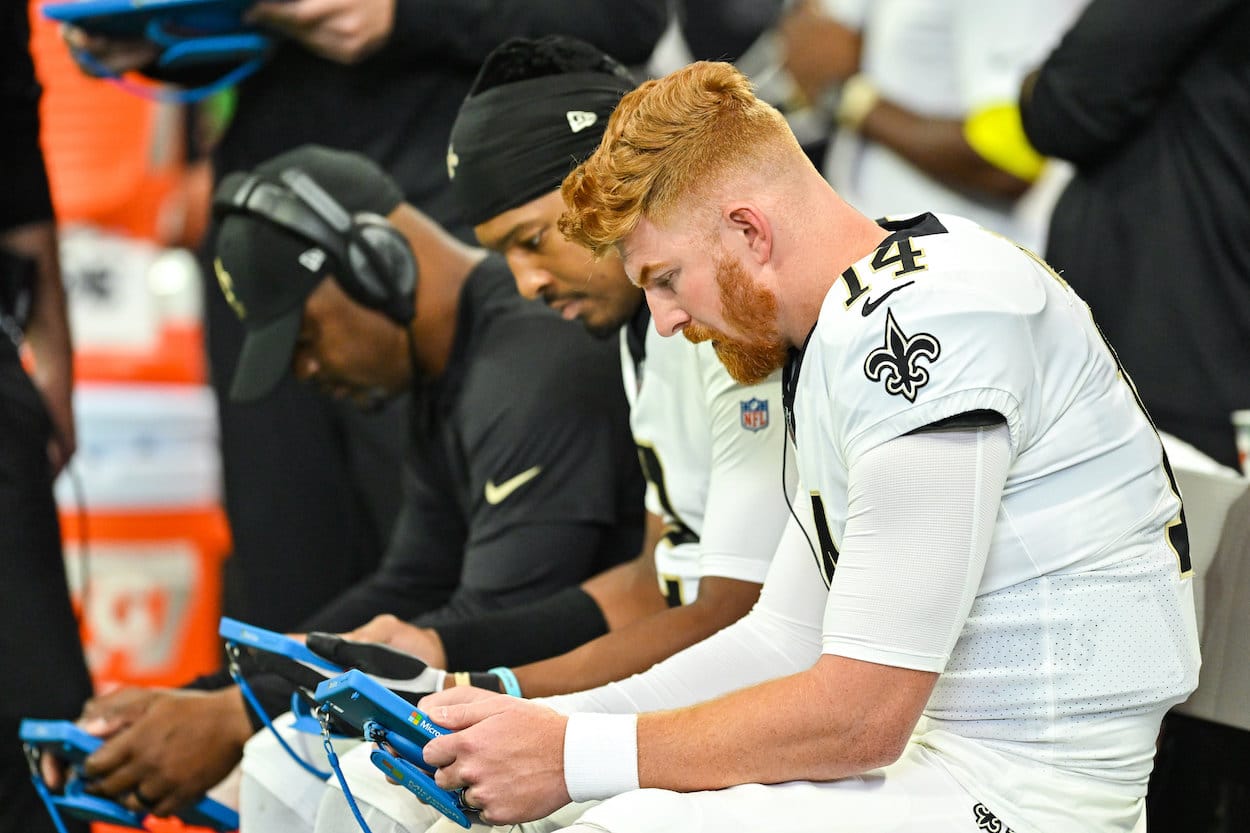 The New Orleans Saints Need to Bench Jameis Winston for Andy Dalton Before Their Season Spirals out of Control
Jameis Winston is already squandering his latest chance to be a franchise quarterback.
Jameis Winston's second season as the New Orleans Saints' starting quarterback is off to a rough start. After defeating the Atlanta Falcons in Week 1, the Saints have dropped back-to-back games and are fading fast. 
New Orleans' come-from-behind victory in Week 1 seemingly provided a glimpse at the team's potential. In hindsight, that resilient performance was merely a fortunate break.
The Saints have trailed by at least 15 points in every game this season. Even against the Falcons, they lagged behind 26-10 in the fourth quarter before scoring 17 unanswered. While Winston isn't at the forefront of all the team's problems, he plays a big role in why the offense has been underperforming.
Now at 1-2 with a depleted roster and Winston rapidly declining, the Saints need to seriously consider making a quarterback change.
Jameis Winston is battling injuries for the second consecutive year and has regressed back to his 2019 form
Jameis Winston is, yet again, battling an injury. He's been dealing with four fractured vertebrae in his back throughout the past two weeks. This marks the second straight year he's been hampered by a significant injury. 
Winston was off to a hot start in 2021. He led New Orleans to a 5-2 record while throwing 14 touchdowns and just three interceptions. He was making smart decisions with the football and was more accurate than ever before.
His season was cut short, however, after he suffered a torn ACL against the Tampa Bay Buccaneers in Week 8.
The 2022 season was supposed to be better. He had fully recovered from the injury and was expected to produce at his best for an entire 17-game campaign.
Through three games, it hasn't gone according to plan, and he has regressed back to his infamous 2019 form. He's completing 63.5% of his passes for 858 yards, four touchdowns, and five picks. His interception rate (4.3%) ranks fourth-worst in the league, and he also has the seventh-worst passer rating (79.5). 
Those metrics mirror how he performed three years ago when he became the first quarterback in NFL history to throw at least 30 touchdowns and 30 interceptions in a single season.
New Orleans spent a lot of resources this offseason to improve the receiver room and make things easier on Winston. In addition to Michael Thomas returning, the Saints drafted Chris Olave in the first round and signed veteran receiver Jarvis Landry. They've done their part, but Winston has failed to hold up his end of the deal.
Saints pass-catchers have combined for just three drops while Winston has made a bad throw on 23 of his 115 attempts, tied with Davis Mills for the fifth-most in the league, per Pro Football Reference. 
Right now, the Saints' biggest issue is the offense, and all eyes are on the quarterback Winston is dealing with a painful injury that is clearly impacting his play. After a pair of disappointing outings, there's not much value in continuing to trot him out there when New Orleans has another healthy veteran quarterback behind him.
Andy Dalton is ready to start for the Saints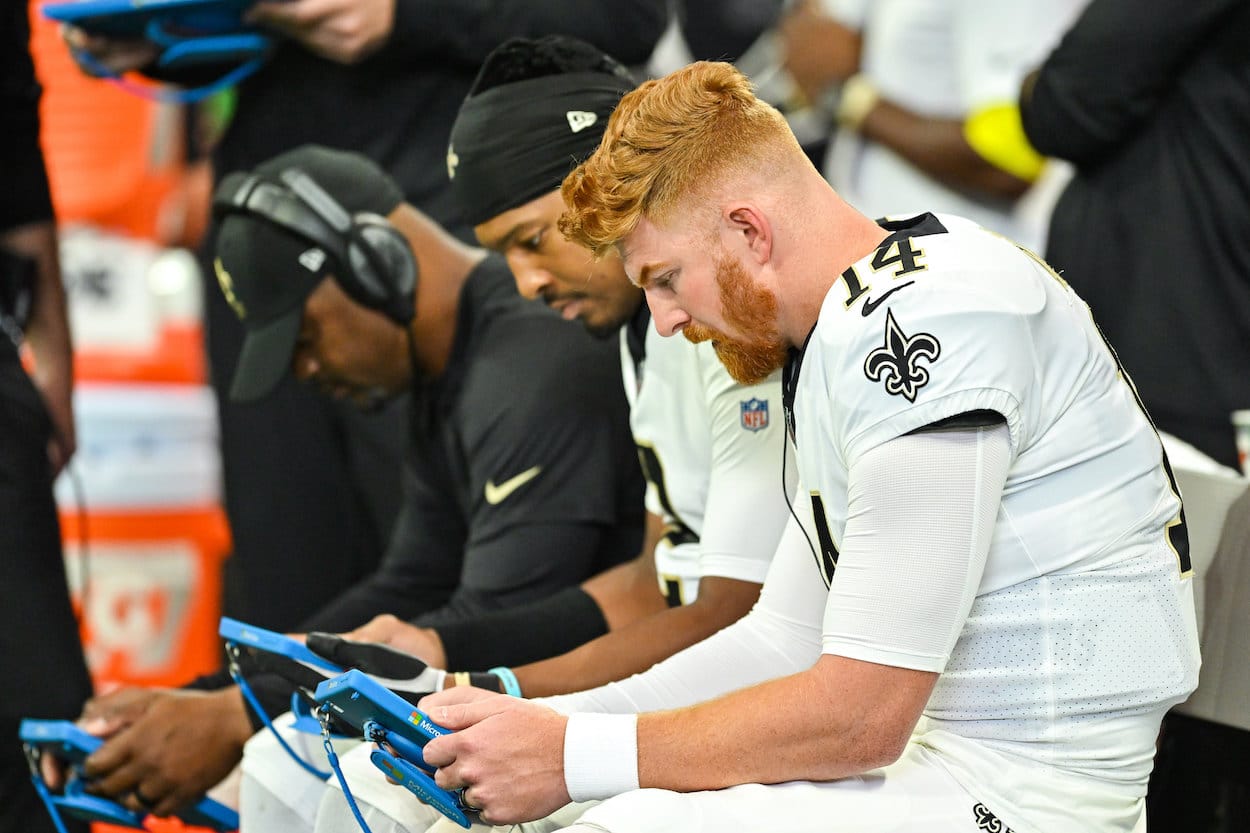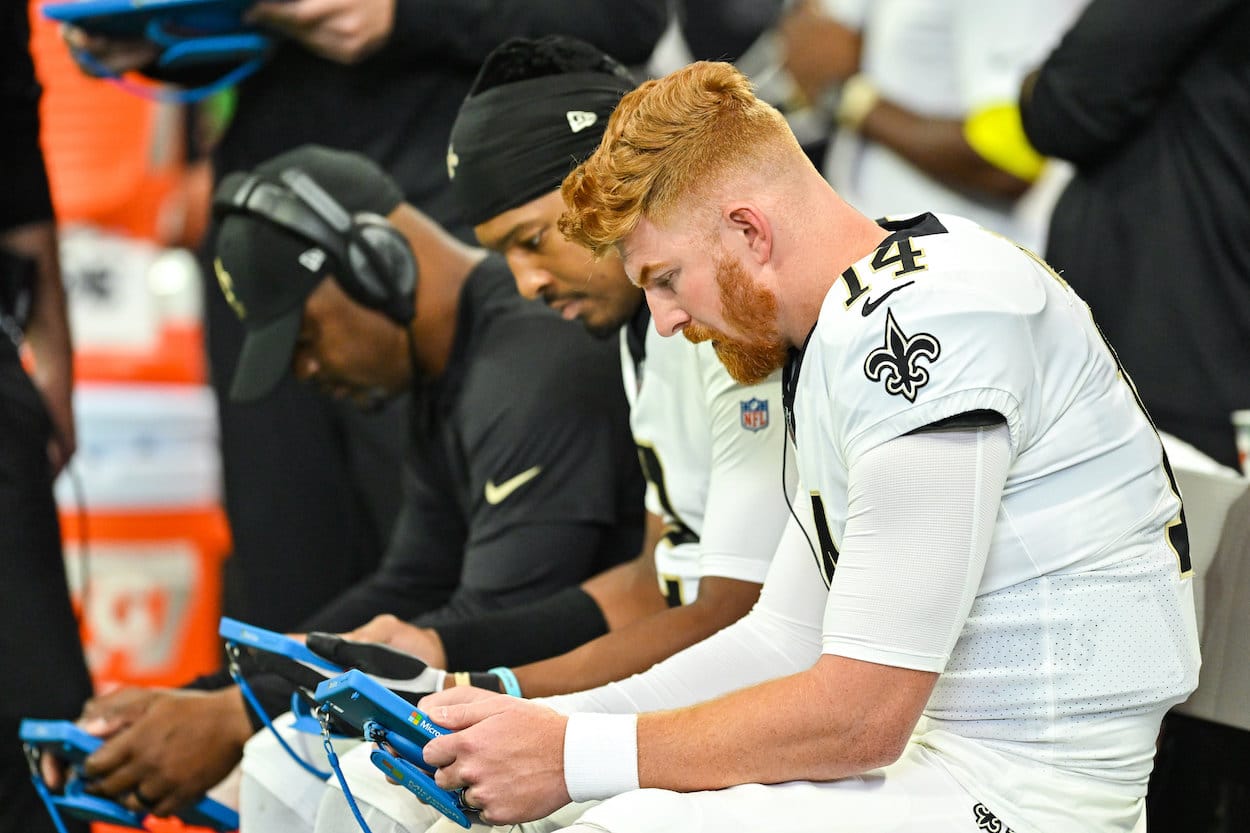 With the offense's output coming to a screeching halt, head coach Dennis Allen has a big decision to make at quarterback. Now is the perfect time to make the change and start Andy Dalton instead of Jameis Winston.
Dalton was a longtime starter for the Cincinnati Bengals before turning into a journeyman quarterback over the past three seasons. He's served as a backup quarterback for the Dallas Cowboys, the Chicago Bears, and now the Saints.
With Winston questionable to play Sunday, Dalton has a good chance to take over against the Minnesota Vikings in London.
The Saints could use a new look to jumpstart the offense from the opening snap. The Winston-led offense has scored just 10 points in the first half this season, which ranks 31st in the league. Only the New York Giants have scored less. Dalton has been around the league long enough and deserves an opportunity to command the offense and show off what his 34-year-old self can still do.
New Orleans should strongly consider making a quarterback change before taking the field Sunday, even if it's just doing so to let Winston recover. If Dalton plays well and defeats the Vikings, there's no reason not to let him start the rest of the season. The worst that could happen is the Saints continue losing.
On the other hand, he could be the key that kickstarts this offense and gets the Saints back into playoff contention.
Like Sportscasting on Facebook. Follow us on Twitter @sportscasting19 and subscribe to our YouTube channel.