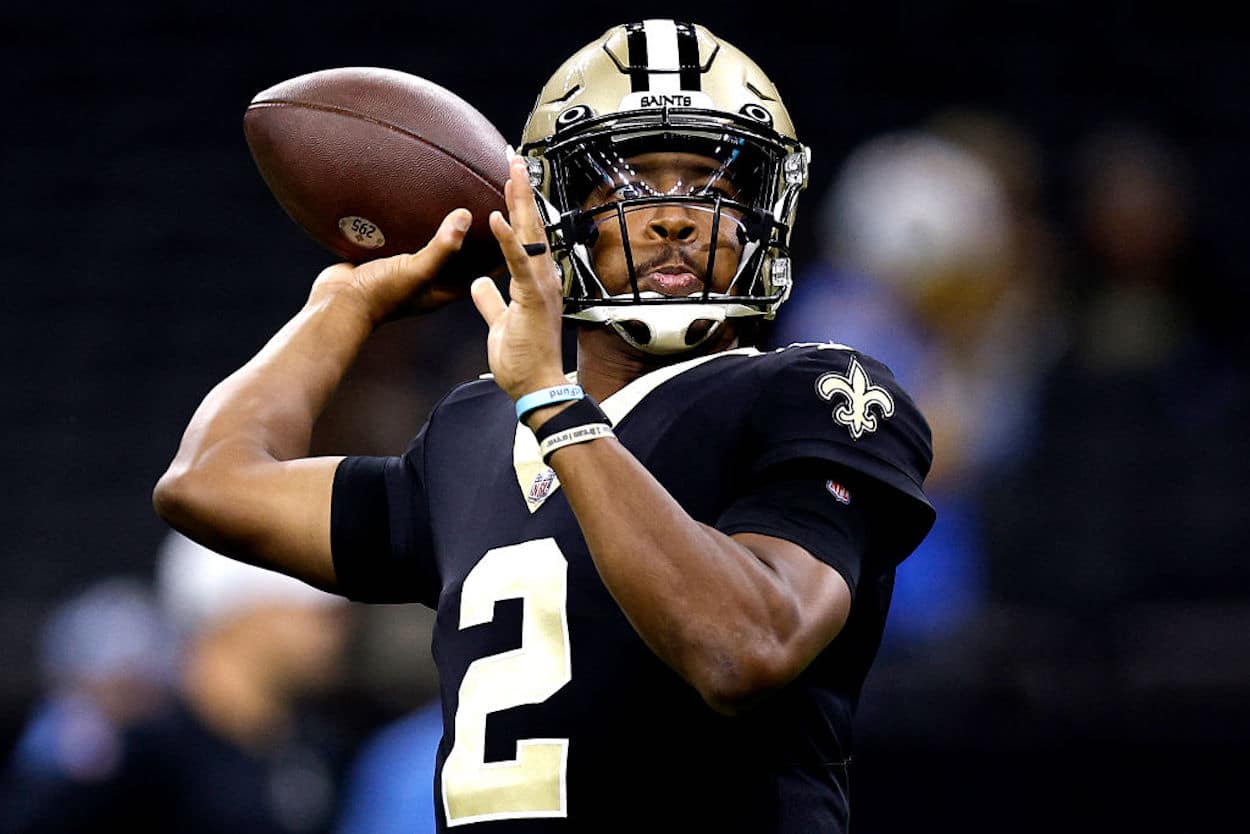 Jameis Winston Is Entering His Best and Last Chance to Prove He's a Franchise Quarterback
The 2022 NFL campaign will be a make-or-break test for Jameis Winston. Can he finally prove that he's a franchise quarterback?
There's plenty of players under the NFL microscope heading into the 2022 season, but one player that is going to be examined very closely is Jameis Winston. 
The 28-year-old quarterback is heading into his third season with the New Orleans Saints. And while he's dealt with plenty of pressure in the past, this campaign, in particular, will be the most important and tense stretch of his career.
Winston spent his first season with the Saints backing up Drew Brees and Taysom Hill. This allowed him to reflect on his time with the Tampa Bay Buccaneers, improve as a quarterback away from the spotlight, and study the playbook for his eventual redemption season that came in 2021.
He faced immense pressure following Brees and his illustrious career. He still had Sean Payton as his head coach when he became the starter. But Payton's no longer in the picture after stepping down and joining the Fox broadcast team.
Winston has become the main man in the Big Easy and has to embrace the pressure that comes with it.
If he succeeds, he can become New Orleans' signal caller for many years to come. If he can't, it might end up being his last chance to prove he can be a franchise quarterback in the NFL.
These next 17 games will decide his fate, but the Saints have done everything they can to surround him with talent on offense that will put him in the best position to flourish.
The weapons around Winston are the best he's seen since joining the Saints
The Saints have always had good pass catchers, but last season, the weapons were missing, and it evidently affected the offense's potential.
Winston completed just 59% of his passes in 2021, the lowest rate since his rookie season. His top three targets were two undrafted receivers, Marquez Callaway and Deonte Harty, and a 2018 third-round pick in Tre'Quan Smith. Outside of a beatdown against the Green Bay Packers in Week 1, the Saints passing attack struggled with the lack of a true No. 1 receiver.
That will all change in 2022, with the Saints getting its All-Pro receiver back while also adding two new wideouts into the mix. All three will be hungry to succeed in 2022 for different reasons.
Michael Thomas is expected to be in uniform for Week 1 to start the season for the Saints and has been making great strides to return to his 2019 form. The 29-year-old wideout missed all of last season due to an ankle injury, but he caught an NFL record 149 passes for 1,725 yards and nine touchdowns in his last fully healthy season.
The Saints also added a five-time Pro Bowler in Jarvis Landry, who will be looking to get his career back on track after a few disappointing seasons with the Cleveland Browns. Landry, 29, set career-lows in receiving yards (570) and touchdowns (2) in 2021 but can come in and immediately serve as a safety blanket for Winston. He dropped just two passes on 87 targets last season.
Lastly, New Orleans selected Chris Olave in the first round of the 2022 NFL Draft back in April. Olave is a pristine route runner with loads of potential. He totaled 2,711 receiving yards and 36 touchdowns across four seasons at Ohio State.
The return of Thomas, along with the newly added talent to the receiver room, should provide some much-needed stability for Winston.
Winston has looked good since training camp while recovering from his torn ACL
Winston's 2021 campaign got off to a great start where he was likely leading the Saints to a winning record and his first career playoff start. However, he tore his ACL in Week 8, forcing him to miss the remaining 10 games and ending his season.
Nevertheless, Winston has looked like a different quarterback with the Saints. He's more controlled and deliberate with the football. In 2021, he achieved a 5-2 record while throwing 1,170 yards, 14 touchdowns, and just three interceptions in seven starts.
So, heading into 2022, it was important for him to continue this string of quality play and not regress back to his Tampa Bay days.
Despite still recovering from his ACL injury, Winston had a successful training camp, exhibiting poise, maturity, and professional growth.
Consider those above numbers again. Sixty pass attempts. Zero interceptions.
This is a massive improvement for a quarterback who was often known for his carelessness and poor decision-making.
In his last season with the Bucs, he infamously became the first quarterback in NFL history to throw at least 30 touchdowns and 30 interceptions in a single season. He also threw an NFL-record seven pick-sixes that year.
Winston played one series in the final preseason game against the Los Angeles Chargers. He completed all four passes for 59 yards while leading the offense to a nine-play, 75-yard touchdown drive.
If Winston can replicate his 2021 numbers with an improved receiver core, the Saints will look like one of the more dangerous passing offenses in the NFC. 
The Saints have shown they believe in Winston for the short term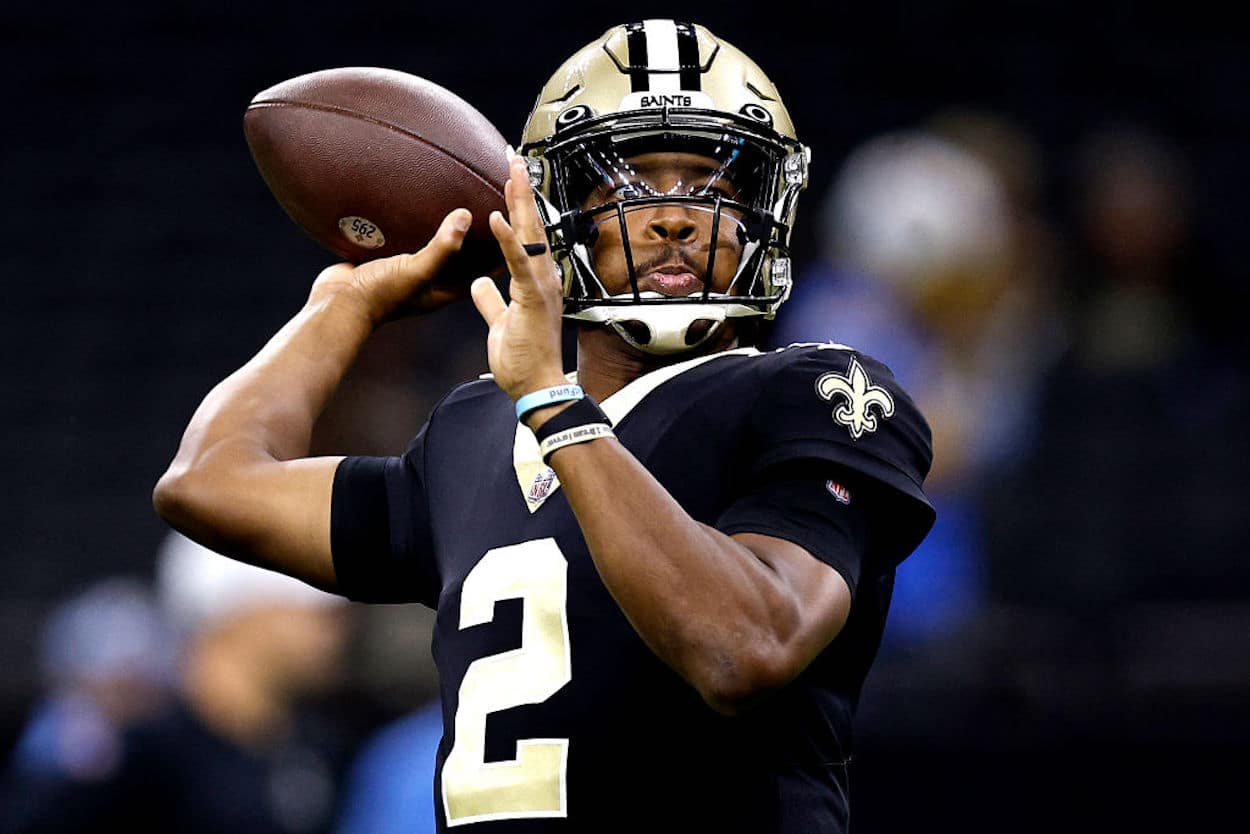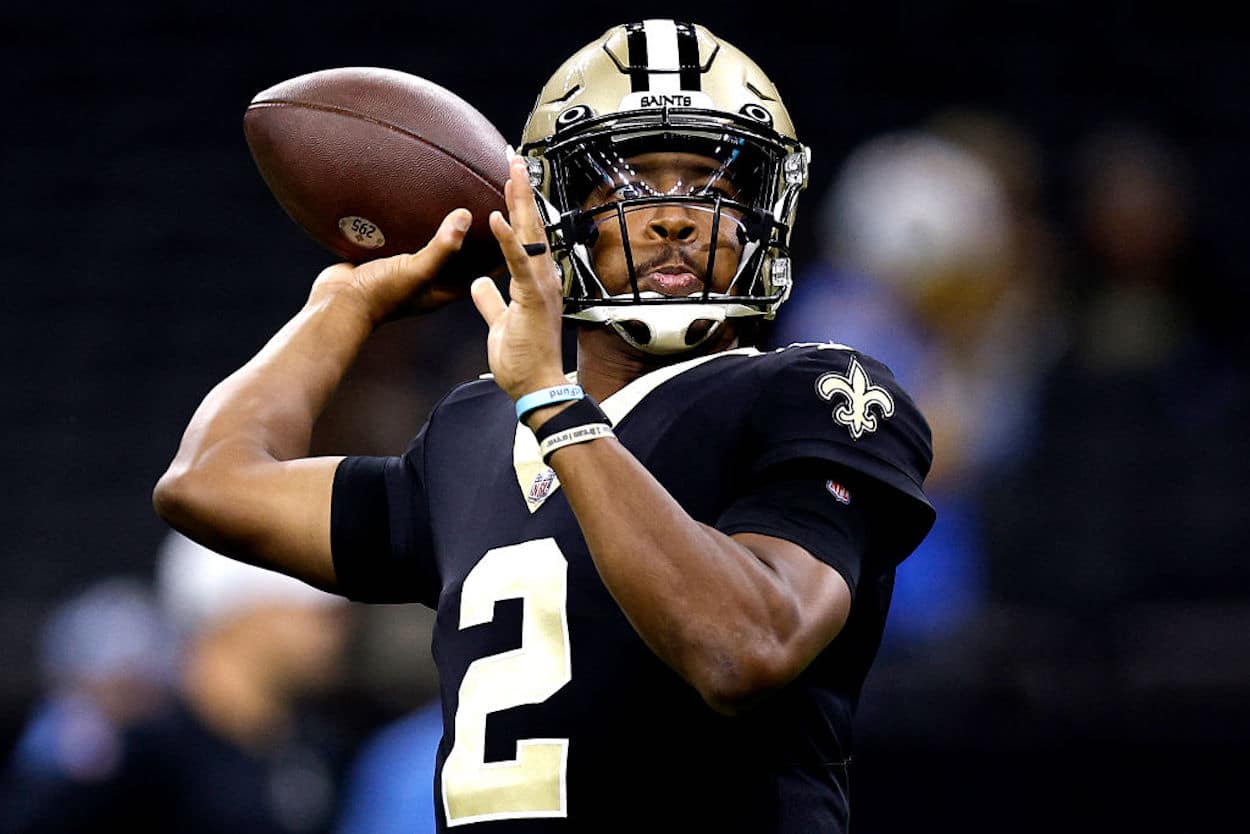 All the moves the Saints have made this offseason point to Winston being "the guy" for the foreseeable future.
New Orleans also showed their faith in Winston by agreeing to a two-year, $28 million extension back in March. He earned the right to have another crack at commanding the offense after his brief stint of success last season. 
Additionally, there isn't a quarterback competition anymore, unlike last year when Taysom Hill was in contention for the starting role and was splitting first-team reps with Winston. Hill started in five games last season but threw more interceptions than touchdowns, resulting in Saints head coach Dennis Allen changing his position from quarterback to tight end.
The Saints did sign Andy Dalton to a one-year deal, but not to compete for the starting gig; he was simply brought in as insurance in case Winston misses an extended period of time again.
Even so, this is a make-or-break season for the veteran quarterback.
Winston is in contention for the Comeback Player of the Year award, but more importantly, he has his best chance to lead a new era in New Orleans as the Saints franchise quarterback.
Like Sportscasting on Facebook. Follow us on Twitter @sportscasting19 and subscribe to our YouTube channel.