Will Dale Earnhardt Jr. Be Looking for Work at Another Network in the Not-So-Distant Future?
Since retiring from racing, Dale Earnhardt Jr. has become synonymous with NBC and its NASCAR programming. Not only is the two-time Daytona 500 winner an announcer with the network's broadcast team for both the Cup and Xfinity Series during the second half of each season, but he also produces a couple of shows that air on the Peacock family of channels, including his popular Dale Jr. Download podcast.
However, that could all change in the not-so-distant future with NASCAR soon to start negotiating a new broadcast rights deal that will begin in the 2024 season. Interestingly, according to the predictions in a new report, if Earnhardt does want to continue his work covering NASCAR, he will likely be doing it over on ESPN. 
Dale Earnhardt Jr. has found programming success at NBC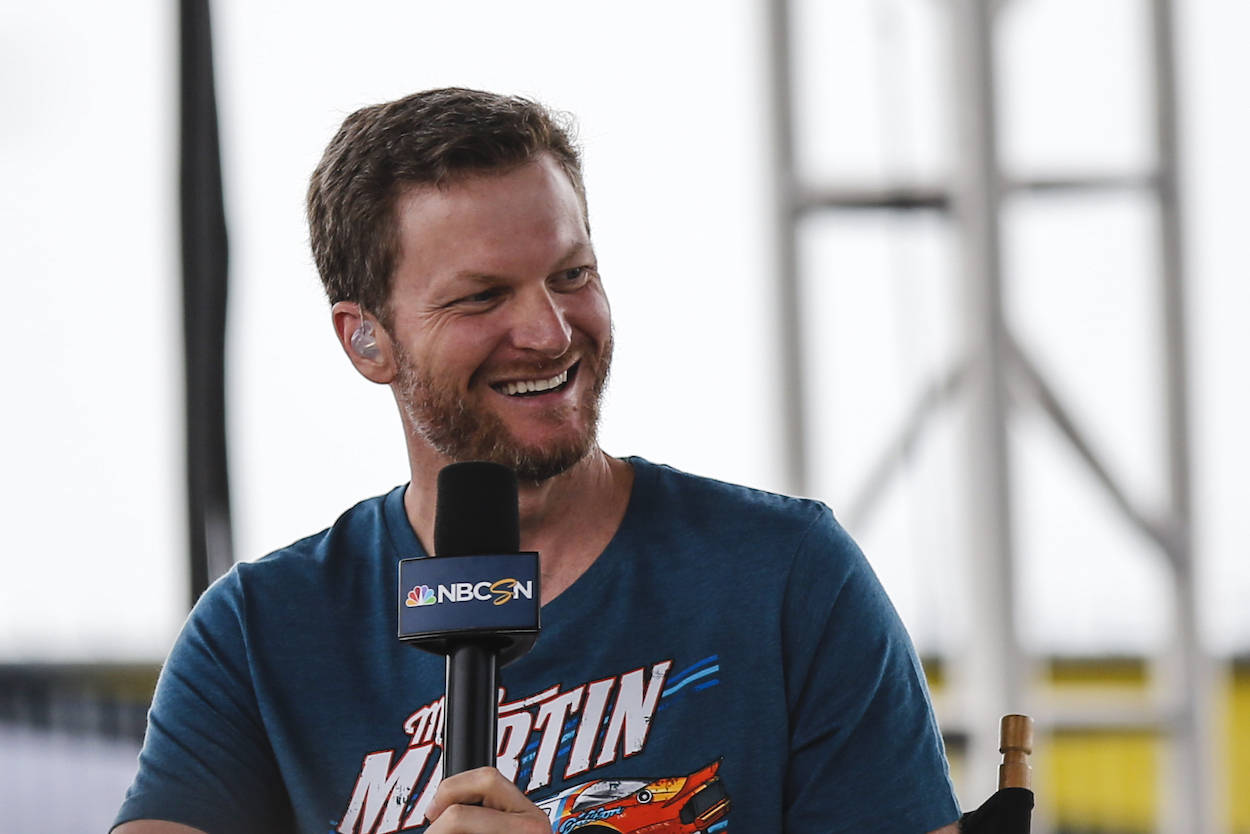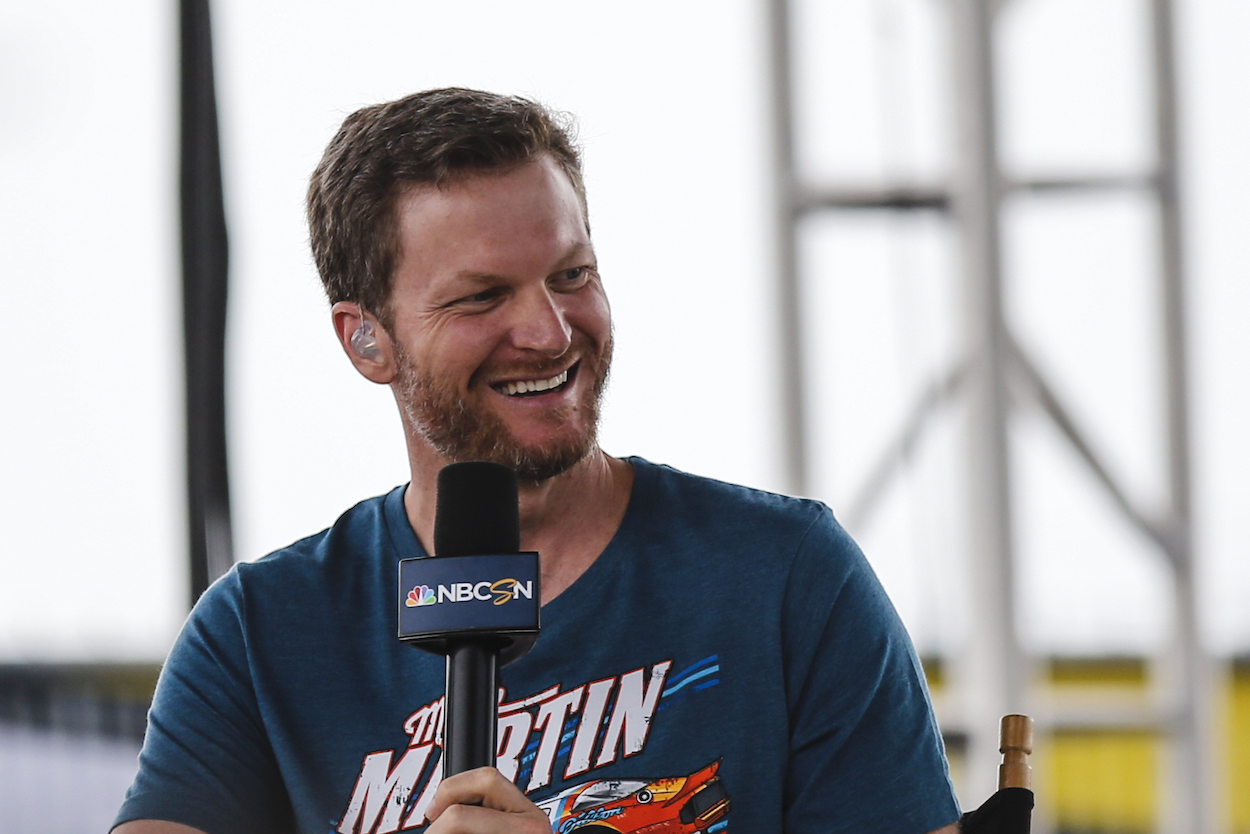 Dale Earnhardt Jr. retired from full-time racing after the 2017 Cup Series season. A year later, the NASCAR Hall of Famer was back at the track in a much different capacity, working upstairs in the NBC booth and providing a driver's perspective for the broadcast. 
The 47-year-old former driver has settled in nicely with the network and diversified his portfolio since arriving. In addition to race coverage, his Dirty Mo Media content company produces a pair of shows that are carried on the NBC family of networks. Episodes of his popular podcast are carried on NBCSN while his show Lost Speedways, which revisits old racetracks from the past, airs on the Peacock streaming service.
Last year, Earnhardt admitted to Forbes that despite no longer competing on the track, he's still competitive when it comes to his broadcast work. 
"I want to be the most-viewed show on NBCSN that day and any other sports show or network that day as well," he said. "I want those networks to say, 'What's this Dale Jr. Download thing that's doing so well? What are they doing?' It's the same with Lost Speedways. We want people to be taken aback."
NBCSN shutting down and Earnhardt could be moving to new network
Earnhardt's desire to be the most-viewed show on NBCSN took a hit in January when the parent company announced that the channel would shut down at the end of 2021. The plan going forward is for most of the sports programming to shift to NBC, the USA Network, and the Peacock streaming service. 
NBC Sports Group Executive Jon Miller said NBC had taken note and "been paying very close attention to the cable ecosystem, as it were, and more and more people are cutting their cord or not signing up for cable distribution, and more people are streaming sports, and we have found it to be the way of the future here."
Translation: There's a chance some NASCAR races might be available exclusively on Peacock streaming in the future.  
However, John Ourand of the Sports Business Journal made his annual predictions for 2022 and suggested that NASCAR fans won't have to worry about paying $4.99 per month for the service because NBC will be completely out of the picture for the sport's new broadcasting rights deal in 2024. 
"After all, NASCAR's current deal runs through 2024," Ourand wrote. "But when the car racing circuit starts its negotiations next year, it will find that Fox wants to renew, while NBC Sports, which will shut down NBCSN on Jan. 1, is more tepid. Talks with ESPN will heat up this year (2022). Fox and ESPN will split the NASCAR package as part of a deal signed in 2023."
Earnhardt been betrayed by NBC in the past
If that prediction comes true, Earnhardt would be forced to find work at another network, which would potentially include taking his shows with him. While it's still early and all very much up in the air, it wouldn't be the first time Earnhardt experienced disappointment with the network.
He admitted as much on his podcast earlier this year when describing how NBC and his crew chief in 2013, Steve Letarte, worked out a deal without his knowledge that left him heartbroken. 
"They hired Steve right out from under me. So basically I felt like NBC, Steve, everybody went and did all of this and didn't even decide to tell me or didn't even decide to share," Earnhardt admitted. "That was one thing in my professional career; it hurt me because it was something that was great that was ending. I was floored because I never expected it.
"It broke my heart. I mean, I cried. I stood in my bus on that day at that racetrack, and I cried by myself. When I pulled my s*** together, I called Steve and he goes, 'Hey, I'm sorry. I wanted to tell you. Lot of things going on but couldn't really get to tell you just yet. Let's sit down and talk about it.' He came to the bus, and we talked about it. Man, it just hurt my heart."
Eventually, the pair reunited when Earnhardt joined Letarte in the broadcast booth, and they've been together since. With the future uncertain, the two could find themselves once again separated — or maybe working together at Fox or the Worldwide Leader.
Whatever happens, it will certainly be an interesting storyline to keep tabs on in 2022.  
Like Sportscasting on Facebook. Follow us on Twitter @sportscasting19.