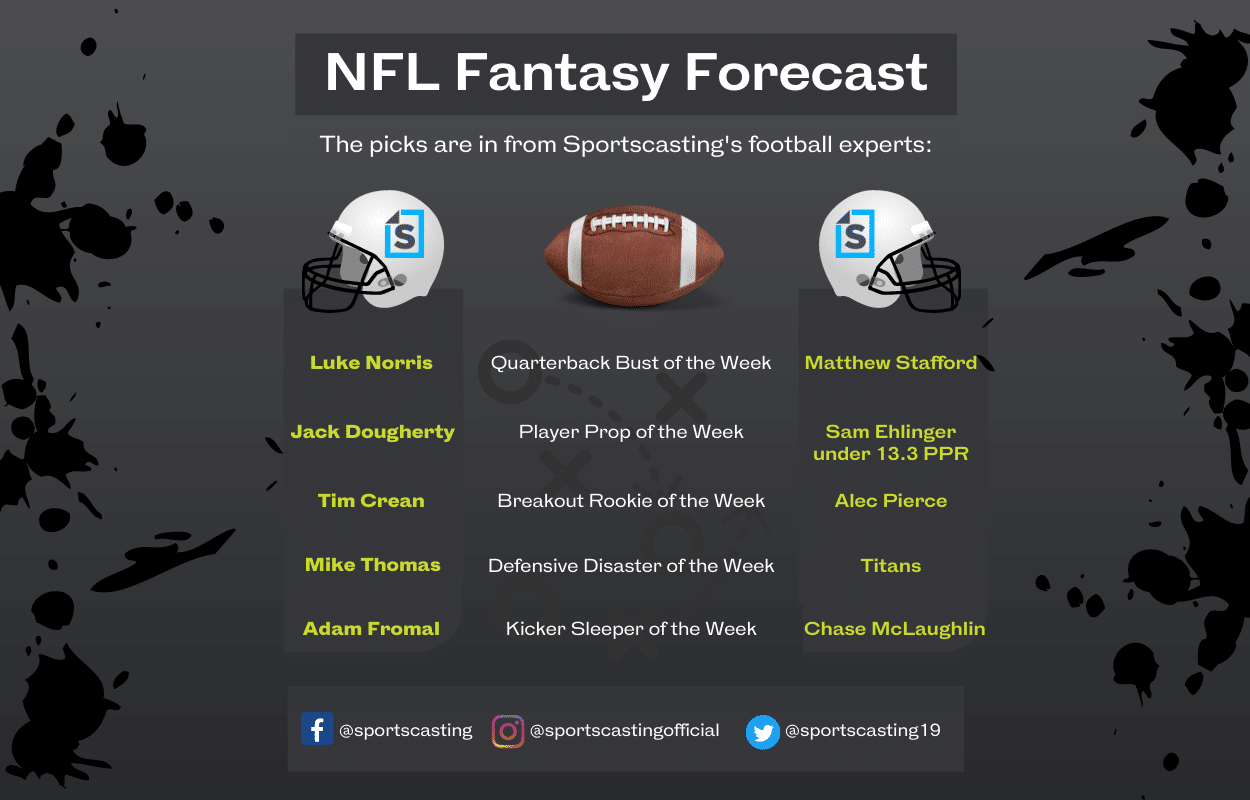 NFL Fantasy Forecast Week 9: Busts, Breakouts, Sleepers, and More
Sportscasting's NFL writers offer up a few fantasy football tips for Week 9 of the 2022 season.
As hard as it is to believe, we're almost halfway through the 2022 NFL season. That also means that we're even closer to the end of the fantasy football season, and the start of your league's postseason is likely only a few short weeks away.
With six teams on bye this week, setting your roster might be a bit difficult, but the NFL experts here at Sportscasting are once again here to save the day.
Sportscasting's Week 9 NFL Fantasy Football Forecast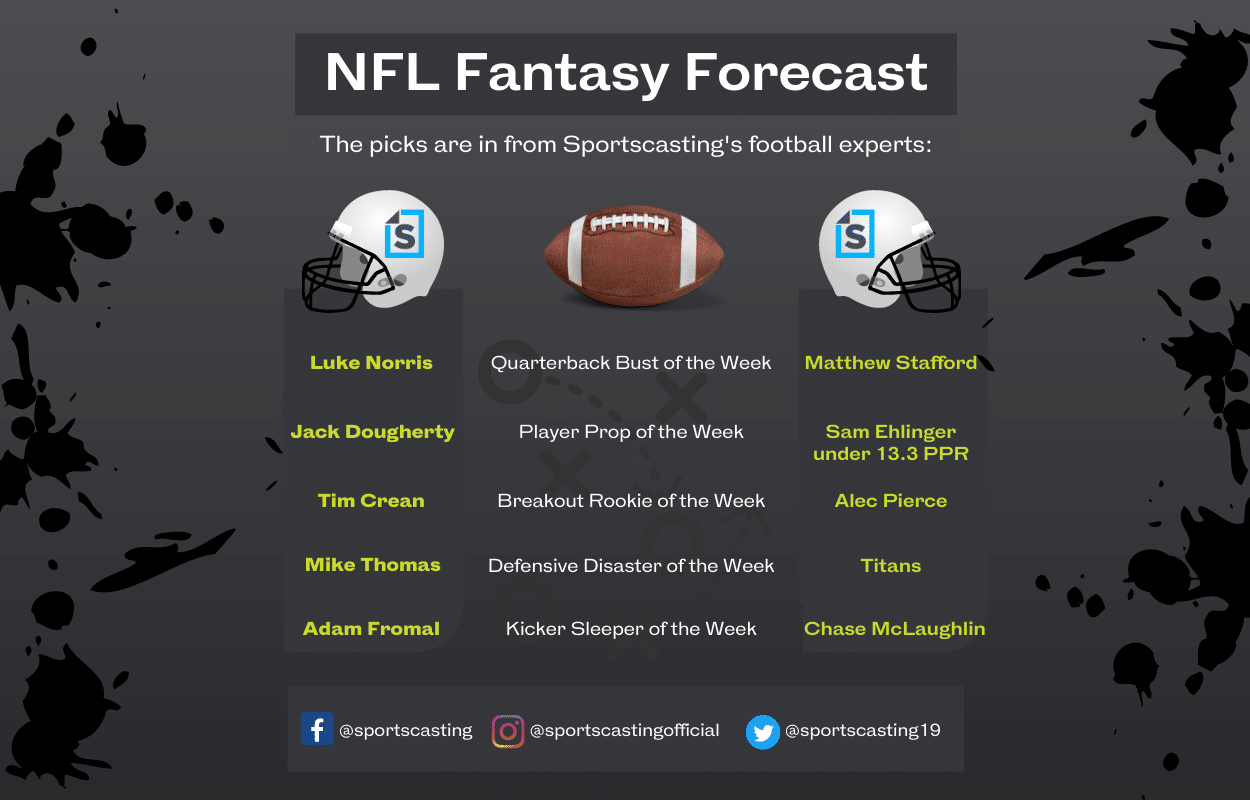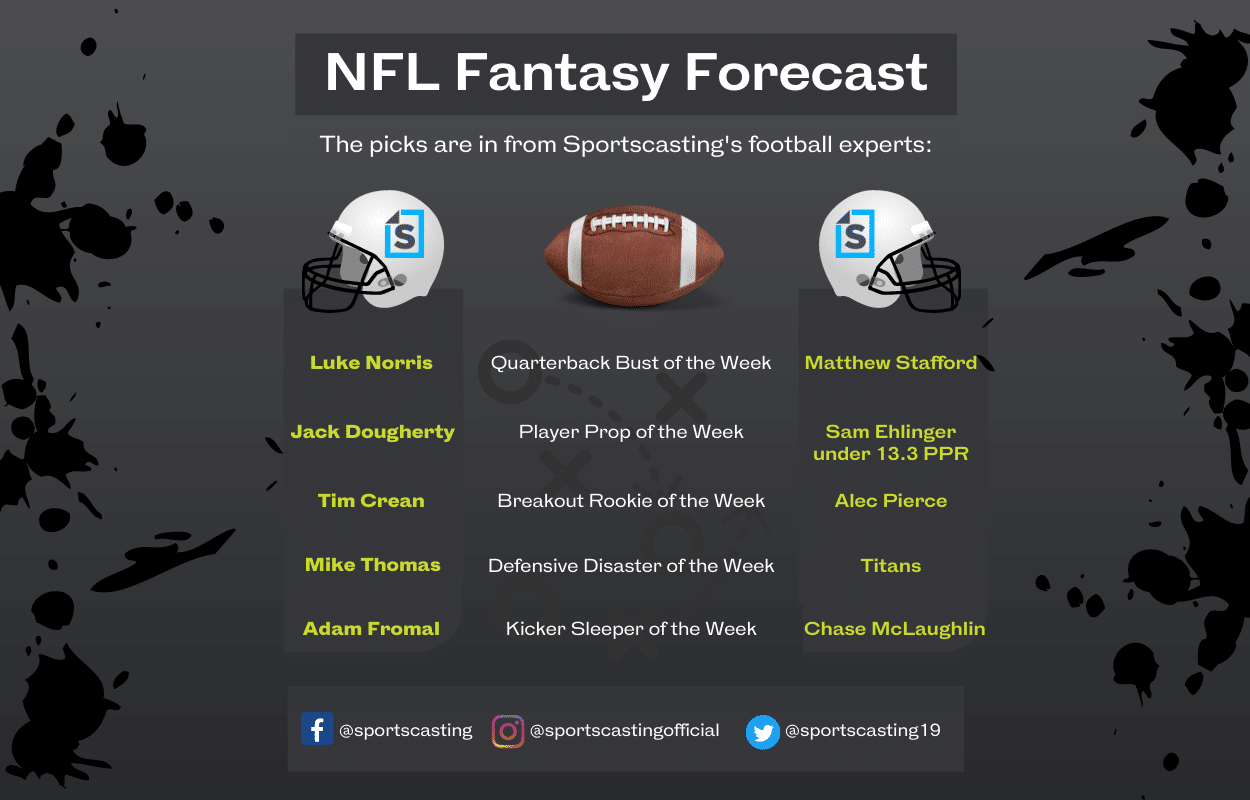 Quarterback Bust of the Week: Matthew Stafford
Luke Norris: Well, I went as long as I could without a two-time entry. But after looking at the Week 9 NFL schedule, which is short three games with six teams on a bye, I've essentially got no choice but to go with Matthew Stafford for a second time. 
I typically first look at the team with the unfortunate task of matching up with the Buffalo Bills. But as that's the New York Jets this week, I can't go that route as it's likely not many of you have Zach Wilson as your QB1. And if you do, your season's already over anyway. 
I then usually look at who's matched up against the San Francisco 49ers or Dallas Cowboys. But both are off this week. 
So after looking through everything else and seeing a lot of favorable matchups for quarterbacks, Stafford essentially gets the nod here by default. But he also hasn't looked like a Super Bowl-winning QB this year either, especially lately. He has just three touchdown passes in the Rams' last five games and threw for a season-low 187 yards this past Sunday against the 49ers. 
He'll face another tough defense in Week 9 as the defending champs take on the Buccaneers, although that unit did take a big hit with the loss of Shaquil Barrett, who's lost for the year with a torn Achilles. Nevertheless, Tampa Bay ranks third in the league in sacks with 25 and seventh overall against the pass.
Player Prop of the Week: Sam Ehlinger UNDER 13.3 PPR
Jack Dougherty: This prediction is about as simple as they come. Sam Ehlinger played well in his first NFL start against the Washington Commanders last week. He completed 17 of his 23 pass attempts for 201 yards and added 15 yards on the ground, but he didn't account for a single touchdown in the game.
Ehlinger finished with 7.54 fantasy points, and now he's expected to score nearly double that against a Bill Belichick-coached defense? Please.
Belichick has dominated rookie quarterbacks throughout his career, especially in Foxboro. I would expect at least two turnovers out of Ehlinger this week, so even if he accounts for a few touchdowns, I don't see him reaching his 13.3-point projection in Week 9.
Breakout Rookie of the Week: Alec Pierce
Tim Crean: The Indianapolis Colts' second-round rookie out of Cincinnati had similar production during Sam Ehlinger's first start to what he did with Matt Ryan. Last week, he had five targets with three catches for 65 yards, leading the team in receiving yards in Week 8. 
Without a clear sign that Pierce is Ehliger's go-to guy now, it's more of a hunch that the athletic rookie will fit better with the young QB's scrambling style. Also, the New England Patriots' defense ranks 19th in the league in giving up yards to wide receivers (1,226), so that goes in Pierce's favor as well. 
The Colts' move to Ehlinger was a move toward the future, and getting Pierce involved in this week's game seems like another step in that direction. This game versus the Patriots could see Pierce get eight or nine targets for 80-plus yards and maybe even a touchdown for good measure.
Defensive Disaster of the Week: Tennessee Titans
Mike Thomas: The Titans haven't been pretty, but they've been effective. Tennessee heads into Week 9 riding a five-game win streak, but they've hardly put anyone away in convincing fashion. They haven't played the toughest schedule, either.
During that stretch, the Tennessee defense has faced the Las Vegas Raiders (shut out last week by the Saints), the Colts twice (they just fired their offensive coordinator), the Washington Commanders, and the Houston Texans. None of those teams strike fear in any defense.
The last time the Titans faced any capable offense was in Week 2, and it didn't go well for Tennessee. The Titans surrendered 41 points in an ugly 41-7 loss to the Buffalo Bills. This week, the Titans face Patrick Mahomes and the Kansas City Chiefs fresh off their bye week. Look for the Chiefs to light it up this week and convincingly end Tennessee's five-game winning streak.
Kicker Sleeper of the Week: Chase McLaughlin
Adam Fromal: Do you actually have confidence in Sam Ehlinger leading a broken Indianapolis Colts offense down the field for touchdown after touchdown? I certainly don't. 
Do you actually have confidence in Jonathan Taylor pushing the team down the field and into field-goal range over and over against a New England Patriots defense that ranks in the bottom half of the NFL against the run? I certainly do. 
Chase McLaughlin, despite being rostered in just 3.1% of ESPN leagues, ranks 17th among kickers on the year and is squaring off against the team that has allowed the fourth-most points to his position. It's a recipe for placing an easy sleeper in the most least important slot on your roster.   
Have thoughts on this topic? Keep the conversation rolling in our comments section below.