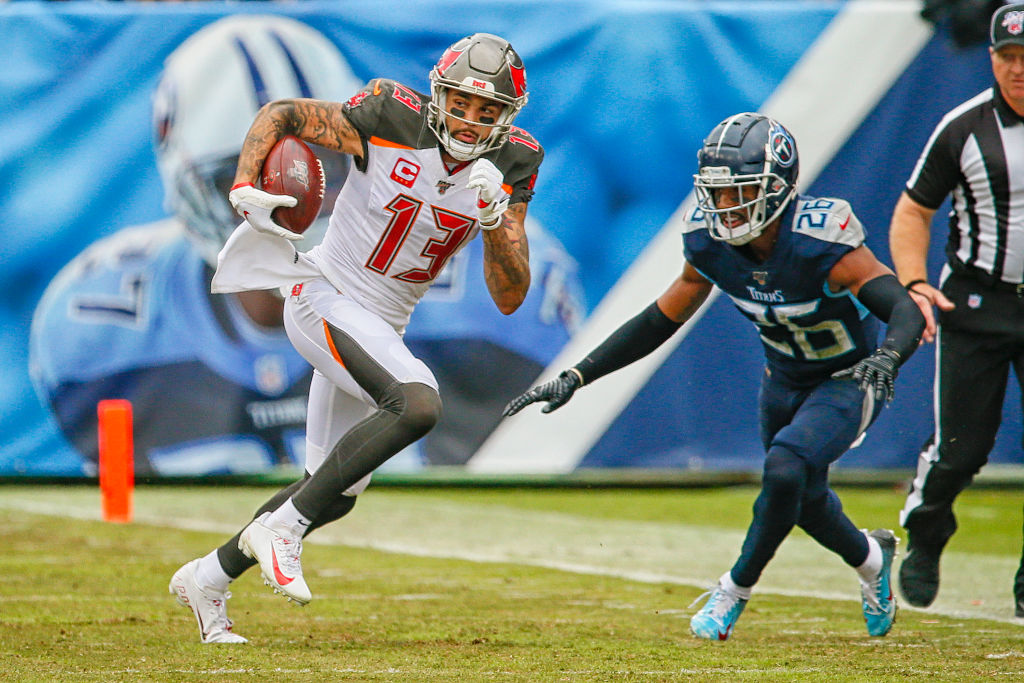 NFL: How Mike Evans Made Tampa Buccaneers History Again On Sunday
The Tampa Bay Buccaneers have struggled this season. Wide receiver Mike Evans, however, has continued his assault on the franchise record books.
The old sports cliche says that you should play for the name on the front of the jersey, not the name on the back. And, while that's true, everyone still values individual records. It's those pieces of history that create a player's legacy; even if you don't win a Super Bowl, you'll be able to prove your statistical strengths. Mike Evans did just that on Sunday, writing his name into the Tampa Bay Buccaneers history books.
Mike Evans' career to date
After playing basketball, football, and running track in high school, Mike Evans decided to focus on the gridiron. He committed to Texas A&M but was forced to redshirt his freshman year.
Once he made it onto the field, however, Evans didn't miss a step. During his first season with the Aggies, he pulled in 82 receptions for 1,105 yards and five touchdowns. As a sophomore, his production increased; Evans' receptions dropped to 69, but his total yardage and touchdowns increased. On the strength of his 1,394 receiving yards and 12 touchdowns, Evans made the AP All-American Team.
Evans then entered the 2014 NFL draft. The Tampa Bay Buccaneers were impressed by his combination of size and athleticism and selected him with the seventh overall pick; the receiver immediately repaid their decision by posting a 1,051 yard, 12 touchdown rookie campaign.
While Evans' touchdown numbers have fluctuated since then, he has remained otherwise consistent at the pro level. He's caught at least 70 passes and piled up 1,000 yards every season, and has become a favorite target of quarterback Jameis Winston.
Evans' assault on the history books
During his five full seasons with the Buccaneers, Mike Evans has written his name all over the franchise history book. He holds most of Tampa Bay's receiving records, including the most touchdowns in a season and a career, the most receiving yards in a season and a career, and the most 100-yard games in a career. He added another feather to his cap on Sunday afternoon.
On Sunday, Evans put up another massive performance against the Tennesse Titans. He pulled in 11 of 12 passes thrown his way, racking up 198 yards and two touchdowns. While that wasn't enough to earn the Bucs a win, it did give Evans another franchise record.
With his ninth catch of the afternoon, Evans passed James Wilder for the most receptions in franchise history. While it's not that impressive for a wide receiver to catch more passes than a running back, Evans will have plenty of time to make the record his own.
How can Mike Evans still improve?
Despite his dominance in the Buccaneers' record book, Evans is still a comparatively young receiver. He just turned 26 before the start of this season and is still working on becoming a better pro.
"My conditioning is way better. When I came in, I was 240-something pounds and now I'm 220. So I'm moving better and feeling better. My diet is a little bit better. I'm not eating burgers and pizza anymore. And steak. I used to do it big my first couple years, having money it felt good. But I don't eat as bad,'' the receiver explained to Rick Stroud of The Tampa Bay Times. "My weight is down a little bit, so I'm a little bit quicker.''
Evans' challenge is to use that speed without losing his physical edge. "I feel I win cleaner at the line now," he said. "But I need to be more physical, definitely. I need to take it back to the first couple years in the league and start getting extra physical. Because it's a little easier to be extra physical with quicker twitch guys.''
This season, Jameis Winston's constant turnovers have hamstrung the Buccaneers. No matter what issues they may have, however, Mike Evans definitely isn't one of them. He already holds plenty of franchise records; if he continues to improve, the receiver will be targeting the NFL record book.