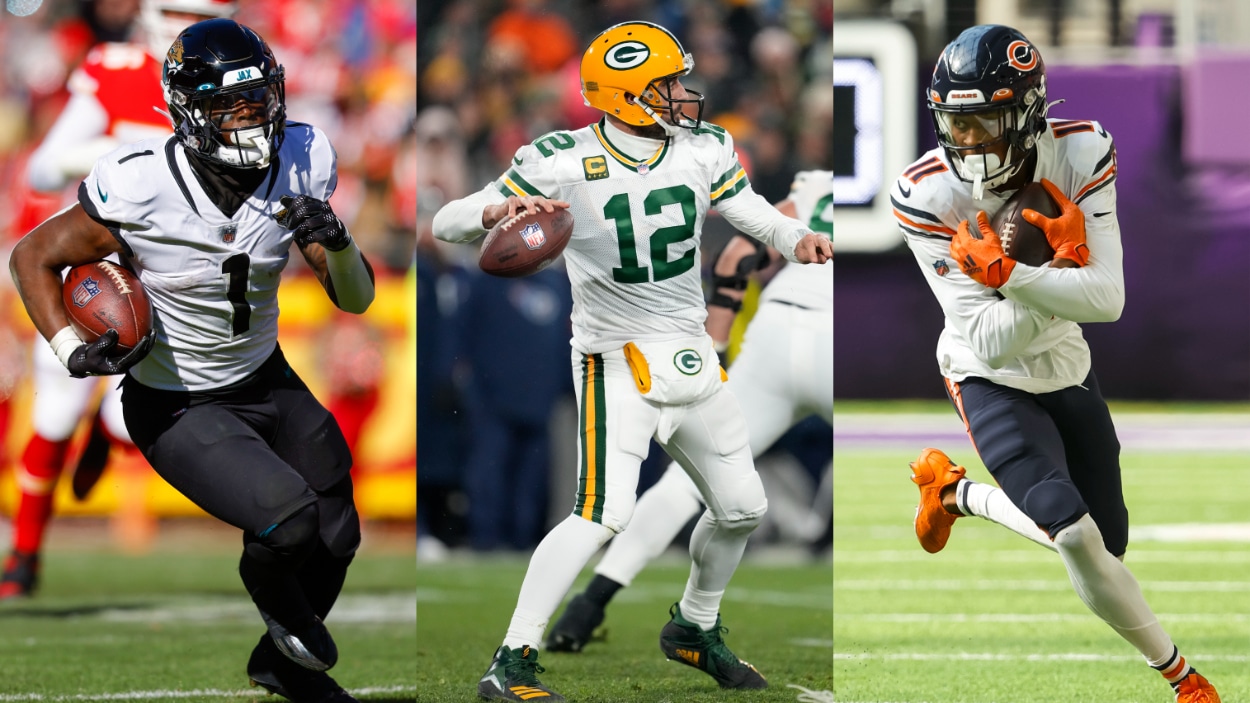 NFL Injuries: Offensive Players Who Left the Game in Week 12, and the Possible Consequences for Week 13
The Week 12 NFL injuries roundup includes some big names in the NFC North, including Packers QB Aaron Rodgers and Bears WR Darnell Mooney.
Like every week, offensive NFL players went down with injuries big and small throughout the day in Week 12. And like the Week 11 NFL injuries roundup, there is one big-name quarterback who went down Thanksgiving weekend. There are also plenty of skill-position players whose Week 13 could be in doubt. Here are the most well-known stars who went out and could make an impact on your favorite teams and your fantasy team alike.
NFL injuries: Week 12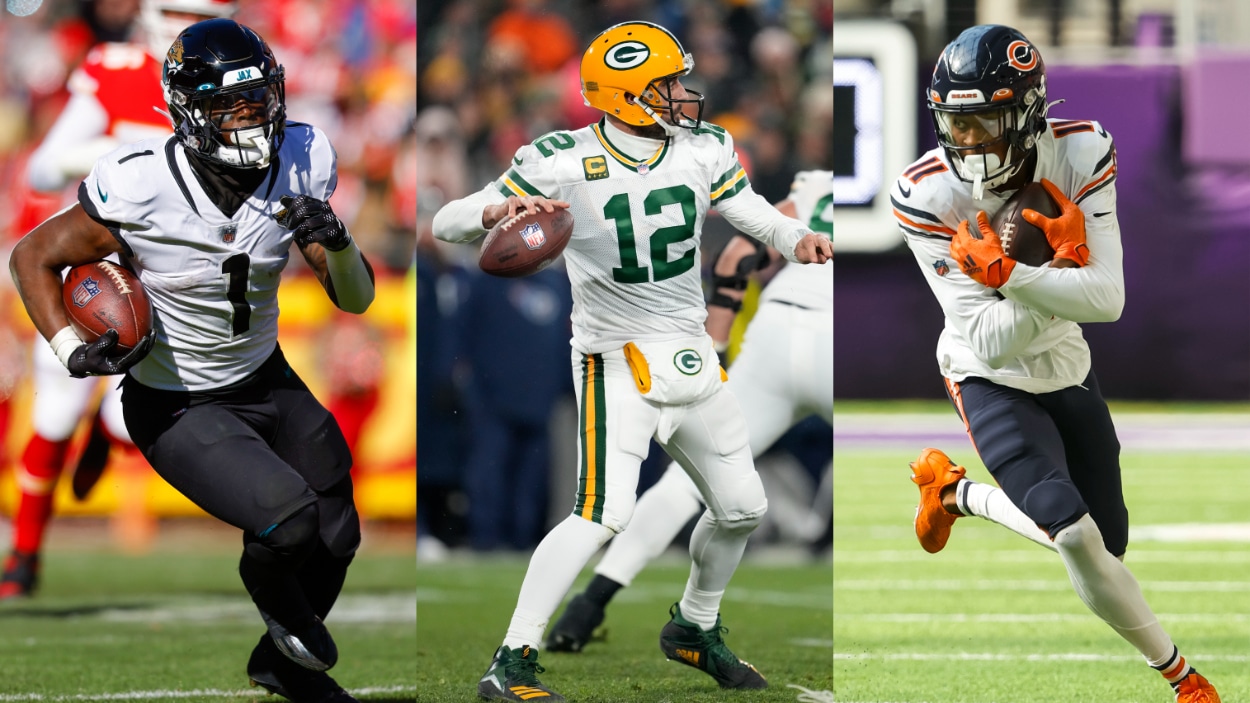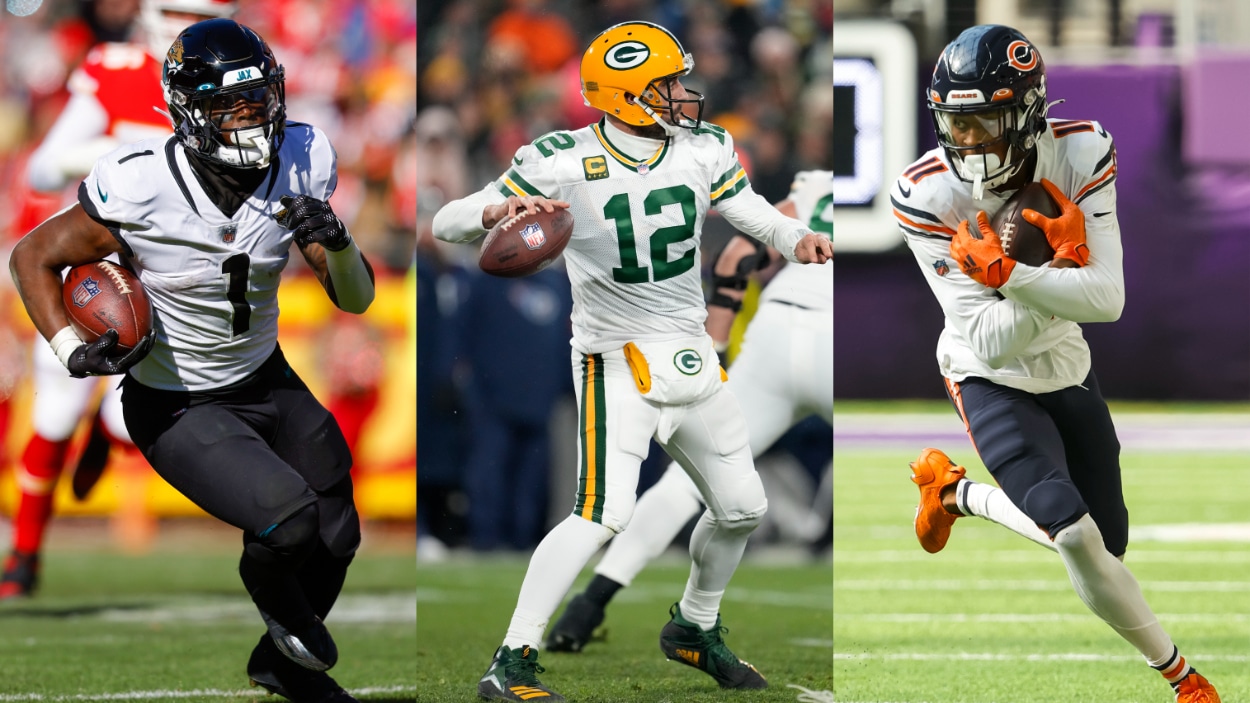 WR Darnell Mooney, Chicago Bears
Coming into the Week 12 matchup with the Jets, Bears wide receiver Darnell Mooney was the team's leading pass-catcher with 40 catches for 493 yards and two touchdowns. Against the Jets, Mooney couldn't add to those totals as he left the game with an apparent ankle injury in the third quarter.
The prognosis for Mooney after the game wasn't good for the Bears. According to Pro Football Talk, "it appears that Mooney has torn ligaments in his ankle and will need surgery." That surgery would end the WR's season.
RB Travis Etienne, Jacksonville Jaguars
After missing his first season with an injury, Jaguars running back Travis Etienne is having an excellent rookie/sophomore season. Through 11 games, the former Clemson RB has 131 carries for 725 yards, two receptions for 202 yards, and four rushing touchdowns. In Week 12, Etienne only added two carries for three yards to those totals before exiting the game.
Despite leaving the game and not returning, the latest Etienne update is that the injury is not as serious as it may seem. According to Sports Illustrated, Jaguars coach Doug Pederson said the RB could have returned. However, it was "just my decision to keep him out, but we'll check him out tonight and have probably a better update tomorrow."
RB Elijah Mitchell, San Francisco 49ers
Another name of the Week 12 NFL injuries roundup is 49ers running back Elijah Mitchell. The Bay Area runner sprained the MCL in his right knee during Week 1 and just returned to put up 89 yards on 18 carries in Week 10 and 59 yards on nine carries in Week 11. In the 49ers Week 12 13-0 win over the New Orleans Saints, Mitchell exited in the third quarter.
After the game, reports are that Mitchell suffered a sprained MCL on his opposite knee in this game. Head coach Kyle Shanahan told reporters, per ESPN, "Most likely Elijah will be out a little bit." If he's out for the same amount of time as with his first injury, Mitchell won't return until the Divisional Round of the 2022 playoffs.
QB Aaron Rodgers, Green Bay Packers
During the last game of Thanksgiving weekend, the biggest-name player went out with an injury. Packers QB Aaron Rodgers left the game after getting beat up by the Philadelphia Eagles with what is being described as an oblique injury.
Shortly after the game ended, there was no update on Rodgers' long-term status. But it is worth noting that his backup, Jordan Love, played well, going 6-of-9 for 113 yards and a touchdown.