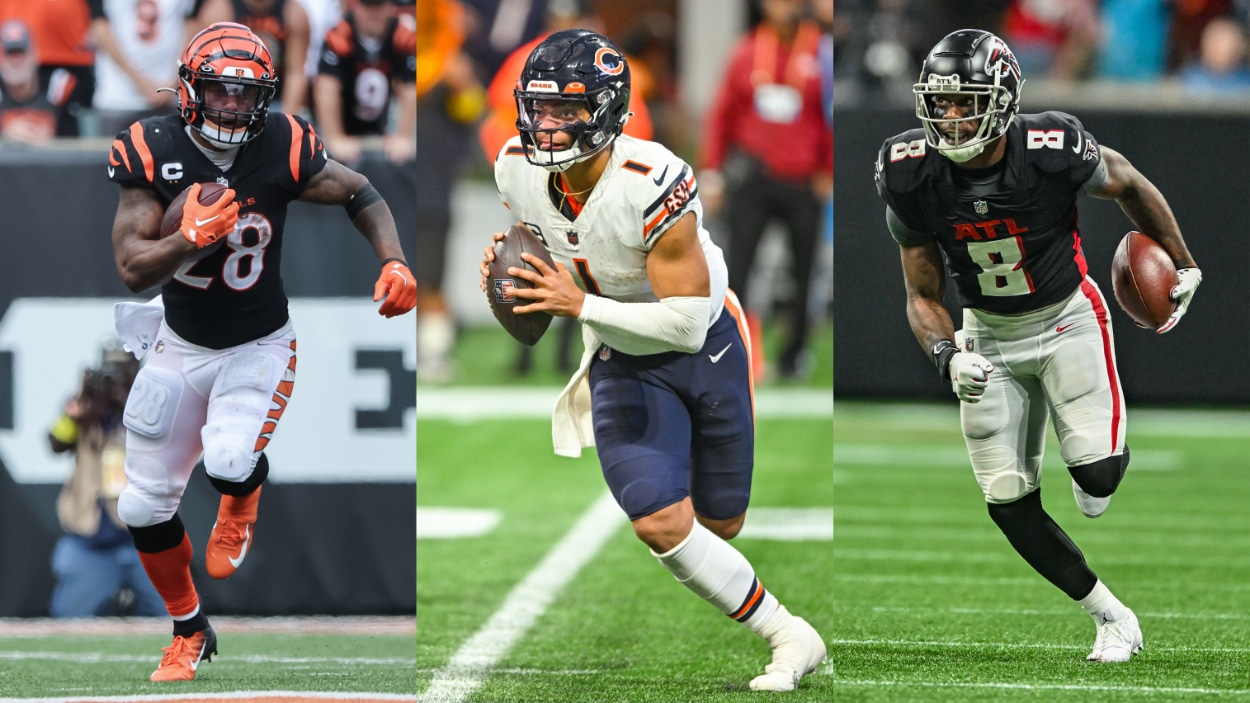 NFL Injuries: Offensive Players Who Went out in Week 11, and What It Might Mean for Week 12
The Week 11 NFL injuries roundup includes big names like Justin Fields, Kyle Pitts, Joe Mixon, Mike Williams, and more.
The Week 11 NFL injuries hit a broad range of offensive NFL players throughout the day. Unlike the Week 10 injury roundup, where it was mostly wide receivers who went down, this week we have receivers, running backs, tight ends, and even a big-name quarterback. With that in mind, here is a Week 11 NFL injuries roundup detailing the ailments of the most well-known stars whose injuries could make a difference for your favorite teams and your fantasy team alike.
NFL injuries: Week 11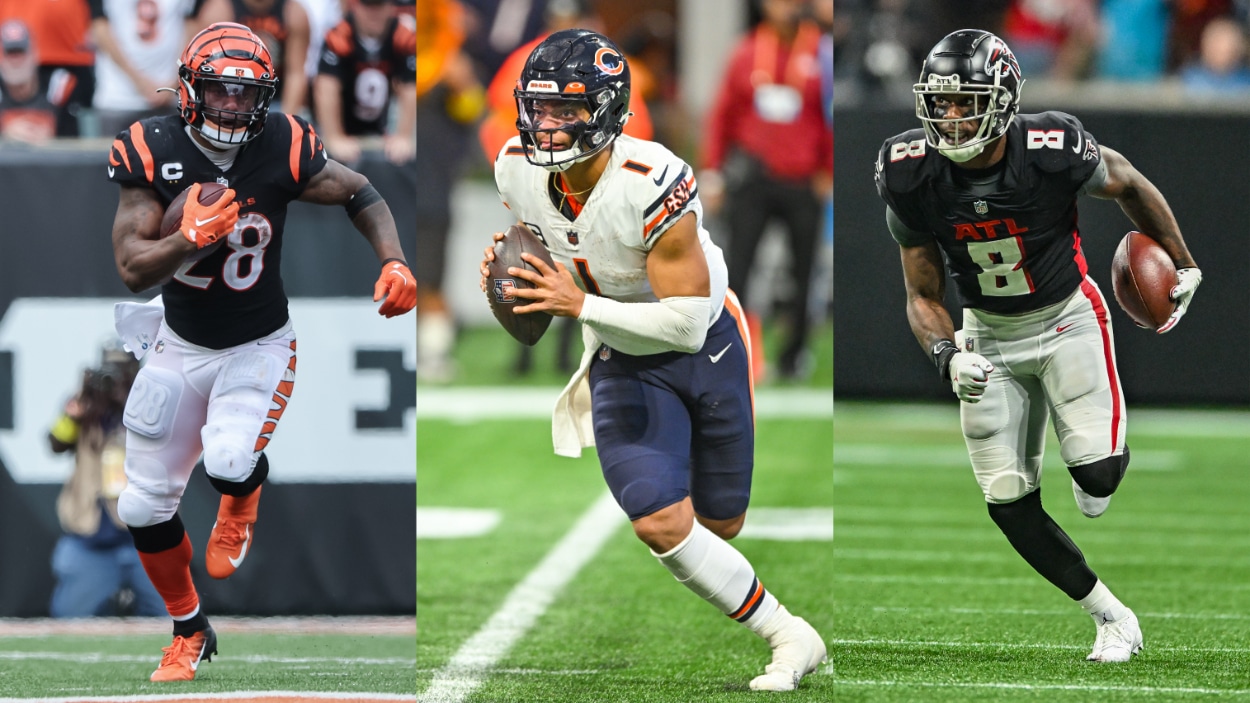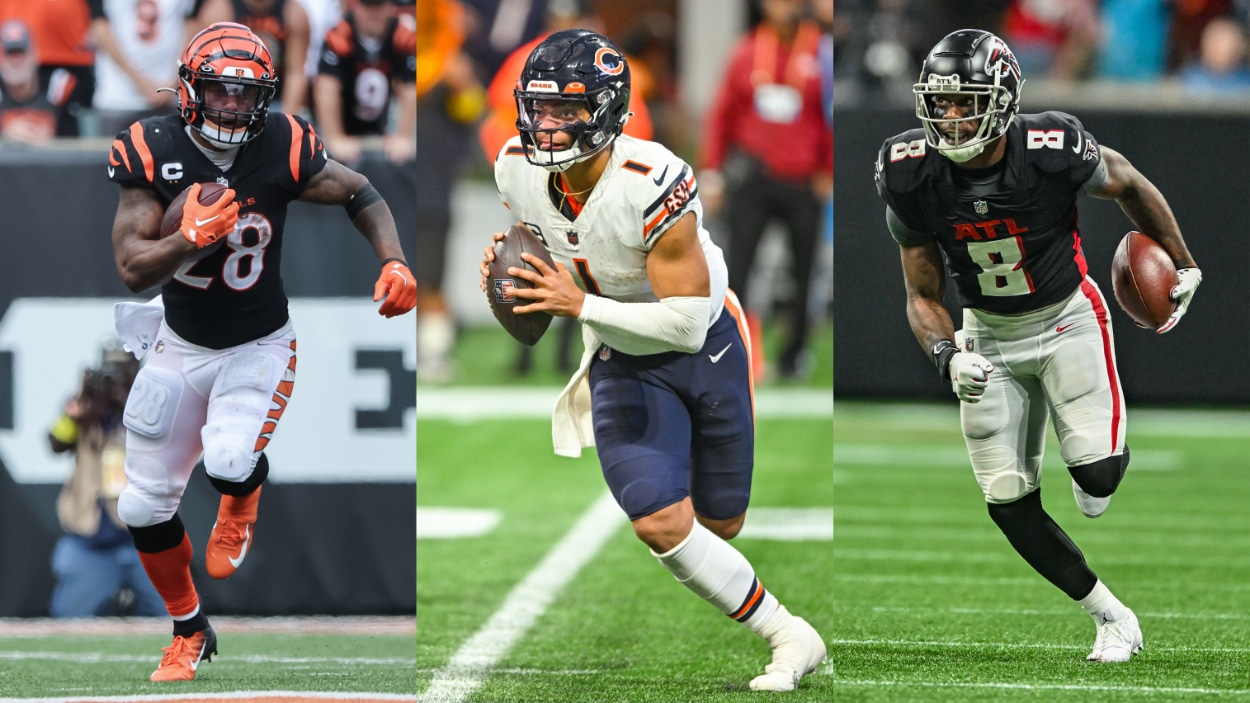 QB Justin Fields, Chicago Bears
When a quarterback gets injured, that leads the NFL injuries roundup, so Justin Fields is here. He took several hard hits to his non-throwing shoulder late in the Week 11 matchup with the Atlanta Falcons, and the team carted him off the field at the end of the game.
After the game, he got an IV and x-rays, but head coach Matt Eberflus says we won't know the long-term prognosis until Wednesday, per Pro Football Talk. For what it's worth, Fields did tell reporters following the injury that "The pain right now is pretty bad."
TE Kyle Pitts, Atlanta Falcons
In the same game that Justin Fields got banged up, another promising young player went out with an injury on the other side of the ball. Second-year tight end Kyle Pitts took a terrifying hit to the knee and left the game under his own power.
After the terrifying hit, The Score's Jordan Schultz tweeted, "Early indications are that Kyle Pitts did NOT tear any ligaments in his knee, sources tell @theScore. An MRI in the morning will confirm, but the #Falcons remain optimistic about their star TE."
RB Joe Mixon, Cincinnati Bengals
Bengals running back Joe Mixon took what looked like a routine hit midway through the second quarter in his team's win vs. the Pittsburgh Steelers, but he left the game with a concussion following that play and didn't return.
Like all concussions, there's no way to know when Mixon will be back from his brain injury. The running back does have a full week to recover, though, as the Bengals don't play again until Sunday at 1:00 pm ET vs. the Tennessee Titans.
WR Wan'Dale Robinson, New York Giants 
The Giants had six players go off with NFL injuries in their Week 11 game vs. the Detroit Lions. The most serious of which is likely rookie second-round WR Wan'Dale Robinson. On the first play of the fourth quarter, Robinson made a catch, and two Lions tackled him out of bounds. The young pass-catcher immediately grabbed his knee on the sideline.
"He looked like he was in a lot of pain. He did," head coach Brian Daboll told reporters after the game, per ESPN. As for Robinson's long-term prognosis, it doesn't sound good. Sources tell ESPN's Jordan Raanan, "There is concern that Robinson suffered a serious right knee injury," but there will be more tests on Monday.
RB Clyde Edwards-Helaire, WR Kadarius Toney, Kansas City Chiefs, WR Mike Williams, Los Angeles Chargers
In the Sunday Night Football game between the Chiefs and the Chargers, there were several injuries that have no updates yet. Running back Clyde Edwards-Helaire went out with an ankle injury and didn't return. Kadarius Toney left with a hamstring injury, and Chargers wide receiver Mike Williams seemed to aggravate his ankle injury and did not return.